Meet Luis Venegas, Fashion's Favorite Spaniard
He's the founder of beloved cult magazines and Jonathan Anderson's latest collaborator. Before the J.W. Anderson show at London Fashion Week, the Spanish dynamo reminisced about their new project and more.
---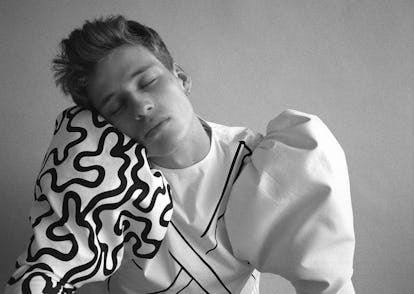 When designer Jonathan Anderson was looking to launch his new creative and commercial space at the Ace Hotel in London's East End, named Jonathan Anderson Workshops, the man he turned to first was independent magazine publisher and editor Luis Venegas. The Venegas name might not carry much weight for the uninitiated, but the Spaniard is a real force within creative circles around the globe.
Venegas is perhaps best known for his magazines, including Fanzine137 (an international fanzine made in Spain), EY! Magateen (a male teen 'zine), and Candy (a fashion magazine celebrating all things trans, which has featured cover stars like James Franco and Miley Cyrus). These days, however, he's also been flexing his muscles as a one-man creative shop.
For the J.W. Anderson project, the designer, who is also the creative director of Spanish label Loewe, gave Venegas total creative freedom. The result is a limited edition book (only 599 copies total) featuring Venegas' favorite pieces from the J.W. Anderson archives as photographed on some of his favorite Madrid locals. "Some of them are well-known actors in Spain, some are anonymous people, and the only link between all them is that I like them. This was the first creative project I've ever done where I do everything from start to finish — I shot it, cast it, edited it, etc. — and I loved it," Venegas said in an interview. "I've known Jonathan for three or four years now and I guess it's accurate to say we both like what the other does, so I was really excited when he asked me to work with him."
Venegas also talked about his exhibition at Berlin's 032c Workshop, featuring Candy magazine and trans themes. Keep in mind that long before Caitlyn Jenner shocked the world with her Vanity Fair cover, or IMG Worldwide signed its first trans female model Hari Nef, Venegas was putting out Candy. "I just realized there was something in the air and society needed to change," he said.
For your book with Jonathan Anderson, you got to go through his archives and shoot whatever you wanted. How was that experience? It's funny how a house that is so young has so many highlights and has gained so much respect and recognition in such a short period of time. Of course, you go to the Valentino archives or something and they have been around for decades and that is so different. But it was really great. I always loved that men's collection he did in 2013 where the men were wearing like crop tops and shorts with ruffles. It was quite feminine, but also wasn't feminine at all. It was a new way to look at masculinity. Those were the most exciting pieces for me to shoot. Also, the recent women's collection with the big puffy sleeves? We shot that on a boy and I was very excited about those.
You had the book signing party the other week at the Workshops with Jonathan. How was the book received? They wanted to do a book signing at their shop and it was really great to see how many young people came at a moment when they say younger generations don't buy printed matter anymore. Well, they do. It's just about doing interesting publications that can get them excited, especially rare books or limited editions. People love that sort of cultural elite, special kind of thing. Jonathan and I felt kind of like Danielle Steel as we were signing books, that was pretty fun. I wouldn't dream of a better experience than to feel like Danielle Steel.
You also have your Candy exhibition with 032c going on right now (through March 13). How did that come about? I have known Joerg Koch of 032c for a long time. He is an independent magazine editor in Berlin, it's probably the most interesting German magazine these days in my opinion. They also have this exhibition space and every month they do shows with different artists, like Willy Vanderperre. We have known each other for a long time and Joerg asked if I wanted to come to Berlin and do an exhibition about my magazine Candy. Then, instead of asking photographers to do beautiful reproductions of the photos they did, I went to the real magazine pages and cut out some of the pages and filled the whole space with a selection of many pages from the actual magazines. I also showed books and magazines from my personal collection from publications that have somehow been related to trans issues in the past—transgender, transvestism, drag queens, and all of that. Magazines and books are very inspirational for me, from rare books from the '60s and then more recent things like the Caitlyn Jenner Vanity Fair cover.
You have been talking about trans issues for a long time. How do you feel about its new prominence in society? The thing is, the more people know about transgender issues, the better. If it helps to create respect and awareness about those sometimes tricky issues, then I think it's great. I started talking about this same thing six years ago and it's great that somehow it started a trend in magazines. I just realized there was something in the air and society needed to change. Now, it's definitely one of the hottest issues. Back then, Candy was something new and now that's kind of everywhere, maybe I should rethink about myself and the magazine because then it won't be that special anymore. Candy is still the only magazine that treats those subjects from an art and style perspective. My mag is not political, like Out, but at the same time it's also a statement. It's more like a glamorous statement. Now, maybe some designers or publications are doing this because they feel it's a trend, but the more we talk about some subjects, the better. Some young child from the middle of nowhere will read about that for the first time in a glamorous magazine and it will open a window for that person.
What specifically can we expect to see in the exhibition? We try to do catchy cover stories that people get excited to buy. I remember that James Franco issue we did with him in drag was way before he developed his artistic side (at least on the public level). Since then, he's done more art exhibitions and stuff like that but back then, it was unusual to see him doing this kind of thing. So that's in there. Also, we did a cover with the women who are leading the trans revolution. It was like our version of Vanity Fair's Hollywood issue. That was a fun one for me to do.
Is your recent Miley Cyrus cover included as well? Yes. The last Miley Cyrus cover was also, well, controversial. It was not controversial to me, but to some people it was. She really represents the future to me, with young generations being more open minded and mindful of the environment and options in terms of gender and sexuality, and also new feminism, body empowerment, being nude not for exploitative purposes but as a way of empowerment, those things are important for me and I feel like she really represents all those things.
What's next for you? I know you mentioned you and Jonathan [Anderson] are working on more projects together. What can you tell me about those? Yes, we are working on more together but I can't tell you yet. I am also doing the new issues of my magazines, and some other projects. I would like to focus on more and more on working for brands and houses. I am really ready to do more jobs like that, it's very exciting.
Photos: Meet Luis Venegas, Fashion's Favorite Spaniard
Miley Cyrus on the cover of Candy.
Luis Venegas' book for Jonathan Anderson Workshops.
An image from Venegas' book for Jonathan Anderson Workshops.
Venegas at his exhibit at Berlin's 032c Workshop.
An image from Venegas' book for Jonathan Anderson Workshops.
Laverne Cox was one of the stars of another Candy cover.
Venegas' exhibit at Berlin's 032c Workshop, featuring Candy cover stars like James Franco.
Venegas' exhibit at Berlin's 032c Workshop.
Venegas' exhibit at Berlin's 032c Workshop.