Inside Madonna's 60th Birthday Party in the Desert
The Queen of Pop celebrated her 60th birthday like she wasn't a day over 25.
---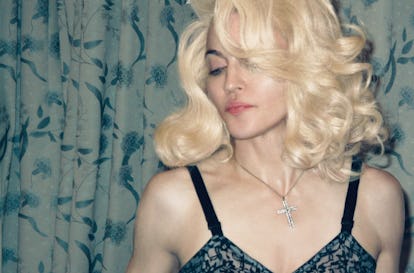 Steven Klein
Madonna may have turned 60 years old yesterday, but she partied the night away in Marrakech like she wasn't a day over 25.
The birthday celebrations—which included traditional Moroccan dancing and musical performances, appearances from her children, and plenty of food—took place after the singer and her friends found their way through a medina in the city and made it to a large space in the desert, seating themselves around a giant table.
She's also been loving the head jewelry lately (which she considers to be an homage to the Berber culture of North Africa), and adorned herself for her "nomadic" birthday bash in the desert.
Aside from her six children (Lourdes Leon could be seen guiding her mother through the medina on one of Madonna's Instagram Stories before the evening celebrations were under way), the guest list was stacked with some of the singer's closest friends, as well as other directors and performers. The singer was joined in Marrakech by her longtime friend Debi Mazar (the two have been pals since bumping into each other at Danceteria in the 1980s), Nico 1988's Sandor Funtek, choreographer Marvin Gofin, the mysterious French photographer JR, and Atomic Blonde's Sofia Boutella, a former backup dancer for Madonna who entertained for the crowd near the end of the night, according to the various Instagram Stories taken throughout the evening.
Madonna used her 60th revolution around the sun as an excuse to give a little gift to her fans, too, as a thank you for raising money for her birthday fundraiser, which benefited her foundation Raising Malawi. She finally released the full version of her surprise performance of "Like a Prayer" from the 2018 Met Gala (where the theme was "Heavenly Bodies: Fashion and the Catholic Imagination"), so even if you didn't snag an invite to her birthday celebration in Marrakech, you could still celebrate from afar with the queen.
Related: Madonna's 10 Best Weird Songs You'll Never Hear on the Radio