Madonna's 10 Best Weird Songs You'll Never Hear on the Radio
Sometimes the Original Hipster Madonna still comes out.
---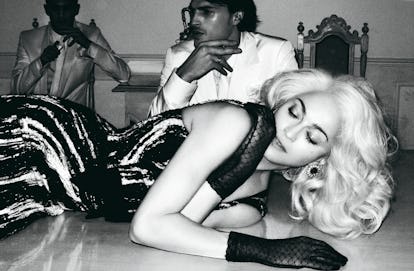 Steven Klein
Madonna built her empire on pristine pop that still resonates on the radio today, but a master of any form knows how to expertly break the rules, defy expectations, and just get weird or goofy, as well. Nestled in her discography of pure pop bops is a recurring trend: off-the-walls sonic experimentations, songs with lyrics that weave in influences from unusual sources like beat poetry and religious chants, and some purely for-the-club collaborations. After all, this is not a woman who got her start on The Mickey Mouse Club, but rather by drumming in a rock band, hanging with Lower East Side art scene luminaries, and once, while still working as a nightclub coat check girl, opening for the Smiths. She was basically the early '80's version of a hipster, and sometimes that art kid and club kid past still jumps out.
While you may tune to greatest hits comps like Celebration or The Immaculate Collection today to celebrate Madge's 60th birthday, the portrait of Madonna as a musical artist isn't quite complete without a trip into the weirder and less celebrated parts of her oeuvre. Here, a collection of Madonna's less heralded, wonderfully oddball tracks.
"Queen's English," Jose & Luis ft. Madonna
It remains one of the greatest mysteries in all of music as to why this '90s dance bop isn't a staple of Friday night dance floors stretching from West Hollywood to Hell's Kitchen to Wilton Manors. Jose Gutierez Xtravaganza and Luis Camacho Xtravaganza were two of the young dancers Madonna recruited from the ball scene to help choreograph and appear in the "Vogue" video, and then took on her Blonde Ambition tour, eventually setting them up with a record deal with her Sire imprint. The resulting single, "Queen's English," is, as the name would imply, a joyful ode to queer slang. It is also the only song on which Madonna has ever officially been credited as a featured artist. "Queens that read are the best," she purrs. "And they can also get a job and werk."
"Skin," from Ray of Light
"I'm not like this all the time," Madonna sings repeatedly in the waning seconds of this Ray of Light cut, and that's certainly true. Before Madonna recruited him as her main collaborator for the album, William Orbit was best known for producing English singer-songwriter types and his own ambient and electro music. Though it was actually previous longtime collaborator Patrick Leonard who received co-writing credit, perhaps she let Orbit go full tilt with the production. The result is a chugging and hypnotic '90s dance track that remains a favorite amongst her diehard fans.
"Shake Your Head," Was (Not Was) ft. Ozzy Osbourne and Madonna
We should inform you that, for all intents and purposes, legally this song doesn't exist. Sure, you can hear it, but technically it's not actually an official song. Here's the backstory: In 1982, burgeoning left-field pop band Was (Not Was) recruited their fellow Detroit native Madonna, then unknown outside of New York, to audition to record vocals for the song. In a weird twist, Ozzy Osbourne ended up on the track instead. On the song's 10-year anniversary, the band got the idea to rerelease the song as a Madonna and Osbourne debut. Madonna, then at one of her highest peaks, was like, "You know what? Nah." So the band recruited actress Kim Basinger to record Madonna's part instead (perhaps the experience helped the actress win an Oscar for playing a character who impersonated another iconic blonde). The Osbourne and Madonna version was "mistakenly" released on a cassette compilation, which is why we can hear it today. With all due respect to both Ozzy and Kim, we think 35 years on we can say that Madonna was probably the correct choice in the first place.
"Shanti/Ashtangi," from Ray of Light
For every career-cementing mega-hit on Ray of Light, Madonna's only album to get a nomination for Album of the Year at the Grammys, there's another track that's a statement-making pop experiment (in fact, we're sure someone reading this is mad that some of the album's other weird cuts weren't included). Yes, this is an American pop star reciting Sanskrit prayers over an electro psych beat. And somehow it makes sense. In fact, in many ways, it serves as a rejoinder to an earlier Catholic prayer-informed sonic oddball found elsewhere on this list.
"Paradise (Not For Me)," from Music
Here we have Madonna, dressed in a Japanese kimono (taken from tour video, not from an actual music video), singing with a slight English accent while occasionally dropping French lyrics. This was also Music's main producer Mirwais pushing his contributions to the limits.
"I Want You," Madonna and Massive Attack
Nirvana hit the top of the Billboard charts in late 1991, and suddenly it was practically illegal for any American musician to record fun and upbeat pop records. Or, at least that's how the industry reacted. Some pop stars turned to straight-up ballads, others eased into R&B-tinged slow jams. Madonna would get around to both of those, but her first inclination was an attempt to take the then-burgeoning English subgenre of trip-hop and weave it into American pop chart gold. The influences can be heard on both Bedtime Stories and Erotica, but this song was her attempt at going all in. She recruited masters of the genre Massive Attack to help her rerecord a Marvin Gaye single. A video was shot, but the project was shelved after some troubles clearing it with Gaye's family. Eventually it found its way to some compilations. Side note: Madonna also wanted to record guest vocals for Massive Attack's career-defining hit "Teardrop," but the gig went to Elizabeth Fraser, the lead singer for the Cocteau Twins, instead.
"Safe Neighborhood," The Breakfast Club
Madonna, post-punk icon? Who knows, if life went slightly differently, the Breakfast Club, the band Madonna provided both vocals and drumming for, could have wound up with an indie record deal and a career on the college club circuit. Several early recordings of the band exists, but this short burst of a song gives you what you need to know. It's Madonna as a proto–Karen O.
"Drowning," Emmy
Eventually, however, Madonna and then-boyfriend Stephen Brey decided to break off to form their own band Emmy. It's still rock, but slightly more toned down. "Drowning," from their demo tape, cuts the difference between rock Madonna and the pop icon we wouldn't have to wait long after this to know. Shortly after forming Emmy, she just decided it might be best to go solo.
"X-Static Process" from American Life
Madonna gives a shot at the singer-songwriter with an acoustic guitar genre that she's heard so much about, and, you know, it's not half bad.
"Act of Contrition" from Like a Prayer
"Act of Contrition" is not only the single weirdest thing Madonna has released in her main discography, it's also the closing track to arguably her best album. Less a song than a soundscape, it employs an original Prince guitar solo, backwards looping of the album's previous songs, and Madonna reciting the Catholic prayer from which the song takes its name. And, yet, it's still kind of a bop.