Madonna Crashes Amy Schumer's Stand-Up Set
She's a comedic material girl.
---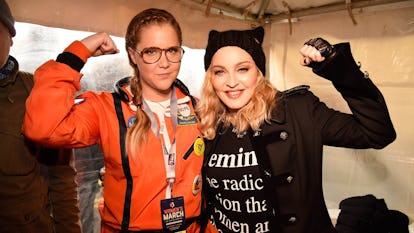 Kevin Mazur/WireImage/Getty Images
Madonna is a performer extraordinaire, but there's one stage we never expected her to take: that of a comedy club. On Tuesday night, the 59-year-old singer, who is in New York City to promote her new skincare line, crashed Amy Schumer's set at the legendary Comedy Cellar, according to various outlets.
Madonna posted a picture with Schumer and the Comedy Cellar's famous brick walls on Instagram with the caption, "And the next minute i was tagging along with @amyschumer at @nyccomedycellar ??? Making my stand up debut!?♥️? What a thrill. Finally busted my cherry???thank you Amy! ????". Schumer also posted about the iconic duo's set. She wrote, "We'd like to thank @nyccomedycellar for taking a chance on our new act." If only there was a video of the Queen of Pop's greatest jokes.
According to some fans who happened to get the show of a lifetime at the Comedy Cellar, Schumer and Madonna weren't even the only stars of the night—Aziz Ansari, Jon Stewart, Louis C.K., and Pete Holmes all reportedly took the stage for quite a memorable line-up.
This actually isn't the first time this blonde duo has shared the stage. In 2015, the Trainwreck star opened Madonna's Rebel Heart tour for three New York City shows—the first time that the comedian ever performed in Madison Square Garden. Madge returned the favor last October, when this time, she was the prelude to Schumer at MSG. Might we request that next time, Schumer sings and Madonna does the stand-up?
Related: Madonna's Dermatologist Tells All About the Pop Star's Skincare Line MDNA
Amy Schumer and Other Celebs Reinterpret "Hotline Bling":