Watch Madonna Give Jimmy Fallon an MDNA Facial
"I came here as an aesthetician to rewrite the declaration of skindependence."
---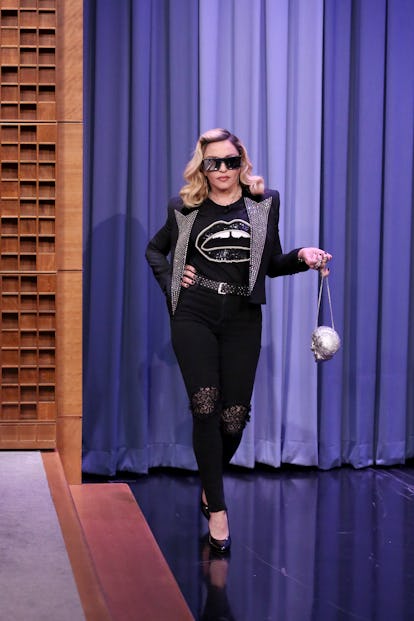 Andrew Lipovsky/NBC/NBCU Photo Bank via Getty Images
Madonna may be best known as a pop star but the pioneer of reinvention in pop music is playing a new role now: skincare guru. Today marks the launch of the artist's MDNA skincare line and, to celebrate, Madonna went on The Tonight Show Starring Jimmy Fallon. She didn't just give a standard interview promoting the line though, instead she showed F allon and the audience an up close look at how it works. Very up close.
The legendary artist gave Fallon an impromptu facial using the crown jewel of her line, the Chrome Clay Mask. "Do you want spa music?" Fallon asked her as she was gearing up to use the product. "No," she says. "This is nice, jazz," he says. But the soundtrack quickly changed to an improvised serenade by Madonna herself. "You're getting a spa treatment," she sings. "It's gonna make you look so good." Instead of covering his whole face with the mask though Madonna chose to make a very specific design: an "M" on Fallon's cheek for her initial. "This is legendary,' he sats, "I'll try not to laugh." "Your skin will be glowing," she tells him before removing it with the wand. "It's going to blow you away."
Sure enough, Fallon's skin does glow when she removes the mask with the magnetic wand, revealing a dewy residue. "You just rub this in," she says. "And look at your skin it's glowing."
Madonna also revealed her own beauty tricks with the MDNA products. "I sleep on my face all the time so I tend to wake up with very puffy eyes," she says. "So I take the eye masks out of the freezer where I keep them and put that cool little thing under your eyes, which melts down my face. The extra serum that's in the foil — I just rub it on my knees and elbows." As for the Rose Mist, apparently three spritzes do the trick — plus one in your mouth. "It's actually not bad tasting," Madonna says.
If you're wondering why Madonna waited so long to release a skin care line, she answered that too. "I didn't come here as a pop icon goddess," she says with a hair flip. "I came here as an aesthetician to rewrite the declaration of skindependence. Can I have a drum roll? Thank you. We do not discriminate with the skincare line. It's for everyone. Old people. I'm going to bring humanity together with the MDNA skincare line."
Related: Madonna's Dermatologist Tells All About the Pop Star's Skincare Line MDNA
Model Share Their Beauty Secrets: