Madonna Responds to Backlash Over Her Aretha Franklin "Tribute" at the 2018 VMAs
"I could never do her justice in this context or environment."
---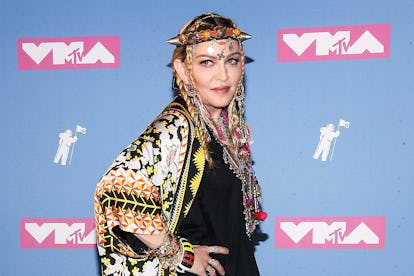 Paul Zimmerman/Getty Images
Madonna, an icon of the MTV Video Music Awards since the very beginning, wasn't exactly well-received at this year's VMAs. She took the stage toward the end of Monday night's ceremony and, before awarding Camila Cabello with Video of the Year, rambled through a speech about her triumphant journey from a working-class neighborhood of Detroit to the VMAs stage. The speech may have been perceived as inspiring and powerful had Madonna not been standing in front of a huge portrait of Aretha Franklin and, therefore, ostensibly tasked with paying tribute to the late Queen of Soul. But, alas, she was, and thus was swiftly met with a flood of backlash from social media users who criticized her for "gentrifying" a tribute to Franklin and making it all about herself, slipping in only a few passing references to the "Respect" singer.
On Tuesday, Madonna attempted to clear the air. In an Instagram post of her own, she first congratulated Cabello, then went on to claim that her assignment hadn't been to formally memorialize Franklin, but rather to simply share a few anecdotes about her. "Just to clarify: I was asked to present video of the year by MTV! And then they asked me to share any anecdotes I had in my career connected to Aretha Franklin! I shared a part of my journey and thanked Aretha for inspiring me along the way. I did not intend to do a tribute to her! That would be impossible in [two] minutes with all the noise and tinsel of an award show. I could never do her justice in this context or environment," she wrote.
"Unfortunately most people have short attention spans, and are so quick to judge. I love Aretha! R.E.S.P.E.C.T.," Madonna continued, then added, "I Love Camilla! Congrats! I LOVE my dress! AND. I love-L O V E!! and there is nothing anyone can say or do that will change that."
That said, the "anecdotes" Madonna did share involving Franklin were few and far between, and had a distinctly more self-congratulatory vibe than one of gratitude toward the late superstar. Still, one has to wonder what MTV and the show producers were thinking by leaving the Franklin tribute in the hands of Madonna alone, and then not even giving her proper directions.
Related: Celebrity Leos Madonna, J.Lo, and Amy Adams Are About to Shine Even Brighter
Celebrity Leos Madonna, J.Lo, and Amy Adams Are About to Shine Even Brighter
Jennifer Lawrence, born August 15. Photograph by Tim Walker for W Magazine, October 2012.

Tim Walker
Halle Berry, born August 14. Photograph Mario Sorrenti for W Magazine, October 2016.

Mario Sorrenti
Madonna, born August 16. Photograph by Steven Klein for W Magazine, March 2009.

Steven Klein
Jennifer Lopez, born July 24. Photograph by Mert and Marcus for W magazine, March 2017.

Mert and Marcus
Andrew Garfield, born August 20. Photograph by Juergen Teller for W Magazine, February 2018.

Juergen Teller
Chris Hemsworth, born August 11. Photograph by Francesco Carrozzini for W Magazine, July 2012.

Francesco Carrozzini
Devon Aoki, born August 10. Photograph by Juergen Teller for W Magazine, March 2009.

Juergen Teller
Mick Jagger, born July 26. Photograph by Laurie Sagalyn for W Magazine, February 1983.

Laurie Sagalyn
Greta Gerwig, born August 4. Photograph by Craig McDean for W Magazine February 2017.

Craig McDean
Michael Shannon, born August 7. Photograph by Craig McDean for W Magazine, February 2017.

Craig McDean
Charlize Theron, born August 7. Photograph by Mert and Marcus for W Magazine, May 2015.

Mert and Marcus
Kristin Wiig, born August 22. Photograph by Inez and Vinoodh for W magazine, October 2014.

Inez and Vinoodh
Ben Affleck, born August 15. Photograph by Juergen Teller for W Magazine, February 2013.

Juergen Teller
Steven Martin, born August 14. Photograph by Elinor Carucci for W magazine, October 2005.

Elinor Carucci
Viola Davis, born August 11. Photograph by Mario Sorrenti for W Magazine, October 2012.

Mario Sorrenti
Amy Adams, born August 20. Photograph by Juergen Teller for W Magazine, February 2014.

Juergen Teller
Gina Rodriguez, born July 30. Photograph by Sean Harley and Seng Chee Choong for W Magazine, September 2016.

Sean Harley and Seng Chee Choong
Mary-Louise Parker, born August 2. Photograph by Coral Von Zumwalt for W magazine, September 2006.

Coral Von Zumwalt
Edward Norton, born August 18. Photograph by Tim Walker for W magazine, February 2015.

Tim Walker
Mila Kunis, born August 14. Photograph by Craig McDean for W Magazine, March 2011.

Craig McDean