MTV VMAs 2018: Everything You Didn't See on TV, From Ariana Grande's PDA to Kylie Jenner's Selfies
All the gossip from inside the show.
---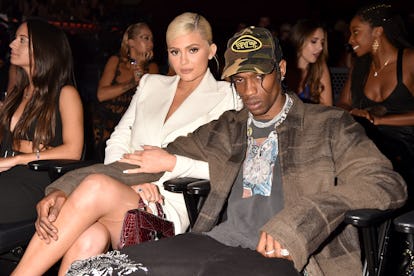 Jeff Kravitz
Well, another VMAs has come and gone. And while the 2018 Video Music Awards, held Monday night at Radio City Music Hall, didn't have any Internet-breaking moments, à la Britney kissing Madonna or Kanye West crashing the stage, it delivered a number of great performances from the likes of Video Vanguard– winner Jennifer Lopez, Ariana Grande, Shawn Mendes, and Panic! At the Disco. Camilla Cabello was the night's big winner, taking home awards for both Artist of the Year and Video of the Year, while Childish Gambino, Nicki Minaj, and Cardi B also collected a few Moonpersons of their own.
Of course, for as tame of a show as it was on TV, we all know that the real drama goes down off-camera. Here, a breakdown of the biggest moments that you didn't see on television, straight from inside Radio City Music Hall.
Asahd Khaled was the most popular guest, until Kylie Jenner arrived.
After hitting the red carpet, the celebrities began to file into their designated section, which amounted to three small sections of three rows, with only about 10 minutes till the show started. Among the first to arrive was DJ Khaled and son Asahd, who quickly became the section's star attraction, with plenty of visitors heading over. That is, of course, until Kylie Jenner arrived midway through the evening, at which point the area became a veritable greeting line for the newly minted 21-year-old. To her credit, she gamely posed for tons of selfies, and was the first to stand when boyfriend Travis Scott took the stage.
Camilla Cabello took over from Taylor Swift as most enthusiastic audience member.
While Taylor Swift was nowhere to be found at Monday night's show, rest assured that her tour mate Camilla Cabello took over her role as the audience's de facto celebrity hype man. In addition to dancing to just about every performance—even if the rest of the crowd remained seated—she also was the first major celebrity seated in the arena. And, in addition to her very public gushing over Madonna, before the show even started she attempted to tap Jennifer Lopez on the shoulder three times before the singer noticed her. But, thankfully, a very awkward moment was avoided.
Pete Davidson and Ariana Grande were just as touchy when the cameras were off.
Nope, it wasn't just an act. After taking their love to the red carpet, Pete Davidson and Ariana Grande had prime front row seats, where they spent the entire night holding hands and kissing. That is, of course, when Grande wasn't off gossiping with Nicki Minaj. Davidson spent most of the night seated, until Grande took the stage, at which point he was first on his feet.
Nicki Minaj and Kylie Jenner avoided all drama, and each other, completely.
After Minaj blamed Jenner for rocketing Travis Scott to No. 1 on the charts, beating her own new record, plenty of seating drama ensued, causing Jenner and Scott's seats to be moved away from Minaj. In the end, it proved to be a moot point. By the time Jenner and Scott arrived, Minaj was long gone. Curiously, Jenner sat just a few seats down from where Minaj was initially seated earlier in the night, and a few people away from Grande. Luckily—or not, depending what you come to the VMAs for—Scooter Braun was between them to ward off any potential drama.
Shawn Mendes presenting to Jennifer Lopez was just as confusing in person.
Listen, we all love Shawn Mendes. But what connection does he have to Jennifer Lopez, other than the fact that he could probably play her son in a Netflix rom-com (would watch)? So when Mendes took to the stage after Lopez wrapped her career-spanning performance, the audience assumed he was throwing to commercial before someone tangential to Lopez, say Janet Jackson or P. Diddy, presented her the actual award. But, nope, it was all Mendes. The fact that his mike was completely off in the room didn't help with the confusion, either.
The bar was free flowing.
While many award shows have, gulp, cash bars, the VMAs aren't a regular awards show, they're a cool awards show. So, open bar! And plenty of them. Each floor of Radio City was stocked with multiple bars offering top shelf liquor and theater snacks like hot dogs, waffle fries, and candy. The area was most crowded (as in: people left the auditorium in search of a drink) during Logic's live performance and Minaj's pretaped one.
And yet everyone still left early.
Blame it on the fact that celebrities are used to these things filming in Los Angeles and wrapping by 9 p.m., but by the time Video of the Year was handed out at 11:15 p.m., the only major stars left in the crowd were the award's winner, Cabello, and Jennifer Lopez.