Shawn Mendes Opens Up Before His First Met Gala About His Friend Hailey Baldwin, Being a Romantic at Heart, and His New Music
While goofing off and getting ready.
---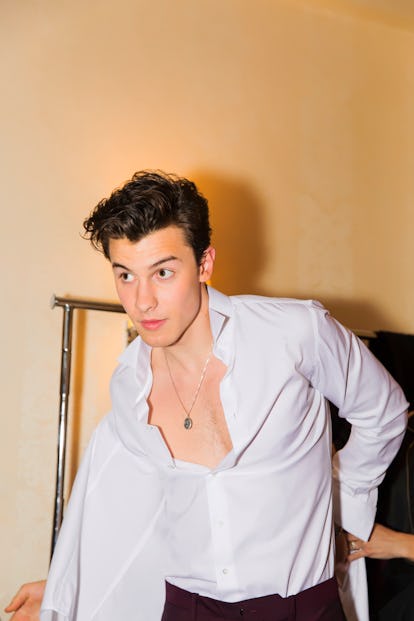 LEVI MANDEL
There are very few situations that can make singer-songwriter heartthrob Shawn Mendes feel uneasy. In the past year alone, the 19-year-old Canadian's accomplishments have included bringing back MTV's Unplugged, giving a stunning performance of his 2017 earworm "There's Nothing Holding Me Back" to an arena of screaming fans at the VMAs, performing with SZA for Elton John, appearing as a guest mentor on The Voice with Alicia Keys, and playing his guitar for Queen Elizabeth II on her 92nd birthday.
But then there's the Met Gala, the Metropolitan Museum of Art's annual benefit gala for the Costume Institute, a star-studded affair that has been called the Oscars of fashion. The theme of the night—"Heavenly Bodies: Fashion and the Catholic Imagination"—invited A-list attendees, like Rihanna and Madonna, to dress according to their own interpretation of how the Catholic church has made an impact on fashion and style throughout the centuries. "Forever, religion is going to have a massive impact on people's fashion. It always has been and always will be," Mendes—who later revealed he did come from a religious upbringing—told W when asked how he planned to incorporate the theme into his look for the evening.
"I feel like I've been invited to attend somebody else's gig, so I just want to be respectful and be there for what it is," Mendes said, sitting in his hotel room wearing a Tommy Hilfiger suit as he prepared for the most fashionable red carpet in the world. "If I'm playing an award show or announcing anything, I have nerves, but here I kind of feel like, Just be grateful you're here, be happy you're here, and just go have fun. You know?"
Fortunately, Mendes could draw on past experience for the occasion: his own prom. "I remember this was the vibe. This is what it felt like; it's the prom, round two," he said, laughing.
Instead of a prom date, though, Mendes attended the Met Gala arm in arm with Hailey Baldwin. "We're really good friends," he smiled when asked about his relationship with the model. "It's funny, she's such a pro with this type of stuff. I want it to be amazing for her, so I've been trying for the past 24 hours to be really silly so that she stays on. I'm happy to walk with her—she's amazing."
If Mendes didn't feel prepared, it was hard to tell. While a team of stylists filled his hotel room, finalizing his look, the singer bounced around, joking about choosing the right socks for the occasion, chatting about his favorite restaurants in Tokyo, and showing off his five tattoos—one of which is a tiny, blink-and-you-might-miss-it number on his finger that he admitted he got with Baldwin.
But then again, that poise comes from growing up in the spotlight. "I feel like I grew up really fast from 15 to 18 in a very mature way," Mendes explained. "Now, there's a next phase of maturity that I'm hitting which is, be less mature! You know? How important it is to not stress so much about yourself and not take yourself too seriously, and realize what's goofy about you."
Bumping on the Bluetooth speaker in his hotel room were sounds from Still Woozy's "Goodie Bag," part of a groovy getting-ready playlist sent to Mendes by songwriting partner Scott Harris. Giving and receiving a properly personalized, curated collection of sounds—especially by burning the playlists onto an actual CD—is a lost art of a bygone era, according to the singer.
"How romantic was that when you could do that for a girl!" he exclaimed.
Of course, it isn't hard to believe that Mendes would be a true romantic at heart, especially when he so easily riffs on the poetics of life and love. He casually, and earnestly, says things like, "The most beautiful thing about music is that it's something that lasts forever," right before joking about sweating through his outfit for the night. When asked if he could think of the most romantic thing someone could do for another person, Mendes bashfully smiled. "I think that the best way you can confess your feelings for someone is through music," he said. "If I can actually create the music and sing it, and use that, then I'm gonna do it. And for me, creating music for people to hear how I truly feel is nice," he laughed. "But I think I want to do the CD thing."
His upcoming self-titled third studio album includes 14 tracks that oscillate from sultry R&B falsetto ("Lost In Japan") to soft-rock ballads ("In My Blood"), with writing and producing credits from Ryan Tedder, John Mayer, and Ed Sheeran ("idols" and "dream collaborators" for Mendes). "I wrote a song on the new album confessing my feelings for somebody, which I've never truly done before," Mendes admitted. "Everything has been about breakup, or hurt, or whether I've felt it or not. But I never truly wrote a song about somebody confessing the way I felt, which is a terrifying thing to do."
With his new music on the way, Mendes proves he's matured a great deal since the halcyon days of Vine, the now-defunct six-second video-sharing platform which launched his career. "I started making music at 15. And in that age, at 16 and 17, there's a lot you can't say," Mendes said. "And there's a lot that I didn't feel comfortable talking about."
"'Lost in Japan' was me being like, I can get a little bit sexy with my music. I can push it a little bit further. I can 'get lost in your paradise'—whatever you want that to be," he added with a smile. "That was a really exciting and cool moment in my music to be like, I have much more freedom. I think every year I get older, that will open up a little bit more for me."
His most recent single from the album, titled "Youth," is thematically quite far from the breakup tracks a Shawn Mendes fan would be accustomed to hearing from the singer-songwriter. After meeting fellow teen idol Khalid just over a year ago, Mendes kept in touch and insisted that the two work on an upcoming project. Together they penned "Youth," just a couple months before the Stoneman Douglas High School shooting in Parkland, Florida. "I was in Europe during the Manchester attack. Two weeks earlier I played a show there, and I was in London during the Bridge attack, and super overwhelmed by everything that was going on," Mendes said, recounting the steps he took to write and record the song.
"I had this thought in my head—how do we put into words this feeling? Because every time something like that would happen, I would get the feeling of me becoming more numb to it. You know what I mean? Every time something horrible would happen it would be less horrible. You become desensitized," Mendes said. "If that's happening to me at 19, I can only imagine how that's affecting my 14-year-old sister, and even younger. So the song—You can't take my youth away / this soul of mine will never break / as long as I wake up today / you can't take my youth away—it's about how that youthful thing where you look at the world like it's a great place will never be stripped because of the horrible things [they] decide to do; it's an I will always have the positive outlook type of thing. I couldn't have asked for anyone else to do it with, to be honest."
Mendes and Khalid decided they would donate the proceeds from the single and its related merchandise to the March For Our Lives. "There is a real energy shift happening in the youth," Mendes said. "I think kids are realizing that what we say isn't stupid. We have an opinion. It really matters. We have the perspective more than anybody."
See? He can conquer anything—fear, love, and, of course, the Met Gala.
Met Gala 2018: See What Celebrities Wore on the Red Carpet
Rihanna at the 2018 Met Gala. Photograph by Benedict Evans for W Magazine.

Benedict Evans
Cardi B at the 2018 Met Gala. Photograph by Benedict Evans for W Magazine.

Benedict Evans
Lily Collins at the 2018 Met Gala. Photograph by Benedict Evans for W Magazine.

Benedict Evans
Donald Glover at the 2018 Met Gala. Photograph by Benedict Evans for W Magazine.

Benedict Evans
Selena Gomez at the 2018 Met Gala. Photograph by Benedict Evans for W Magazine.

Benedict Evans
Katherine Langford at the 2018 Met Gala. Photograph by Benedict Evans for W Magazine.

Benedict Evans
Jasmine Sanders at the 2018 Met Gala. Photograph by Benedict Evans for W Magazine.

Benedict Evans
Rosie Huntington Whiteley at the 2018 Met Gala. Photograph by Benedict Evans for W Magazine.

Benedict Evans
Kate Upton at the 2018 Met Gala. Photograph by Benedict Evans for W Magazine.

Benedict Evans
Winnie Harlow at the 2018 Met Gala. Photograph by Benedict Evans for W Magazine.

Benedict Evans
Alek Wek at the 2018 Met Gala. Photograph by Benedict Evans for W Magazine.

Benedict Evans
Zendaya at the 2018 Met Gala. Photograph by Benedict Evans for W Magazine.

Benedict Evans
Priyanka Chopra at the 2018 Met Gala. Photograph by Benedict Evans for W Magazine.

Benedict Evans
Migos at the 2018 Met Gala. Photograph by Benedict Evans for W Magazine.

Benedict Evans
George and Amal Clooney at the 2018 Met Gala. Photograph by Benedict Evans for W Magazine.

Benedict Evans
Lena Waithe at the 2018 Met Gala. Photograph by Benedict Evans for W Magazine.

Benedict Evans
Ariana Grande at the 2018 Met Gala. Photograph by Benedict Evans for W Magazine.

Benedict Evans
Kim Kardashian at the 2018 Met Gala. Photograph by Benedict Evans for W Magazine.

Benedict Evans
Travis Scott and Kylie Jenner at the 2018 Met Gala. Photograph by Benedict Evans for W Magazine.

Benedict Evans
Blake Lively at the 2018 Met Gala. Photograph by Benedict Evans for W Magazine.

Benedict Evans
Bella Hadid at the 2018 Met Gala. Photograph by Benedict Evans for W Magazine.

Benedict Evans
SZA at the 2018 Met Gala. Photograph by Benedict Evans for W Magazine.

Benedict Evans
Kendall Jenner at the 2018 Met Gala. Photograph by Benedict Evans for W Magazine.

Benedict Evans
Janelle Monae at the 2018 Met Gala. Photograph by Benedict Evans for W Magazine.

Benedict Evans
Emily Ratajkowski at the 2018 Met Gala. Photograph by Benedict Evans for W Magazine.

Benedict Evans
Daniel Kaluuya at the 2018 Met Gala. Photograph by Benedict Evans for W Magazine.

Benedict Evans
Gigi Hadid at the 2018 Met Gala. Photograph by Benedict Evans for W Magazine.

Benedict Evans
Katy Perry at the 2018 Met Gala. Photograph by Benedict Evans for W Magazine.

Benedict Evans
Paris Jackson at the 2018 Met Gala. Photograph by Benedict Evans for W Magazine.

Benedict Evans
Madonne and Nicki Minaj at the 2018 Met Gala. Photograph by Benedict Evans for W Magazine.

Benedict Evans