Nicki Minaj and Travis Scott Are Stirring Up Some Serious VMAs Drama Before the Show Has Even Started
Celebrities usually wait for the show to get started before they stir up some drama.
---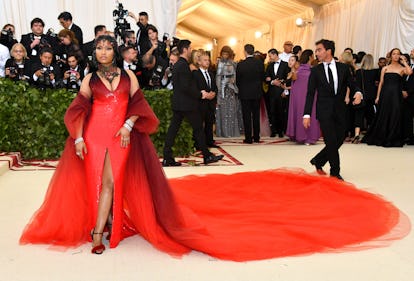 Dia Dipasupil/Getty Images
It was hardly a week ago when everything between Nicki Minaj and the Kardashians appeared to be golden.
On August 9, Kim Kardashian made an appearance at Nicki Minaj's album release party just hours before scurrying off to her sister Kylie Jenner's 21st birthday bash, where her boyfriend, Travis Scott, was present. Then, on August 19, Scott's album, ASTROWORLD, went to No. 1 on the Billboard 200 chart, and Minaj's album, Queen, which was released on August 17, took the No. 2 spot. These rankings did not suit Minaj, who felt that because she was scolded by Spotify for playing some of Queen for her Apple Music radio listeners in the hours leading up to the album's official release, Twitter should hear the truth about her chart ranking and the reason why Queen debuted behind ASTROWORLD.
Minaj began by posting a screenshot of one of Jenner's Instagram posts, which advertises ticket bundles for her boyfriend's Astroworld: Wish You Were Here tour, claiming that Scott sold the tour passes before the album was even out. "Travis sold over 50K of these. With no requirement of redeeming the album! With no dates for a tour, etc. I spoke to him. He knows he doesn't have the #1 album this week. I love my fans for the #1 album in AMERICA! I'll explain on #QueenRadio 4 albums in, #1 in 86 countries ♥️," the rapper tweeted.
She followed up her claims about being No. 1, pointing fingers at a photo Jenner shared on Instagram. "I put my blood sweat & tears in writing a dope album only for Travis Scott to have Kylie Jenner post a tour pass telling ppl to come see her & Stormi. lol. Im actually laughing. #Queen broke the record of being number 1 in 86 countries. Thank Jesus & thank you to my fans," Minaj tweeted, before attempting to explain that she was using "sarcasm" and "dry humor" to address the unfair treatment she felt was coming from Spotify and Travis Scott fans.
But according to the charts, his album was No. 1. Knowing that, Scott, in preparation for the VMAs, which air tonight on MTV, reportedly made a fuss about his seating arrangement. Minaj was reportedly given a seat in the front row, with Scott and Jenner placed right behind her. Now, in the past, Minaj has been no stranger to an onstage callout at the VMAs. The quarrel heard round the world at the 2015 VMAs was met with silence when Minaj asked VMA host Miley Cyrus, "Miley, what's good?" in front of the entire audience while accepting the award for Best Hip-Hop Video, and addressed comments Cyrus had made about Minaj in the press earlier that month. Per TMZ, Scott reportedly asked MTV to change the seats, since the front row spot is supposed to be designated to whoever has the No. 1 album, and is reportedly scurrying to avoid a tiff between himself, Minaj, and Jenner.
Celebrities often drum up some sort of delicious drama at the VMAs, but they usually wait until they arrive before the chaos begins (see: the iconic onstage kiss between Madonna and Britney Spears, Lady Gaga's meat dress, and so on). The tweet storm has already fanned the flames of memes and debates about whether or not Minaj and Jenner will confront one another tonight, but luckily for us, we've already been given a taste of the possible verbal fisticuffs to come before the party's even begun.
Related: Twitter Reacts to "Barbie Dreams," Nicki Minaj's New Take-No-Prisoners Diss Track