Twitter Reacts to "Barbie Dreams," Nicki Minaj's New Take-No-Prisoners Diss Track
"I only mentioned people in #BarbieDreams that I fuk wit," the rapper wrote on Twitter.
---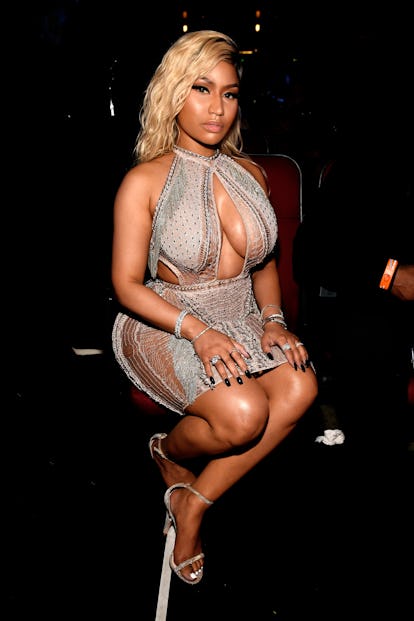 Photo courtesy of Getty Images.
On Thursday, Nicki Minaj took over Apple's Beats 1 radio for a special "Queen" radio hour, during which she revealed that, just three hours prior, she had finished her album of the same title. Queen, her first full-length release since 2014's The Pinkprint, runs 19 tracks and just more than an hour, and it features the likes of Eminem (whom she is not dating), Rae Sremmurd's Swae Lee, Ariana Grande, Foxy Brown, Future, The Weeknd, Lil Wayne, and Labrinth—but that list is nothing compared to all the name-dropping she does on the album's third track, "Barbie Dreams."
"Barbie Dreams" is something of a vintage diss track, dripping with swagger and taking no prisoners—even when those prisoners might be some of Minaj's own collaborators. ("Em, cop the Barbie dream house then you can play the part/ I ain't tryin' to bust it open in a trailer park," she raps, ostensibly referring to Eminem.) A likely incomplete recap of everyone she references on "Barbie Dreams": Drake, Meek Mill, DJ Khaled, Kim Kardashian and Kanye West, Karrueche Tran, Young Thug, 50 Cent, Desiigner, Odell Beckham, Jr., Lil Uzi Vert, YG, the Game, Slim Jxmmi, Swae Lee, Eminem, Fetty Wap.
"I only mentioned people in #BarbieDreams that I fuk wit," Minaj wrote on Twitter. "This isn't a diss. Yikes. This is culture, this is BIGGIE!!!!! New York!!!! This is FUN. Light hearted fun FUN." By "this is BIGGIE," she's likely referring to the Notorious B.I.G.'s "Just Playing (Dreams)"—she opens the track murmuring, "R.I.P. to B.I.G.; classic shit." Minaj, as she frequently does, also reverses the traditional gender dynamic of hip-hop lyrics, offering a boastful catalogue of her romances and flings real and rumored. It prompted pretty much immediate reactions on Twitter—which are probably why Minaj, an avid Twitter user herself, felt the need to chime in—from the likes of peers Dawn Richard and Angel Haze, as well as Minaj's legions of fans. See a few of the best responses, below.