Nicki Minaj Opens Up About Cardi B, Meek Mill, and Drake in New Interview
The rapper reemerged after four months of silence.
---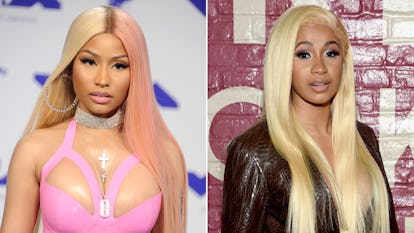 Getty Images
After going radio silent on all social media channels in December, Nicki Minaj has reemerged with new music and a new, revealing interview. While her two new singles—"Chun-Li" and "Barbie Tingz"—have already sent fans into a tizzy, it's the candid interview, which aired live on Apple Music's Beats One Radio on Thursday, that's sparking loads of headlines about the rapper's past feuds. If there's one thing Onika Maraj isn't afraid of, it's drama, and she's been involved in quite a few kerfuffles as of late. In just the past year and a half, Minaj has feuded with Remy Ma, Drake, and, apparently now Cardi B, despite previous indications that the pair were at least on tentatively friendly terms
When asked if some of the pointed lines of "Chun-Li" refer to Cardi B, Minaj denied the claims, per Pitchfork, and stated that she wrote the song more than a year ago, long before Cardi's breakout hit "Bodak Yellow" had ever hit the radio waves. But that doesn't mean it's all love between the two New York City rappers. "I remember when I first came in the game…I would only be singing their praises and saying thank you," Minaj said of the female rappers who came before her, according to Pitchfork, seemingly implying that Cardi hadn't shown that same respect to her. "The first interview [Cardi] did, it just hurt me because she looked so aggravated and angry. She just kept saying she didn't hear [my verse on "MotorSport"]….I was like, 'What?'"
Minaj then recounted the making of "MotorSport," the Migos-led song that features both Minaj and Cardi. As she previously outlined on Twitter, Minaj again stated that she and Cardi B didn't appear in the video together because the former had a scheduling conflict, and that it "hurt her" that no one attempted to "clear the air" when fans speculated about a larger feud. "And you still did interviews just to paint Nicki as the bad person and play the victim," Minaj said of Cardi. "And that really, really hurt me, because I really fully supported her. And up until this recent interview she did [with Ebro Darden for Beats One], I had never seen her show love in an interview. And I can only imagine how many girls wished they could've been on a song with Nicki Minaj."
Cardi actually has claimed that rumors of a feud were the fan-fiction work of trolls and drama-thirsty fans, but apparently she wasn't exact enough for Nicki's liking. There's a bit of irony here in that a little before she blew up on the pop scene, one of Nicki's first big breakthrough moments among hip-hop fans was appearing in a posse track with another female rapper who shot her music video scenes separately. She jumped on a remix of Yo Gotti's "5 Star" alongside Trina, but the two female rappers never shared a scene in the video presumably because of scheduling conflicts. There were never rumors of a feud there, so maybe Minaj is just a bit bemused that drama is coming her way now that she's on the other end of the same situation.
In the interview, Minaj also said that she felt trapped between her close friend and fellow Young Money rapper Drake and her then boyfriend Meek Mill during their feud, calling it "one of the hardest times of [her] career," adding, "At the time, I did love both of them…I felt so imprisoned in that moment." Minaj went on to note that, after a troubling time for all involved, the two gentlemen have since squashed their beef. "It was difficult to stay out of it. I was behind the scenes, wishing it wouldn't happen," she said. "I said, 'Don't do that.' I think, as artists, we all look back on things that we shouldn't have done. And that was one of those things [Meek] shouldn't have done. But he did it, and it is what it is. What I do know is that Meek and Drake have moved on from that."
Related: Cardi B and Nicki Minaj: A History of the Feud That Never Was