Cardi B and Nicki Minaj: A History of the Feud That Never Was
"I don't really have the time for that."
---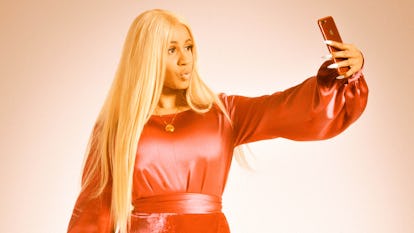 Back in 2001, Missy Elliot released her seminal album Miss E… So Addictive with guest verses from Eve, Da Brat, Lil Mo, Miss Jade, and (in a radio remix) Trina. In that moment, it seemed for a second that we were finally reaching a place of hip-hop gender parity. Here was a female rapper at the top of her game releasing an album with features from five other female rappers. Then, we devolved. Throughout the 2000s, there have been a few flashes in the pan (apologies to Lil Mama and Iggy Azalea) and a few underground artists more beloved by Pitchfork than The Source who bubbled up for brief moments into the mainstream (M.I.A. and, technically, Azealia Banks), but for the most part we really didn't have any female rappers who debuted after 2001 who came close to reaching the heights of the Lil' Kims, Foxy Browns and Lauryn Hills of the '90s. Even as hip-hop overtook rock 'n' roll as America's most popular genre, mainstream progress for women in the genre lagged behind.
Nicki Minaj's rise to prominence in 2010 may have given some hope that the situation would improve, but she mostly carried the weight for an entire gender in the genre for the better part of the decade, until, of course, Cardi B charmed us all last summer with "Bodak Yellow" (tellingly, it became the first number one solo song from a female rapper since Lauryn Hill climbed the charts in the '90s). The arrival of her debut album, Invasion of Privacy, proves beyond a doubt that Cardi B is no flash in the plan. No fluke.
So, now, for the first time since George W. Bush was in office and Carson Daly was hosting TRL, we finally have two female MCs at their peak who have reached the sort of fame where even random white moms at least recognize their name.
Unfortunately, this is also the first time such a thing has happened in the age of social media, so, of course, sources ranging from random Twitter trolls to Bonnie Fuller's Hollywood Life can't help but spread conspiracy theories that there's some bad blood boiling under the surface ready to explode into a full-out feud at any moment, even though neither has ever negatively called out the other by name. In fact, the two have spent the better part of the last year publicly denying any beef.
So, apologies to anyone looking for a distraction from Taylor Swft vs. Katy Perry—here's a history of Nicki Minaj and Cardi B addressing their supposed drama.
Nicki denied her lyrics in a London On Da Track remix were about Cardi.
Nicki, then fully involved in an actual feud with a resurgent Remy Ma, jumped on London On Da Track's track "No Flag" to vent, but assumed that a particular line (""Lil' bitch I heard these labels tryna make another me / Everything you getting little hoe is cause of me") was aimed at Cardi, who was then riding high with "Bodak Yellow." But in August, Minaj clarified that she had written the verse months beforehand.
Nicki congratulated Cardi on the success of "Bodak Yellow"
When "Bodak" hit number, Nicki offered her congratulations on Twitter.
Cardi responded to in kind.
You'd think this would be proof positive that there was no feud, and yet…
Cardi denied her lyrics in a G-Eazy remix were about Nicki.
In a mirror situation, Cardi jumped on G-Eazy's song "No Limit" and took aim at unnamed haters with the following verse: "My career takin' off / These hoes jogging in place / Swear these hoes run they mouth / How these hoes out of shape? / Can you stop with all the subs? / Bitch I ain't Jared." Never mind that the hoes in question were plural—some were sure it was directly referencing Minaj. Yet in an interview with The Breakfast Club, Cardi said she was taking aim at haters from her neighborhood, and not Minaj.
They both appeared on Migos's "Motorsport"
Once again, you think that appearing on the same track together would squash any beef, but some Sherlocks still had their theories. Minaj latter clarified that while she recorded her part before she knew who else would be on the track, she had no problem when she found out Cardi would be jumping on the track too.
"The conspiracy theories r just so tired," she wrote. "Relax. Breathe."
"There are men in our culture who simply refuse to let it go."
Cardi said they could "make out" and there'd still be drama, and Nicki agreed.
"It's so annoying," Cardi said in a video interview with Complex. "I feel like people wouldn't even be satisfied even if me and [Nicki] was making out.… I feel like people just want that drama." In a since-deleted Tweet, Nicki said the assertion was "very true."
Cardi said it's all fan-created drama
Despite all these previous denials, rumors of the feud continued into the release cycle of Cardi's first album, and Cardi has had to deny them as recently as last week.
"I really feel like fans and people, they really want to see that happen because it's really entertaining," Cardi told Beast 1 Radio. "To see people beef is entertaining. I remember when Nicki and Remy [Ma] were beefing and everybody was tuning in like, 'Ooh, what's next?'"
"I don't really have the time for that. If you've not f—ed my man or you're not taking my money from me then I don't really give a f–k about you. People just want to pin us [together] because it's entertainment, but they don't want to handle their own beef."
"What do people expect from me? I've already said she's an amazing artist, I pay my respects to her. I've done videos before of me jamming to her songs.… Y'all want me to say something bad."
What more can you say?
Of course, the rumors continue as Minaj plans to release two singles tomorrow in the wake of Cardi's album release, but just as much as some are taking it as evidence of drama, there are also rumors of the exact opposite.
Related: Every Delightful Cardi B Burn and Chirp From Her Jimmy Fallon Cohosting Cameo