Nicki Minaj Teases Possibility of Ariana Grande Joint Album
The two musicians are halfway there already.
---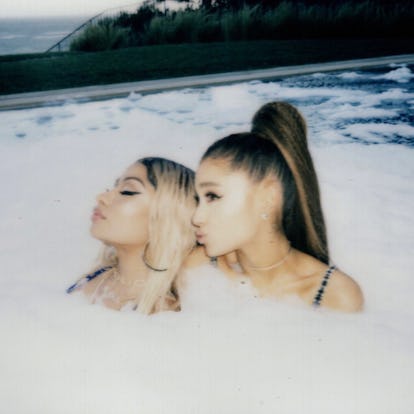 A scientific study has revealed the majority of Nicki Minaj fans surveyed in a recent poll would like her to record an entire collaboration album with pop star and future spouse of Pete Davidson Ariana Grande.
On the heels of the release of the duo's music video for "Bed," directed by Hype Williams, Minaj posted a poll to her Twitter: "Y'all, should Ari and I do an album together one day?" Minaj asked. She presented three options: "YASSSSSSSSSSS," with 11 Ses; "Hmmmmm," with five ms and a thinking-face emoji; and "OMG YASSSSSSSSS btch tf!," with nine Ses but a whole lot of other emoting. It was an admittedly biased study as far as the scientific method goes, considering two of the responses shared tone and language, but the responses overwhelmingly pointed to a strong desire for a Nicki Minaj-Ariana Grande album. Thirty-four percent of respondees selected the first option, 15 percent the second, and 51 percent the third, as of publication time.
The two musicians are quickly amassing a catalogue sufficient to fill an album. After all, "Bed," which sees Minaj transform into a mermaid (a bit she has kept up on Twitter) was their fifth song; earlier this year, Grande released "The Light Is Coming," off her upcoming record Sweetener, which featured Minaj. Grande reportedly considered other rappers to guest on the track—among those rumored to be in contention were Drake and Skepta—but the 25-year-old singer was none too impressed with any of them. But when she texted Minaj to ask her to consider writing a verse for the track, Minaj responded, "Ho-lee-s–t-I-love-this," according to a recent interview with The Fader.
The feeling, it seems, was mutual. Grande went on to describe Minaj's contribution to the track, telling The Fader, "She killed it," and "that's what Nicki Minaj does, she elevates a record."
The two musicians do have records coming out within two weeks of each other. We'd recommend they collapse them into one super-album, except Queen Sweetener sounds like the diet version of an Oprah show.
Related: Oh, Wait, Nicki Minaj Is a Mermaid in the New Video for "Bed" With Ariana Grande