Oh, Wait, Nicki Minaj Is a Mermaid in the New Video for "Bed" With Ariana Grande
Minaj and Grande co-star in the Hype Williams-directed clip.
---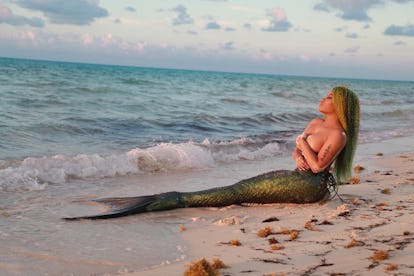 @nickiminaj
Nearly a month after they first teased the video on social media, on Friday, Nicki Minaj finally released the music video accompanying her song "Bed," featuring Ariana Grande. At the outset of the video, the camera rests on gentle whorls of seafoam, a clear blue sky, the calls of seagulls, the rapper silhouetted against the clouds, wearing a turquoise swimsuit, as she slowly turns towards the viewer.
Then, it cuts to a different shot—Minaj rolling languidly in the surf and, oh, wait, she's a mermaid, with the scales and tail and crimped green and gold hair to show for it. Topless, because shell bras are just Disney censorship if you know your mythology. And it's only then that the music picks up: "Got a bed wit' your name on it," Grande croons, the frame still resting on Minaj in various venues (poolside, on the beach, back in the waves with her mermaid tail). Grande eventually shows up too, wearing a matching white lingerie set trimmed with marabou and her hair in her trademark ponytail.
Despite her mermaid tail (which Azealia Banks, never one to resist a feud, likened to "aunty chicken of the sea tuna in a can baked potato vibes"), Minaj manages to make a number of costume changes, seemingly with every change of scene. There's a red lingerie set paired with matching fishnet tights, which appears when Minaj plunks down in the titular "bed"; there's a white-and-mesh bikini, worn in the pool; and, best of all, a baby-blue one-piece suit with a rhinestone My Little Pony splashed across the front. This one gets crimped blue and pale pink hair to go with it. Later, in the waves, Minaj has foresaken her tail in favor of a light pink mesh wrap situation.
In between all the gyrating and splashing in the waves, the video also features some less-than-subtle product placement: The Beats by Dre "b" logo is clearly visible on Minaj's headphones; and the camera rests on the "Lyft" logo in the window of a car that arrives to pick up the two musicians. This campaign spot paid for by…!
By the end, the two women have been paired up with two football players: Odell Beckham, Jr., and Brad Wing. Minaj quickly curls up with Beckham, while Grande flings a strawberry Wing proffers back in his face. According to Minaj, the Hype Williams-directed clip is just the first of two different versions of the visuals for the track. It's been four years since the release of Minaj's last album, 2014's The PinkPrint—her follow-up, Queen, is due out in August, as is Grande's Sweetener—so she might as well do the most to make up for it.
Related: Rihanna Turns DJ Khaled's "Wild Thoughts" Video into a Fashion Spread