Nicki Minaj's "Barbie Tingz" Video has Some Very Artsy References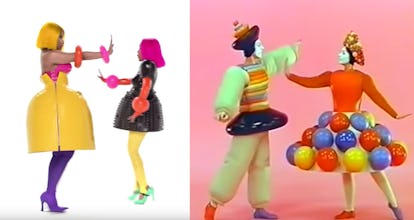 At first, it seems like Nicki Minaj's new video for "Barbie Tingz" is going to be all about the fashion. From the first frame she's in head-to-toe Alexander Wang looking like a Matrix-loving baddie about to hit the squat machine at Equinox. The next moment she's in that Fendi logo crop jacket and g-string number she wore on the cover for "Tingz"'s sister single "Chun-Li" (it's the perfect outfit, we suppose, for when one wants to hit up the hot tub during ski season in Aspen). She co-directed the video with Italian Vogue creative director Giovanni Bianco, so, of course, we should expect some labels and looks.
Though, at about 18 seconds in, we're clued in to the fact that we should also expect something a bit more artsy too. There's Nicki, alone in the spotlight, in a cage-like skirt dancing as marionette-strings control her moment. It's likely a visual representation of Minaj's recent comments on how she feels the media and Twitter trolls are trying to manipulate her public image and actions. There's some more dance scenes and potent visuals, but it all culminates with Minaj in a voluminous plastic outfit doing a bit of stilted choreography with a single similarly-dressed backup dancer.
It's a striking visual for sure, and one that a lot of people on Twitter are betting is inspired by an avant-garde ballet that dates all the way back to the 1920s: Oskar Schlemmer's Triadisches Ballett. Barbie gone Bahaus?
Some eagle-eyed watchers first picked up on the reference when Nicki dropped a teaser for the video back in the middle of April.
So, what exactly is this Triadisches Ballett?
Well, Oskar Schlemmer was a German multi-media artist who was associated with the country's famous Bauhaus art school. While at first he worked in more traditional mediums like painting and sculpture, he soon began to see the human body itself as a medium. Inspired by pantomime and traditional ballet, he began masterminding Triadisches Ballett. The bulky costumes were supposed to render the body as shapes. The stilted movements were means to resemble puppets, wind-up toys, and marionettes. Presented in three sections, the ballet was a hit and toured worldwide. It's still one of the most widely performed avant-garde dance pieces.
It was also immortalized in a 1970 film as seen below. Scroll through if you're in a hurry. The scenes with yellow and pink backdrops are the most relevant to Nicki's video.
Though we can't quite put our fingers on the inspiration, it's also likely that some of the other scenes in "Barbie Tingz" have some artsy inspiration as well. There's that marionette scene.
There's also a scene of Nicki and backup dancers in ornate 18th century ballgowns. Though, the fact that her African-American dancers are in masks made to resemble white women makes us think there's a lot more going on here than just a homage to Madonna's VMA performance of "Vogue."
Then there's the scenes where Minaj and backup dancers hold oversized and stylized Nicki Minaj masquerade masks in front of their faces like they were picket signs.
Particulars of inspiration aside, it doesn't take an art history major to figure out that the full effect of Minaj's video is all about artifice and control.
Minaj has always likened herself to a Barbie even before she hit it big, but it seems that recently she's felt that some people are using her as an actual plaything and puppet, and manipulating her intentions and motives as they see fit (see: her recent sort-of-feud with Cardi B). She's here to remind you that she's the only one pulling her own strings, and if she has to go back to reference an avant garde ballet from the Weimar Republic, then so be it.
We should also add, however, that Nicki wouldn't be the first music star to reference Schlemmer's work. David Bowie has done it as well.
Related: Cardi B and Nicki Minaj: A History of the Feud That Never Was
Dior Haute Couture's silk embroidered ensemble. Saint Vintage brass and vintage Czech glass bead necklace (in hair); David Yurman 18k yellow gold and pearl necklace.
Western Costume Company's lace and silk brocade dress. Mastoloni 18k white gold, cultured pearl, and diamond bracelets.
Dior Haute Couture's silk chiffon embroidered dress. Mastoloni 18k white gold, cultured pearl, and diamond bracelets; vintage Manolo Blahnik shoes.

Francesco Vezzolli
Vera Wang's garza and French tulle ballgown.
Director of Photography: Pasquale Abbattista. Artistic Producer: Luca Corbetta. Hair by Terrence Davidson for I.A.T. Talent Management; Manicure by Honey at Exposure NY. Production By Max Brun With Art + Vibes (Hi! Production Group); Set Design by Stefan Beckman at Exposure NY; Stool by L'antiquaire & the Connoisseur Inc. All Clothing Customized By Alberta Roc At Christy Rilling Studio. Digital capture & retouch by Digitalarea.Eu. Photography Assistant: Luca Galvagni. Fashion Assistants: Felicia Garcia-Rivera and Laura Jones.
Nicki Minaj by Francesco Vezzoli for W's November 2011 cover.
Director of photography: Pasquale Abbattista. Styled by Edward Enninful. Hair by Terrence Davidson at I.A.T. Management; makeup by Aaron de Mey for Lancôme at Art Partner; manicure by Honey at Exposure NY; set design by Stefan Beckman at Exposure NY. Fashion: Dior Haute Couture's silk chiffon embroidered dress. Mastoloni 18k white gold, cultured pearl, and diamond bracelets (worn on both wrists). Beauty: MAC Matchmaster Foundation SPF 15 in 7.5; This & That Mineralize Eye Shadow; Going for Gold Technakohl Eye-Liner Kajal; Haute & Naughty Lash mascara in Black; Cremesheen lipstick in Spice Is Nice. Special thanks to Pascal Dangin.