2018 VMAs: Jennifer Lopez Goes Metallic
The night's big winner made a big statement.
---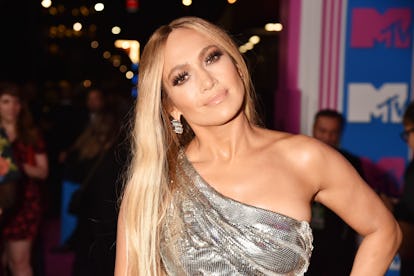 Jeff Kravitz/Getty Images
In a night of a million metallics, Jennifer Lopez was (of course) the star that shone like a diamond. In honor of the 2018 MTV Video Music Awards, Lopez turned it out in a metallic, one-shoulder Versace gown.
It makes sense that Lopez would shine a little brighter on the red carpet, because she also received the night's biggest honor: the Video Vanguard Award honoring all of her contributions (um, the Juicy tracksuit from the "I'm Real" video) to music and music videos. It's pop music's big night, but more important, it's Lopez's big night.
She dressed like a shiny moonman herself, in a leg-baring gown that even boyfriend Alex Rodriguez had to stop on the red carpet and get a photo of. She's not the only woman wearing silver on the red carpet tonight—Dascha Polanco, Rita Ora, Winnie Harlow, and more all rocked metallic as well. But Lopez is the only one who performed 20 years' worth of music in metallic. She pulled off a costume change mid-show, but managed to keep the metallic theme going for her performance. She switched to a gold sequined jumpsuit, and her dancers followed suit, all glittering in gold with white accents.
From the red carpet to the stage, Lopez kept the waist-length golden blond hair she's been wearing in recent weeks, all the better to sashay around onstage. She also chose a deep contour, a simple lip, and a bronze smoky eye—all flawless, of course.
In the words of Ariana Grande, God is a woman, and that woman is J.Lo.
MTV VMAs 2018: What Cardi B, Shawn Mendes, and More Wore to Radio City Music Hall
Cardi B attends the 2018 MTV Video Music Awards at Radio City Music Hall on August 20, 2018 in New York City.

Getty Images
Shawn Mendes attends the 2018 MTV Video Music Awards at Radio City Music Hall on August 20, 2018 in New York City.

Getty Images
Singer Kim Petras attends the 2018 MTV Video Music Awards at Radio City Music Hall on August 20, 2018 in New York City.

Getty Images
Winnie Harlow attends the 2018 MTV Video Music Awards at Radio City Music Hall on August 20, 2018 in New York City.

Getty Images
Asian Doll attends the 2018 MTV Video Music Awards at Radio City Music Hall on August 20, 2018 in New York City.

Getty Images
Grace VanderWaal attends the 2018 MTV Video Music Awards at Radio City Music Hall on August 20, 2018 in New York City.

Getty Images
Victor Cruz and Karrueche Tran attend the 2018 MTV Video Music Awards at Radio City Music Hall on August 20, 2018 in New York City.

Getty Images
Noah Cyrus and Lil Xan attend the 2018 MTV Video Music Awards at Radio City Music Hall on August 20, 2018 in New York City.

Getty Images
Vinny Guadagnino and Pauly D attend the 2018 MTV Video Music Awards at Radio City Music Hall on August 20, 2018 in New York City.

Getty Images
Quavo and Offset of Migos attend the 2018 MTV Video Music Awards at Radio City Music Hall on August 20, 2018 in New York City.

Getty Images
Jasmine Sanders attends the 2018 MTV Video Music Awards at Radio City Music Hall on August 20, 2018 in New York City.

Getty Images
Nicky Hilton Rothschild attends the 2018 MTV Video Music Awards at Radio City Music Hall on August 20, 2018 in New York City.

Getty Images
Pete Davison and Ariana Grande attend the 2018 MTV Video Music Awards at Radio City Music Hall on August 20, 2018 in New York City.

Getty Images
Bebe Rexha attends the 2018 MTV Video Music Awards at Radio City Music Hall on August 20, 2018 in New York City.

Getty Images
Christian Combs attends the 2018 MTV Video Music Awards at Radio City Music Hall on August 20, 2018 in New York City.

Getty Images
Gucci Mane and Keyshia Ka'Oir attend the 2018 MTV Video Music Awards at Radio City Music Hall on August 20, 2018 in New York City.

Jamie McCarthy/Getty Images
Nico Tortorella attends the 2018 MTV Video Music Awards at Radio City Music Hall on August 20, 2018 in New York City.

ANGELA WEISS
Amara La Negra attends the 2018 MTV Video Music Awards at Radio City Music Hall on August 20, 2018 in New York City.

Nicholas Hunt/Getty Images
Spencer Pratt, son Gunner Pratt and Heidi Pratt attend the 2018 MTV Video Music Awards at Radio City Music Hall on August 20, 2018 in New York City.

Kevin Mazur
Amandla Stenberg attends the 2018 MTV Video Music Awards at Radio City Music Hall on August 20, 2018 in New York City.

Nicholas Hunt/Getty Images
Hayley Kiyoko attends the 2018 MTV Video Music Awards at Radio City Music Hall on August 20, 2018 in New York City.

Mike Coppola/Getty Images
Chloe X Halle attend the 2018 MTV Video Music Awards at Radio City Music Hall on August 20, 2018 in New York City.

Paul Zimmerman
Logic attends the 2018 MTV Video Music Awards at Radio City Music Hall on August 20, 2018 in New York City.

Jamie McCarthy/Getty Images
Amber Rose attends the 2018 MTV Video Music Awards at Radio City Music Hall on August 20, 2018 in New York City.

Nicholas Hunt/Getty Images
Nicole "Snooki" Polizzi and Jenni "JWOWW" Farley attend the 2018 MTV Video Music Awards at Radio City Music Hall on August 20, 2018 in New York City.

Mike Coppola/Getty Images
Camila Cabello attends the 2018 MTV Video Music Awards at Radio City Music Hall on August 20, 2018 in New York City.

Jamie McCarthy/Getty Images
Millie Bobby Brown attends the 2018 MTV Video Music Awards at Radio City Music Hall on August 20, 2018 in New York City.

Nicholas Hunt/Getty Images
Rita Ora attends the 2018 MTV Video Music Awards at Radio City Music Hall on August 20, 2018 in New York City.

Jamie McCarthy/Getty Images
Sofia Carson attends the 2018 MTV Video Music Awards at Radio City Music Hall on August 20, 2018 in New York City.

Kevin Mazur
Anna Kendrick attends the 2018 MTV Video Music Awards at Radio City Music Hall on August 20, 2018 in New York City

Jamie McCarthy