Jennifer Lopez and Alex Rodriguez, Fellow Leos, Exchange Over-the-Top Instagram Posts for Their Birthdays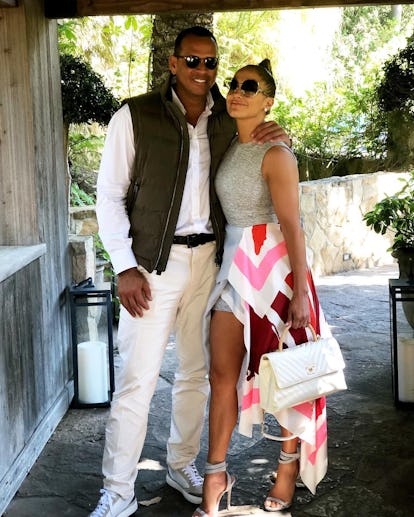 @arod
Aside from making your couple debut on the red carpet of the Met Gala, the joint magazine cover is perhaps the boldest celebrity relationship statement around. (The next logical step is buying property.) In their shared Vanity Fair cover last year, Jennifer Lopez and Alex Rodriguez explained that they have a lot in common. "We're both Leos; we're both from New York; we're both Latino and about 20 other things," Rodriguez said. Among those 20 other things, as evidenced in their star sign, are birth dates just three days apart: Lopez was born on July 24, 1969, while Rodriguez was born on the 27th of the same month, in 1975. Another of those 20 things, apparently, is a proclivity for effusive Instagram posts.
Earlier this week, Rodriguez posted a slideshow celebrating Lopez for her birthday. (That makes her 49, but even she is confused by how she doesn't appear so.) "When we were kids, birthdays were exciting because it was all about the gifts we would be getting. A new bat, dance shoes, maybe a new CD (yes I'm old!). I see firsthand how that's changed for Jennifer, and how she's found joy in sharing with others. For someone who has been about giving everything she has 365 days a year—to our children, our families, the world—I hope today, we can give you all the happiness you deserve. I love you mucho Macha 13," he wrote, following simply by the red heart emoji. In the following days, she posted some highlights from her birthday party, including a beachfront family portrait (complete with a bottle of Champagne) and a gallery of photos of the festivities.
Then, for Rodriguez's birthday just a couple of days later, Lopez took the opportunity to one-up her boyfriend. In lieu of an Instagram gallery of images of herself and Rodriguez and their family, she posted an animated slideshow, complete with sprinkles of confetti and colorful transitions. And, like Rodriguez, her post was accompanied by an effusive caption. "Baby, spending time with you over the past year and a half…getting to know the real you more and more…I am surprised everyday by the generous, loving person you are to me and everyone around you… you bring energy and laughter everywhere you go. But I am most impressed by the man you strive to be…growing everyday… reaching for new heights, new understanding, new dreams and new goals," she wrote. "YOU ARE A SUPERSTAR, a force of nature, a visionary and a gentleman. I love you and I wish for you, today and everyday, all the goodness and abundance God and the universe has to offer… HAPPY BIRTHDAY Macho Bello. Te Adoro," she finished, followed by the black heart, cake, two pink hearts, and lips emojis and a tag for Rodriguez's Instagram handle.
A few hours later, Rodriguez took to Instagram again, posting a series of images from his own birthday celebration—at the golf course, rather than the club, by the looks of it, but complete with cigars and a dance party.