Madonna Wrote Her Own Surreal Biopic on Instagram Live
Co-writer Diablo Cody, Sarah Jessica Parker, Ryan Murphy, and Michelle Visage all received some shade.
---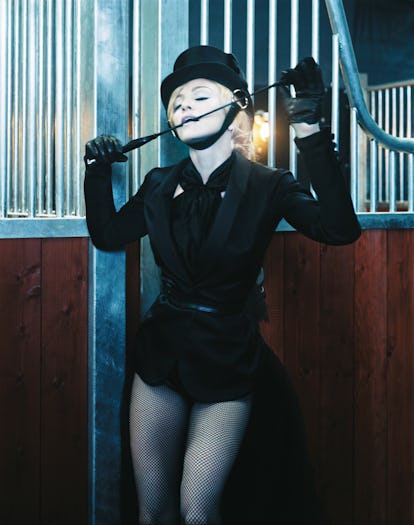 Steven Klein
Madonna's interesting relationship with social media reached new heights last night after the singer surprisingly went live on Instagram alongside screenwriter Diablo Cody. The broadcast served not only as official confirmation that the pair are working on a biopic about Madonna's life, but also purported to be a direct look into the writing of the script. The pair were working on a scene in which Madonna interacts with her younger sister Paula Ciccone, but its questionable how much writing actually got done during the 65 minute live session.
Madonna's innate urge to put on a show whenever she knows there are eyes on her took over. Cody, meanwhile, sat beside her and at numerous times shot looks directly to the camera like she was Jim Halpert in The Office.
The stream opened with Madonna requesting that Cody re-size the font on her computer to 150 percent, and then the singer, dressed in all black, quickly explains, "We decided to dress like dominatrixes today."
"I wouldn't ordinarily be in pleather pants on a Thursday," says Cody.
"I would ordinarily be," Madonna shoots back, setting the tone.
Madonna compliments Cody's bra, which she correctly identifies as Agent Provocateur, but repeatedly seems upset by Cody's choice of bedazzled silver heels.
"I hope Sarah Jessica Parker isn't watching this live because she designed these shoes," says Cody.
"Well so? She's not like my best friend or anything," says Madonna.
It seems like light teasing is just how Madonna shows love: During the writing process she stresses over the perfect jokes that her fictional self in the script would lob at her sister Paula, but also notes that Paula will emerge in the script as a stand-out character who is "the voice of reason in this movie."
Madonna also slips into earnestness when talking about her fans. Cody makes a little joke about Brazilian fans, who are notoriously passionate online and who had started to populate the livestream's comment section.
"We miss you Brazil," she says. "I'm sad i never got to go there on my Madame X tour. I'm sad everything got shut down. I'm just sad right now that we're all separated and far away from each other."
Madonna also implies that while she saw the season of Pose that was loosely inspired by her appropriation of the ballroom scene, its hard for her to engage with something that she actually lived through (perhaps explaining why she's writing her own biopic). Though, she immediately does shout out Jose and Luis Xtravaganza, her former backup dancers who more directly inspired the events of Pose, and hints that they may appear as characters in the film.
Throughout all the sheningans, Madonna also drops other hints about what to expect from the film.
"We do talk about Andy [Warhol], and Keith [Haring], and [former Boyfriend] Jean-Michel Basquiat and Martin Burgoyne and the whole coming up as an artist in Manhattan, downtown, Lower East Side in the early '80s," she says. (Hopefully she'll cast a queer actor to play Warhol, something Hollywood seems reticent to do elsewhere).
Other major invents mentioned as being involved in the plot include the fallout from her controversial "Like a Prayer" video and her experience filming Evita.
Though, most fans seemed to latch on to the banter between Cody and Madonna.
Perhaps the biggest target of Madonna shade of the night wasn't Cody, SJP, or her sister Paula, but Michelle Visage, a judge on RuPaul's Drag Race and noted Madonna superfan, who entered the comment section. For reasons that don't need stating, there's a huge overlap of Drag Race and Madonna's fandoms, and the commenterrati went wild. Madonna noticed, but didn't quite understand. "Who's Michelle? Michelle Obama?"
"Who's Michelle? You're getting too many compliments this is just not fair," the singer said. The livestream ended shortly after.
You can watch the full thing as archived on YouTube:
Related: Isolated, Madonna Reworks "Vogue" as a Song About Fried Fish