Madonna Offers Harry and Meghan Her NYC Apartment, Calls Canada "Boring"
Madame X is a real estate broker.
---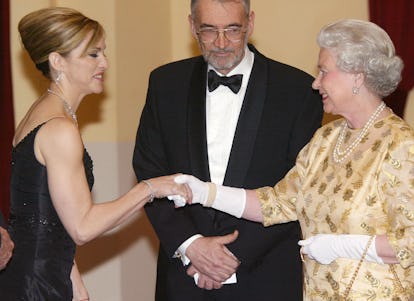 Madonna didn't climb to the top of pop without a strong sense for opportunity, and recently the singer has found a way to both solve the Royal family's recent problems and her own highly publicized New York City real estate woes in one fell swoop: she wants Prince Harry and Meghan Markle to rent her palatial Upper West Side apartment.
Of course, Madonna can't help but stir up just a little bit of controversy with everything she does, and in publicly proposing the real estate deal she managed to both shade Buckingham Palace and the entire nation of Canada.
If you haven't stopped by the singer's Instagram lately, recently she's taken up the habit of having someone on her staff film her, almost vlog style, as she goes about her day, and pontificates on various subjects. Madge happens to currently be in London for over two weeks for dates of her Madame X tour, and naturally had the Royal family on her mind as she prepared backstage.
So, in her latest video dispatch, she shared her feelings on the latest "Megxit" developments.
"Don't run off to Canada," she says to no one in particular while sitting at a vanity waiting to have her hair and makeup completed. "It's so boring there."
She pumps her arms, closes her eyes, takes a deep breath, and then offers her own Megxit contingency plan.
"I'll let them sublet my apartment on Central Park West. It's two-bedroom, it's got the best view of Manhattan. Incredible balcony," she says. "No, Buckingham Palace has got nothing on CPW."
Madonna, as we know, hasn't been making much use of her Manhattan property as of late. When Madame X isn't on tour she's quite notoriously taken up the life of a soccer mom in Lisbon, Portugal, of all places.
Indeed, the fact that she isn't living in the Upper West Side co-op has caused her some legal problems lately. In 2018 she lost a long-running lawsuit against the co-op's board over their strict rules. According to their bylaws, if Madonna herself wasn't actually living in the building then she couldn't let her staff or even her own children occupy the space either. According to Page Six, however, subletting is allowed.
Of course, any subletters would have to be pre-approved. Though, if you think that even bonafide royals would be able to be automatically authorized, well, you don't know anything about Manhattan's notorious co-op boards. Her neighbors may decide that they just wouldn't want to bother with all the fuss Meghan and Harry may bring. Besides, Meghan sure looked happy strutting through those Canadian woods in those paparazzi photos the other day. The Sussexes may not want to deal with the hassles of NYC living, either.
Still, we can mark another profession down for Madame X. In addition to being a secret agent, head of state, cha-cha instructor, prostitute, saint, etc., she's also apparently an aspiring real estate broker.