Madonna Is Moving to Lisbon to Become a Soccer Mom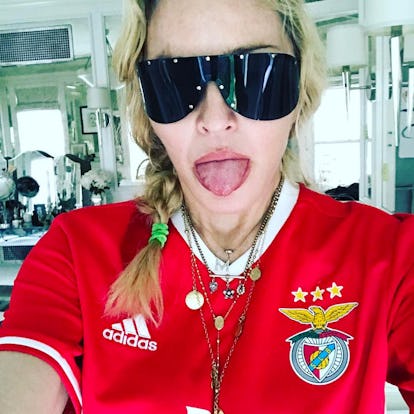 Courtesy of @madonna
In the last month, Madonna has been spotted in Saint-Tropez, where she partied with Leonardo DiCaprio and Kate Winslet, and in Puglia, where she entered her 59th birthday party on a horse.
Madonna's citizen of the world tour now continues: Madge is now reportedly moving from New York to Portugal to support her 11-year-old son David Banda, whom she adopted from Malawi in 2006, in his burgeoning soccer career, as he joins the junior squad of the famous Portugese club Benfica.
Of course, as the queen of reinvention, Madonna isn't planning on becoming just any old soccer mom: She's already reportedly bought a £5 million, 18th-century, UNESCO-protected mansion known as the Quinta do Relógio, once owned by the nobleman who reportedly inspired The Count of Monte Cristo, in a hilltop city near both the club's training area and Lisbon.
The decision came after Madonna spent two weeks in the presidential suite at Lisbon's Ritz Hotel—which, by the way, costs £13,000 per night—and, from the looks on her Instagram, went on a regional tour of the most opulent, for-sale castles in town. David, meanwhile, has a French school (tuition: £30,000) in store for him. So it's no extended holiday, that's for sure.
So what will Madonna be doing in one of Europe's lesser cities? For one, probably working on her next movie Loved, an adaptation of Andrew Greer's novel The Impossible Lives of Greta Walls, whose protagonist time travels to three different lives she could have lived (sounds very Madge). Oh, and she'll probably be screaming from the sidelines as usual and posting even more Instagrams of her family.
Madonna's Been Rocking the Red Carpet for Thirty Years
Kenny "Babyface" Edmonds and Madonna at the 22nd Annual American Music Awards on January 30, 1995. Photo courtesy of Getty Images.

Getty Images
Madonna attends the 55th Annual Golden Globes on January 18, 1998. Photo courtesy of Getty Images.

Getty Images
Madonna and Guy Ritchie arrive at the UK Premiere of "Sin City" at the Empire Leicester Square on May 23, 2005 in London, England. Photo courtesy of Getty Images.

Getty Images
Madonna attends the screening of her new documentary film "I'm Going To Tell You A Secret" at Loews Lincoln Square on October 18, 2005 in New York City. Photo courtesy of Getty Images.

Getty Images
Guy Ritchie and Madonna, at the "Swept Away" Screening on October 07, 2002. Photo courtesy of Getty Images.

Getty Images
Madonna at the "Reinvention Tour" opening night after party on May 24, 2004. Photo courtesy of Getty Images.

Getty Images
Madonna attends the Grammy Awards press room on February 08, 2006. Photo courtesy of Getty Images.

Getty Images
Madonna attends the "Lotsa De Casha" book party at Bergdorf Goodman on June 07, 2005. Photo courtesy of Getty Images.

Getty Images
Madonna and Guy Oseary attend the 1997 MTV Video Music Awards. Photo courtesy of Getty Images.

Getty Images
Madonna during the 23rd Annual Rock and Roll Hall of Fame Induction Ceremony at the Waldorf Astoria on March 10, 2008 in New York City. Photo courtesy of Getty Images.

Getty Images
Madonna arrives at amfAR's Cinema Against AIDS 2008 benefit held at Le Moulin de Mougins during the 61st International Cannes Film Festival on May 22, 2008 in Mougins, France. Photo courtesy of Getty Images.

Getty Images
Madonna attends MTV's Europe Music Awards in 2005. Photo courtesy of Getty Images.

Getty Images
Madonna arrives at the 2009 Vanity Fair Oscar Party at the Sunset Tower on February 22, 2009 in West Hollywood, California. Photo courtesy of Getty Images.

Getty Images
Madonna attends the 70th Annual Academy Awards on March 23, 1998. Photo courtesy of Getty Images.

Getty Images
Madonna attends "The Model as Muse: Embodying Fashion" Costume Institute Gala at The Metropolitan Museum of Art on May 4, 2009 in New York City. Photo courtesy of Getty Images.

Getty Images
Madonna attends the "Alexander McQueen: Savage Beauty" Costume Institute Gala at The Metropolitan Museum of Art on May 2, 2011 in New York City. Photo courtesy of Getty Images.

Getty Images
Madonna attends the "I Am Because We Are" premiere at the Palais des Festivals during the 61st International Cannes Film Festival on May 21, 2008 in Cannes, France. Photo courtesy of Getty Images.

Getty Images
Madonna attends the UK premiere of W.E. at ODEON Kensington on January 11, 2012 in London, England. Photo courtesy of Getty Images.

Getty Images
Madonna poses in the press room at the 69th Annual Golden Globe Awards held at the Beverly Hilton Hotel on January 15, 2012 in Beverly Hills, California. Photo courtesy of Getty Images.

Getty Images
Madonna launches her first signature fragrance, Truth Or Dare By Madonna at Macy's Herald Square on April 12, 2012 in New York City. Photo courtesy of Getty Images.

Getty Images
Madonna attends the press room at the 2013 Billboard Music Awards held at MGM Grand Resort and Casino on May 19, 2013 in Las Vegas, Nevada. Photo courtesy of Getty Images.

Getty Images
Madonna attends the Costume Institute Gala for the "PUNK: Chaos to Couture" exhibition at the Metropolitan Museum of Art on May 6, 2013 in New York City. Photo courtesy of Getty Images.

Getty Images
Madonna and son David Banda Mwale Ciccone Ritchie attend the 56th GRAMMY Awards at Staples Center on January 26, 2014 in Los Angeles, California. Photo courtesy of Getty Images.

Getty Images
Madonna attends The 57th Annual GRAMMY Awards at the STAPLES Center on February 8, 2015 in Los Angeles, California. Photo courtesy of Getty Images.

Getty Images
Madonna attends the "Manus x Machina: Fashion In An Age Of Technology" Costume Institute Gala at Metropolitan Museum of Art on May 2, 2016 in New York City. Photo courtesy of Getty Images.

Getty Images
Madonna attends the "China: Through The Looking Glass" Costume Institute Benefit Gala at the Metropolitan Museum of Art on May 4, 2015 in New York City. Photo courtesy Getty Images.

Getty Images
Madonna attends the Billboard Women in Music 2016 event on December 9, 2016 in New York City. Photo courtesy of Getty Images.

Getty Images
Madonna attends 'Rei Kawakubo/Comme des Garçons:Art of the In-Between' Costume Institute Gala at Metropolitan Museum of Art on May 1, 2017 in New York City. Photo courtesy of Getty Images.

Getty Images
Madonna seen out in Manhattan on September 26, 2017 in New York, New York. Photo courtesy of Getty Images.

Getty Images
Madonna attends the Heavenly Bodies: Fashion & The Catholic Imagination Costume Institute Gala at The Metropolitan Museum of Art on May 7, 2018 in New York City. Photo courtesy of Getty Images.

Getty Images
Related: Madonna's 59th Birthday Party in Puglia Included a Horse
Gigi Hadid Only Gets Starstruck for Kobe Bryant: