Madonna Uploaded a Super-Relatable Instagram of Herself Posing Topless with a Louis Vuitton Handbag
The handbag is printed with the Mona Lisa.
---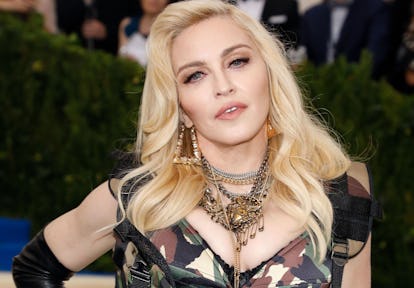 Getty Images
Madonna has begun her 2018 in the most Madonna way possible. On Friday, the music icon turned self-avowed soccer mom uploaded an Instagram that has immediately become a post-modern masterpiece. Truly, its brilliance cannot be captured by words alone. Regardless, we'll give it a stab: The Instagram post in question features Madonna posing topless, a $4,000 Jeff Koons x Louis Vuitton handbag printed with the Mona Lisa clasped to her chest, captioned #nofriends.
Relatable, no? The full caption actually reads, "Still drooling over a handbag…………….. ???? @louisvuitton #nofriends #lisbonisfar #werktodo #fashion ?????????????????? #monalisa" and the photo appears to be part of a series in which the pop star declares her lust for handbags. The first one is a vintage photo in which she, actress Debi Mazar, designer Tony Ward, and Sandra Bernhard stare, transfixed, at a handbag adorned with glittery black things. "Drooling over a handbag with @debimazar ??!!!! ??? " she writes in the caption. "Tony and Sandra facial expression!! (Everything) ? #friends #totes #fashion"
The triptych is concluded with another Instagram post, this one showing her and Mazar pining away for handbags to come. "When @debimazar was a teenager and my make up artist and we could not afford handbags!! Lol ! ????? " she wrote."#totes #rideordie #forlife ❣️❣️#neverforgetwhereyoucomefrom ??" Superb work, Madonna.
Related: Madonna, Current Soccer Mom, Plans To Return to Music Next Year
Watch: Jennifer Lawrence and Emma Stone Have A Lot in Common