Madonna Is Making New Music With Mirwais As She Reveals in Cryptic "Beautiful Game" Teaser
Whatever it is, it's coming soon.
---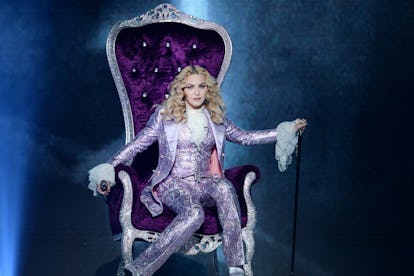 Kevin Winter/Getty Images
Madonna may not have released any new music since 2015's Rebel Heart, but she's hasn't faded away from the conversation. Between her recent performance at this year's Met Gala, appropriately themed "Heavenly Bodies: Fashion and the Catholic Imagination," and her MDNA skincare line, the pop icon has remained unmissable. Soon, however, we will be seeing even more of Madonna, as she is currently plotting her musical comeback.
Today, in a cryptic teaser on Instagram, Madonna posted a photo of herself that appears to be artwork for either an album or single entitled "Beautiful Game." "That I never Learned………….Coming Soon! ???? ," read the caption, which didn't provide much more info than the image. It did, however, confirm who Madonna has been working with.
She has been hitting the studio alongside Mirwais, the French producer best known for his early-aughts discography which includes her 2000 seminal album Music, 2003's American Life, and 2005's Confessions on a Dance Floor. Madonna actually confirmed that she was cooking up new music with Mirwais last month when she shared a video selfie of herself singing along to someone else's music. "No This is NOT my new music —————— But im having fun in the studio in between takes!! ————. #music #mirwais #magic," she wrote at the time.
Considering Madonna worked on her last album with more contemporary producers like Diplo and the late Avicii, it's notable that she's returning to Mirwais for her new one. As she told Pitchfork three years ago of her album-making process, "Generally I start by choosing producers to work with, which determines the direction the overall sound is going to go in."
It makes sense that Madonna would be taking more influence from her post-aughts sound considering that in the same interview she also said, "To be honest, pop music isn't exciting me too much right now." One of the reasons? The sexism within the music industry still hasn't changed. "You can't be sexy and intelligent. It's not allowed," as she said. "Nothing has changed. I mean, it's fine if you just wanna go out there and twerk, but the landscape is limited. If you try to embody too many different human aspects in your work, or if you have too many references, people get confused." For her next release, it sounds like she'll be sticking to the basics.