Jean Paul Gaultier Originally Designed Madonna's Cone Bra For His Teddy Bear
And he proposed to the pop star three times.
---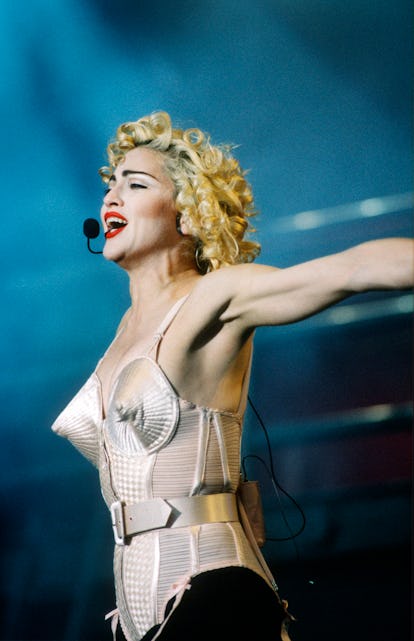 Gie Knaeps/Getty Images
This morning, July 24th, legendary designer Jean Paul Gaultier appeared on British talk show (or "chat show," as they say across the pond) This Morning to discuss his upcoming London cabaret revue, Fashion Freak Show. But the conversation wandered over to Madonna, both JPG's most famous client and a woman synonymous with his famed cone bra.
Gaultier gushed effusively about his relationship with Madge, saying that he loved working with her. And so when co-host Ruth Langsford jokingly asked if he was in love with the pop icon, Gaultier, who is openly gay, smiled and said, "Yes a little bit. I asked her to marry me three times, and she said no."
Madonna is surely the most famous person to sport the conical bra corset–she initially unveiled the style to the world in 1990 in Chiba, Japan, on the first stop of her "Blonde Ambition" tour, famously chronicled in the documentary Madonna: Truth or Dare. But the designer revealed that while Madonna may be strongly associated with the cone bra, he didn't originally design it for her (and an initial version of the style appeared in a Gaultier fashion show in 1987). He didn't actually design it for a person at all–the first cone bra wearer was his teddy bear.
As a child, Gaultier, whose '90s designs are currently all the rage within the Kardashian family, wanted a doll to dress up, but his parents disapproved and bought him a teddy bear instead. So he declared that his teddy bear was a girl, and began designing outfits for it. And thus the cone bra was born.
"At first you know I didn't do it [for Madonna]," he said. "I created it for my teddy bear because I have a teddy bear called Nana and because I wanted to have a doll but my parents said, 'For a boy? No no no no, a teddy bear.'"
That must have been the world's chicest teddy bear.
Related: Donatella Versace Reveals a Stunning Detail About Madonna and the Aftermath of Her Brother's Death
Revisit Jean Paul Gaultier's Best Moments in W, Starring Madonna, Kate Moss, and Laura Dern
Madonna wears a Jean Paul Gaultier jacket, skirt, saddle belt, and hat, photographed by Steven Klein for W Magazine, June 2006.

Steven Klein
Lara Stone wears Jean Paul Gaultier, photographed by Inez Van Lamsweerde and Vinoodh Matadin for W Magazine, May 2009.

Inez Van Lamsweerde and Vinoodh Matadin
Adwoa Aboah wears Jean Paul Gaultier, photographed by Tim Walker for W Magazine, April 2013.
Agyness Deyn wears a Jean Paul Gaultier dress, photographed by Mert Alas and Marcus Piggott for W Magazine, January 2007.

Mert Alas and Marcus Piggott
Model wears a Jean Paul Gaultier dress, photographed by Mario Sorrenti for W Magazine, March 2010.

Mario Sorrenti
Kate Moss wears a Jean Paul Gaultier bolero, photographed by Mert Alas and Marcus Piggott for W Magazine, April 2006.

Mert Alas and Marcus Piggott
Laura Dern wears a Jean Paul Gaultier dress, photographed by Juergen Teller for W Magazine, September 2007.

Juergen Teller
Kate Moss wears Jean Paul Gaultier gloves, photographed by Mert Alas and Marcus Piggott for W Magazine, March 2005.

Mert Alas and Marcus Piggott
Model wears a Jean Paul Gaultier jacket, photographed by David Sims for W Magazine, March 2008.

David Sims
Model wears a Jean Paul Gaultier jacket, photographed by David Sims for W Magazine, May 2009.

David Sims
Julianne Moore wears Jean Paul Gaultier, photographed by Michael Thompson for W Magazine, September 2004.

Michael Thompson
Model wears a Jean Paul Gaultier blouse and skirt, photographed by Craig McDean for W Magazine, February 2009.

Craig McDean
Model wears a Jean Paul Gaultier coat, photographed by Craig McDean for W Magazine, October 2013.

Craig McDean
Malgosia Bela wears Jean Paul Gaultier, photographed by Juergen Teller for W Magazine, April 2006.

Teller Juergen
Models on the left wear Jean Paul Gaultier dresses, photographed by Steven Meisel for W Magazine, March 2009.

Steven Meisel
Marion Cotillard wears a Jean Paul Gaultier dress and corset, photographed by Tim Walker for W Magazine, December 2012.

Walker Tim
Freja Beha Erichsen wears Jean Paul Gaultier, photographed by Mert Alas and Marcus Piggott for W Magazine, September 2005.

Mert Alas and Marcus Piggott
Model wears a Jean Paul Gaultier dress, photographed by Michael Thompson for W Magazine, May 2005.

Michael Thompson
Carey Mulligan wears Jean Paul Gaultier, photographed by Michael Thompson for W Magazine, January 2012.

Michael Thompson
Model (left) wears a Jean Paul Gaultier jacket, photographed by Mert Alas and Marcus Piggott for W Magazine, March 2010.

Mert Alas and Marcus Piggott
Jessica Stam wears Jean Paul Gaultier, photographed by Willy Vanderperre for W Magazine, January 2013.

Willy Vanderperre
Jessica Chastain wears Jean Paul Gaultier, photographed by Paolo Roversi for W Magazine, May 2012.

Paolo Roversi
Model wears Jean Paul Gaultier, photographed by Inez van Lamsweerde and Vinoodh Matadin for W Magazine, March 2011.

Inez van Lamsweerde and Vinoodh Matadin
Kate Moss wears a Jean Paul Gaultier bodysuit, photographed by Mert Alas and Marcus Piggott for W Magazine, March 2008.

Mert Alas and Marcus Piggott
Ola Rudnicka wears Jean Paul Gaultier, photographed by Tim Walker for W Magazine, April 2014.

WALKER TIM