Madonna's Skincare Guru Reveals the Secrets to Her Glowing Complexion, Even at 60
Tarin Graham, personal esthetician to Madonna, shares the secrets of the singer's skincare routine.
---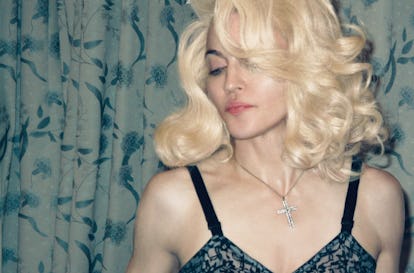 Steven Klein
Madonna has been singing, dancing, acting, and provoking in the spotlight for over 30 years—and all that global voguing is sure to take a toll on anyone's skin, icon or not. Enter Tarin Graham, personal esthetician to Madonna, who has worked with the singer for nearly a decade to keep her skin in top shape. Of course, having a namesake skincare line doesn't hurt, which Graham uses to great effect to keep Madge's skin looking younger than ever. Here, in honor of Madonna's 60th birthday, the skincare guru breaks down her biggest tips for keeping your own skin looking fresh, and the specifics of Madonna's daily routine.
When did you first start working with Madonna, and what was that first meeting like?
The first time I met her was at Madison Square Garden in 2006 during the Confessions on a Dance Floor tour. My mother was her esthetician at the time and she quickly introduced me to her in the hallway on the way to sound check one day. It was so fast that I barely had time to process that I was meeting Madonna – I couldn't believe my own eyes. I started working for her in 2010. Now, I consider her my family.
What is the daily skincare routine that you recommend to her?
She is extremely knowledgeable on all things skincare, which inspired her to create her own innovative line, MDNA SKIN. She already had an amazing skincare routine when I met her. I only recommend the skin treatments we do. When it comes to skincare, the most important element is hydration.
The skincare regimen I recommend her following every day includes the following: washing her face with MDNA SKIN The Face Wash morning and night; applying MDNA SKIN The Rose Mist frequently (this is her absolute favorite product, she uses this throughout the day); applying MDNA SKIN The Eye Serum—this is super soothing on the eyes and helps reduce puffiness; applying MDNA SKIN The Face Serum twice a day, which provides ultra hydration, yet it's so lightweight so it won't clog pores; and ending with MDNA SKIN The Finishing Cream—this is enriched with hydrating ingredients and provides an illuminating glow.
How often do you do full facials? What do these consist of?
I do full facials once a month, which consists of micro dermabrasion, photo facial, micro currents, and an oxygen treatment.
What are the most important skincare steps to keep skin looking young?
Using a gentle cleanser so you do not strip the skin of its natural oils. I like The Face Wash from MDNA SKIN–it's gentle and washes away impurities to leave your skin feeling refreshed. Applying a hydrating facial mist or toner to balance the pH of the skin. Madonna's favorite MDNA SKIN product is The Rose Mist–you can never have too much of it. Hyaluronic acid based face serum and eye serum to hydrate and plum the skin. Moisturize, moisturize, moisturize! Hydration is so important no matter the season, I recommend using a moisturizer that is targeted for your skin type. There are many different styles but all work as a barrier to bind and protect the skin. I like MDNA SKIN The Reinvention Cream as it works on all skin types. Last but not least, sunscreen. Sun exposure is the leading cause of wrinkles so never leave the house without it even when it's a cloudy day.
How do you prepare skin for a major event?
On the morning of an event, I do a micro current treatment. I call it the face gym because it stimulates and lifts the face muscles. Next I put MDNA Skin The Eye Mask on her while I do an oxygen treatment that uses hyperbaric pressurized oxygen to infuse hyaluronic serum into the skin for intense hydration. I finish with a thin layer of The Face Serum from MDNA Skin. These two treatments combined leave you with glowing skin for any occasion.
What are the biggest mistakes people make in their skincare routines?
Overuse of products that are not right for their skin type. I always recommend consulting with an esthetician or a dermatologist on the best routine for your skin type.
What are the most harmful things people can do to their skin?
Smoking, sun exposure without sunscreen application, trying to extract your own skin which can leave you with scarring and larger pores, and drying your skin off too harshly with towels which, over time, stretches the skin. Always gently pat your skin with your towel.
What factors beyond skincare do you recommend to clients to keep skin looking young?
Sleeping with a silk or satin pillowcase! Always drink enough water–I recommend six to eight glasses a day as this helps keep skin hydrated. Drink and eat foods that are high in antioxidants to help prevent free radicals. Stress can be a major factor to aging. Applying things such as meditation and yoga to your daily routines can be extremely helpful in lowering stress levels
What makes skin look young, and what products are most effective to achieve this?
Hydration is key to making skin look young! We all know that dry skin causes wrinkles to be more visible. The best way to keep skin hydrated is with products that contain hyaluronic acid. I recommend applying The Face Serum and The Rose Mist from MDNA SKIN twice a day. I like to call this the powerhouse-duo for younger looking skin.
At what age should women start anti-aging procedures?
This answer can be different for everyone because it based on their personal preference of what aging looks like. Consulting with an esthetician or dermatologist is the best way to research/learn about options that work best for you. Some people want more and some want less. Choose what you are comfortable with.
What products are best for anti-aging, and what are best for preserving skin after a certain age?
Hyaluronic acid based products are the best preventive. They keep the skin plump and hydrated and prevent wrinkles caused by dry skin. For weekly use, I love MDNA SKIN The Chrome Clay Mask. It is extremely hydrating, purifying and non-drying. Hydration levels are likely to improve if you do this mask treatment at least once or twice a week. I recommend using it with the new MDNA SKIN The Mask Remover for optimal results. Retinol creams are also great to preserve skin. They help minimize fine lines and diminish hyper-pigmentation. Retinol creams come in different strengths. Consult your esthetician or dermatologist on what strength is best for your skin type.