Camila Mendes Co-Stars in Maggie Rogers's Music Video for "Give a Little"
Who knew Veronica Lodge was a "sk8r lady"?
---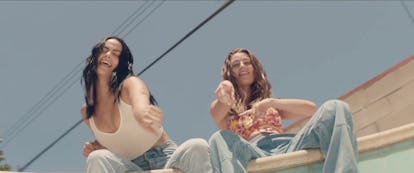 Before she heads back to the CW to wage a war against Lodge Industries, Riverdale's Camila Mendes is reuniting with some college pals for the sake of sonic harmony. Oh, and for some sweet skateboard dancing, too.
In the new music video for Maggie Rogers's pop bop "Give a Little" (which the Pussycats would totally approve of) Camila, Maggie, and their other best friend from New York University, Rachel Matthews, set up shop at someone's California backyard for the visuals, where there's conveniently a whole lot of Insta-worthy palm trees and an empty pool perfect for skateboarding. ("These bada** sk8r ladies," Rogers excitedly tweeted.) If anything will have you California dreaming and/or coordinating a perfect dance sequence with your college BFFs by summer's end, it'll be this.
While Rogers can count on some now-famous friends to appear in her videos, she actually got her star t in the industry thanks to the mentorship of none other than Pharrell Williams. (The two were introduced when Williams hosted a music master class when Rogers was still attending NYU.) When Rogers played him "Alaska," a song she wrote and produced on her own, her normal life was soon kicked to the curb.
"We didn't know Pharrell was showing up to class so when he arrived that was the only song I had to play. I literally had nothing else," she told Teen Vogue. "Going viral was bizarre for so many reasons. I didn't really grow up with a cell phone and I wasn't really on the internet. I'm an unlikely figure to become a person of the Internet. And when I went viral, it happened after I moved out of my apartment when I was living in my family's house in Maryland. So I would turn on my computer and be like, "What is happening?!" Then I would turn my computer off and it would be really quiet, and I would have to clean my room and play with my dog and it was like nothing had changed. It was this very eerie feeling like time was suspended, almost. All these things are happening, but it was so surreal."
Related: Riverdale's Camila Mendes On Navigating Fame, and Why She's Not Slowing Down Anytime Soon