Maggie Smith and Judi Dench Gossiping in Tea With The Dames Trailer is Better Than Any Real Housewives
Watch the 'Tea With The Dames' trailer.
---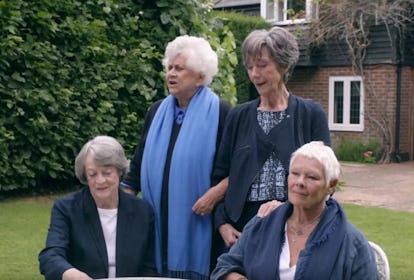 Reality television is full of women with no particular talents sitting around with beverages and gossiping about things of little importance. To see women of extraordinary talents sipping tea while spilling tea about some of the most important cultural figures of the past century, well, you can only see that in the cinéma. Or you will be able to soon, rather.
In some ways, the trailer for the documentary Tea With The Dames does sort of play like one for a Real Housewives reunion. Except with better stories, less trash, and, frankly more tasteful clothing. Though, there is a bit of drama and bleeped out curse words, to be sure. The Roger Michell-directed film assembles Dame Maggie Smith, Dame Judi Dench, Dame Eileen Atkins and Dame Joan Plowright, some of the greatest English actresses of their generation, to sit down, have tea, and talk about their careers in a setting more fun than an Inside the Actors Studio type situation.
"Talk about working with your husband," asks a voice from off screen in one scene.
"Which ones?" replies a bemused Smith.
"Well, obviously mine was the most difficult," Plowright says of her late husband Laurence Olivier.
"Well, we all found him quite tricky," shoots back Smith. "I think I scared the wits out of him from time to time."
"We're going to work forever if we're asked," says Dench at one point.
"You're always asked first," replies Smith.
Unfortunately, unlike a Real Housewives franchise, we won't be getting 23 new episodes this year, but we can savor what we do get when the film debuts on Septtember 21.
Related: Dame Judi Dench Is a Master of the Mini Fidget Spinner