Dame Judi Dench Is a Master of the Mini Fidget Spinner
No one spins quite like her.
---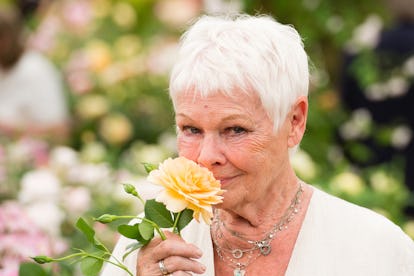 Jeff Spicer/Getty Images
The most ubiquitous accessory of 2017 just got a seal of approval from timeless Dame Judi Dench. While talking up her new film Victoria and Abdul, a dramedy based on the real-life relationship between Queen Victoria and her servant Abdul Karim, the legendary actress revealed one of her hidden talents. Dench whimsically pulled out a mini fidget spinner she keeps at hand, after her co-star Ali Fazal mentioned its existence to USA Today reporter Andrea Mandell. "She owns a fidget spinner. Judi Dench owns a fidget spinner! It's the coolest damn thing," Fazal told Mandell. He wasn't exaggerating, either.
Dench's fidget spinner isn't just any spinner you find at your local pharmacy; it's a preciously mini spinner with an orange center and, like everything else Dench does, she spins it exceptionally. In the video clip shared to Twitter, Dench balances the tiny spinner on the side of her index finger—not even on the tip, but on the side.
"My grandson gave it to me," Dench revealed. Consider her to be the world's coolest grandma.
Dench may be an octogenarian, but she is still living her best life. Just last year at the ripe age of 81, Dench got her first tattoo. Fittingly, it reads Carpe Diem. The tattoo, which is on her inner wrist, was apparently a gift from her daughter Finty Williams. "That's my motto: seize the day," she told Surrey Life. "Finty gave it to me for my 81st birthday—she's wonderful with surprises." Dench is also seizing the day when it comes to her love life, which she is open about.
She's currently in a relationship with conservationist David Mills, who she is happily unmarried to. "He's not going to propose," she joked to Good Housekeeping via The Telegraph. "No, no, no. Let's just pull ourselves together and be our age. I have a jolly nice friend. I don't know what the word is because I don't like the word partner. Chap? Will chap do?"
Not to mention, Dench has revealed that romance is still a part of her daily life, as she told the Radio Times, "Well, of course, you still feel desire. Does that ever go? To the older reader, I would say: 'Don't give up.'" As for fidget spinning though, we may as well all give up because Dench just set a new bar.
James Corden explains the secret to a great karaoke performance: