Surf's Up
Adrenaline junkie Maia Norman wedges a red-hot fashion line into a jam-packed life.
---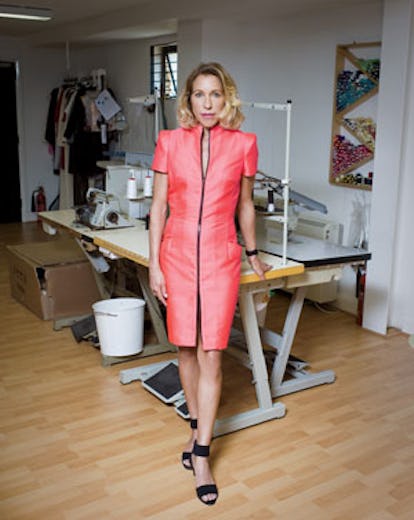 When Maia Norman was growing up in Orange County, California, she loved sitting on the beach with her shortwave radio, listening to the foreign chatter and thinking, Wow, what's out there? Today she still spends a lot of time at the beach—at home on the rugged coast of northern Devon, England, or in Mexico or Bali, chasing waves. But who has time these days to listen to the radio when surfing, motocross racing, tooling down the Thames on a 260-­horsepower Jeanneau powerboat, fishing with the kids, collecting antique Native American textiles and designing a ready-to-wear collection? Norman is even talking about crossing the English Channel on a paddleboard for charity, and it's all so seemingly effortless. "I like to take things slowly and gently—get some air," the petite bronzed designer says facetiously. After all, this is a woman who customized a wetsuit so she could surf while five months pregnant. "You know that defiance that comes over you?" she asks. "Like, 'Don't mess with me; this is not going to hold me back!'"
Nor does she let other inconveniences hold her back. Last summer Norman relaunched Mother of Pearl, the ready-to-wear collection she and her former partner, designer Sue Foulston, founded in 2002 and ran until 2007, when artistic differences fractured the alliance. "It was kind of heading into afternoon cocktails, going a little bit Doris Day for me," says Norman, 47. "It needed to be tougher and sexier."
If people are judged by the company they keep, the fact that Norman's taste veers toward edgy is hardly surprising. She is the partner of Damien Hirst and mother of his three sons—Connor, 14, Cassius, nine, and Cyrus, four. Norman, who studied fine art at Parsons Paris School of Art & Design, met Hirst in the late Eighties through a former boyfriend, gallerist Jay Jopling. At the time, she was designing rings—big ones set with semiprecious stones—and Hirst's star was on the rise. Before long Norman was accompanying the artist on expeditions to slaughterhouses and maggot farms and gathering old medical supplies for his famously gruesome works. She also found herself falling for him. Over the years, she has watched Hirst become wildly successful and has stood by him during his battle with drug and alcohol addiction and his subsequent recovery.
"I was pretty much head over heels in love, so I leapt at any chance to spend time with Damien," Norman says of the prefame years. "We are well suited in that we share morbid curiosities. I mean, I didn't even know a maggot farm existed, let alone [that I would] go see how the whole place works. Fascinating. I must admit, though, the abandoned hospitals were pretty scary. We would go in at night, and I didn't know what we might run across."
Now that Hirst is reportedly the world's richest living artist, with a fortune estimated at $1 billion, the couple works hard to swat off potential sycophants. "We've been in this long enough to know how to steer clear of the take-advantage riffraff and to keep a low profile, though it can be trying," Norman says. "A lot of our friends we've known since the old days. It's so important to have people around you who accept you in your entirety." Not that she and Hirst don't have a blast. "Of course there are perks, like good restaurant tables and meeting interesting people," Norman acknowledges. "That's a real privilege."
Wearing a zip-front dress with killer shoulders—a Mother of Pearl best-seller—neoprene Pierre Hardy shoes and an antique emerald-cut diamond (a gift from Hirst while he was creating For the Love of God, his diamond-encrusted-skull work), she muses briefly on the stone's old-fashioned shape, which she loves. "I never thought I would be the kind of girl who would wear a diamond ring," she says. "But Damien does have great taste. He can find me shoes! I'm sure if he'd come to me with a round diamond or a teardrop, I would have vomited all over it."
The straight-shooting Norman says Mother of Pearl, which retails for $140 to $3,200, is for "active, optimistic, generous" women, the type who don't let inclement weather get in the way of a good time. Fans include pals Lily Allen, Catherine Bailey, Sam Taylor-Wood, Elle Macpherson and Serena Rees, cofounder of Agent Provocateur. The line features such pieces as a short water-resistant cashmere coat with lots of pockets and a silk lining, a satin raincoat with magnetic fastenings to slip over an evening dress, and a lightweight perforated-leather biker jacket.
Yet the collection, which sells at Maxfield in Los Angeles and Miami, and Liberty and Start in London, isn't all about battling the elements—or even the occasional spilled glass of bubbly. For spring Norman drew inspiration from the art world, using prints by Mat Collishaw, one of the Young British Artists and a friend of Hirst's, and by American painter Walton Ford. She says there's talk of doing a surfing-inspired capsule collection for Maxfield, for which she hopes to use prints by mixed-media artist Ashley Bickerton, who lives in Bali. Norman, a self-described "bad petrolhead" who's just as happy talking about hose clamps as she is about treated silks, also called on graphic designer Milly Wright—whose work she spotted in the upscale car magazine Intersection—to design the exhaust pipe and hubcap prints for the spring collection's silk crepe dresses.
So far Norman's revamp is a hit. "The tailoring is great, the detailing is fantastic and the leathers are melt-in-your-mouth," says Rees. "The collection has moved on a step. It's still very Maia but more grown-up and sophisticated. And I love her use of color, the Yves Klein blues and intense orangey reds."
British television and radio presenter Mariella Frostrup finds Mother of Pearl "original and fun," much like the multitasking woman behind it. "Maia's life is all about adventure," Frostrup notes. "And for her sons, I think it makes for a thrilling ride."
For design pointers, Norman regularly consults Hirst. "I get inspired by his very concise aesthetic—and he is amazing with packaging and clarity. He's got a very good nose for business," she says. A yin-yang dynamic appears to surface in every aspect of their lives. In their ménage, for instance, Norman is the macho one, organizing the food fights at birthday parties and taking the boys fishing and skateboarding, while Hirst cooks, bakes bread and gets on with his work at the couple's seaside estate, his party-animal period firmly behind him. It's natural, then, that Norman juggles the masculine and feminine with Mother of Pearl. She's looking to add a jewelry line—perhaps crafted in Bali—and possibly to create a fragrance. "I'm not making it for a mass market, because I've always wanted to make a fragrance that has a little two-stroke-like motorcycle exhaust," she says with a smile. "Just a hint of that."
Hair by Takanori Yamaguchi at Michael Barnes using Bumble and Bumble; Makeup by Lyz Marsden using Laura Mercier. Model: Andrew Woffinden; Andrew Woffinden.