Maisie Williams Is Already Aware of The Pressure Hollywood Puts on Women
"It's a very shallow industry."
---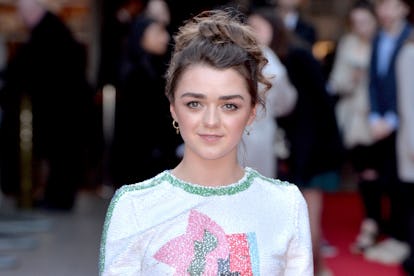 Anthony Harvey/Getty Images
Maisie Williams's first professional role was Arya Stark on Game of Thrones, a job that's earned her plenty of awards, a new best friend, and her fair share of fame. But even after starring on one of the biggest shows in television history, Williams, just 20, has come to the realization that there's no guarantee she'll be able to land another role as good as Arya thanks to Hollywood's still often shallow representation of women.
In an interview with The Irish Times this week, the 20-year-old spoke about how her looks might impact her future in acting. "It's only now I'm starting to realize the characters that are available to me because of the way I look and the characters that aren't available to me," she said. "It's a very shallow industry. And I don't look like someone who is cast in roles that are, well, sexualized. Don't get me wrong, I'm completely in awe of Hollywood's leading ladies. I love looking at those totally jaw-droppingly beautiful women. But I think it's sad that you only get to see one type of beautiful on screen."
Hollywood has a sad history former child stars growing up and struggling to fit into the image expected of an adult leading lady, often to the detriment of their physical and mental health. So, it's encouraging that Williams recognizes the issues as the fault of the industry, and not of her own. Though, it's less encouraging that it's still a problem to begin with.
Williams also spoke about learning to embrace feminism as she spent her formative years in the spotlight. "I didn't even know what the word 'feminist' meant until I became an actress. Within my family, I never felt that I had to conform to any kind of types. I had no idea about what was typically male or typically female. I didn't even know about skin color," she said. "I think it's quite lovely that I was so clueless." That said, she did admire powerful feminist icons — you know, like a certain claymation chicken. "Growing up, I loved Chicken Run, because it's driven by Ginger, who is such a fantastic character," said Maisie, whose next film role is in Early Man, from the people behind Chicken Run. "So to be a part of that same world, and to be playing another woman who is popular for her talents and not for her looks, and whose main story arc has nothing to do with the interest of boys, is very cool."
Of course, even as GoT comes to a close, Williams still has several other projects in the works. She'll next hit the big screen as one of the leads in X-Men spinoff movie New Mutants this March, and has the leading role in Departures, a film about a teen with terminal illness. She has also lent her voice to the upcoming claymation film Early Man, which, yes, is a product of the creative team behind Chicken Run.
Related: Maisie Williams Will Be a Bridesmaid at Sophie Turner and Joe Jonas's Wedding