Makeup Artist Dick Page Hates When People Bring Their Dogs Backstage
He loves, however, New Balance sneakers, bad coffee, and greasy moisturizer.
---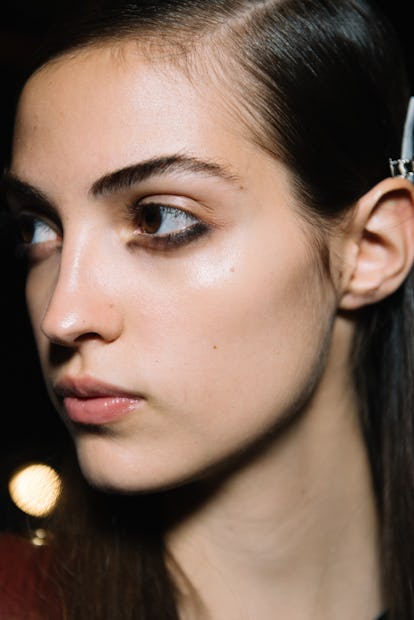 Photo by @shanajade
For Narciso Rodriguez's Spring 2017 collection, makeup artist Dick Page drew inspiration from the "quick, decorative line" that illustrator Tony Viramontes famously used in his sketches to create a bold eye using brown and black dashes of liner. "That little tromp l'oeil is going to give the idea of structure of the eye," he said backstage.
This is not Page's only show of the week: the makeup artist also created the looks at Michael Kors, Zero + Maria Cornejo, and Self Portrait. Here, he explains what's in his fashion week survival kit, his favorite backstage horror story, and more.
What's your backstage uniform? New Balance sneaks.
What are the beauty products you carry at all times? Make Up For Ever Flash Color Case, the bright one, and some kind of greasy moisturizer.
What do you do when you first see the clothes? Faint or weep or laugh…
Do you work with each designer differently? Sometimes there's a backstory, a mood board or a design creation narrative, sometimes a movie reference. Some designers want to walk you through the collection, and once a designer didn't want me to see the clothes at all, which was f**king weird. Of course the last thing you want to hear from a designer is, "You know? Like she did it herself."
What's your favorite backstage horror story? How much time do we have? Trying to remove the black ink skeleton body paint from a previous show was a laugh, as was the season of explosive food poisoning diarrhea, both mid-'90s.
What do you most love about working on a fashion show? Seeing that it all comes together and makes sense.
Who is your favorite person to see backstage? [Photographer] Anna Bauer was always a pleasure, but she came to her senses and fled. Greg Kessler is lovely and also very into food…
What is your backstage pet peeve? Unnecessary people. Anyone who really doesn't HAVE to be there: friends, boyfriends (the worst), and tiny dogs.
Music or no music? No music please. If there is, it's often from the hair team (Sorry guys! Love you!) and it's often the nastiest hip­hop. Odile Gilbert has good music!
Go­-to snack or drink? KIND bars, egg and bacon breakfast sandwich, an apple, a cup of tea, bad coffee…
How do you stay healthy during this crazy time? I work out a bit in the build up to it so that I don't look or feel too hideous as I unravel…
Watch W's most popular videos here: