Mandy Moore Shares Story of Meeting and Falling in Love With Fiancé Taylor Goldsmith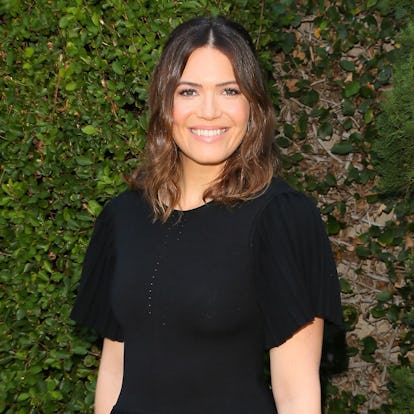 JB Lacroix/Getty Images
She may play a baby boomer mother on This Is Us, but Mandy Moore is still very much a millennial in real life. In fact, as is true of so many of her generation, she has her iPhone to thank for her relationship. In a new interview with People, the actress gives the credit for introducing her to now-fiancé Taylor Goldsmith, the frontman for indie rock band Dawes, to a few very important apps on her phone.
"I took a picture of their album and posted it on Instagram," Moore said. "Somehow, Taylor saw it and sent a note to me. We started emailing back and forth, then we went on a date and the rest is history. Thanks Instagram, for helping me meet my fiancé!"
Moore also revealed that she and Goldsmith, who are often separated while Moore films This Is Us in Los Angeles and Goldsmith tours the country, also rely on a favorite communication tool of long-distance couples: FaceTime. "We spent hours FaceTiming each other," she said. "We fell in love before we'd even really held hands or kissed or anything. It was great."
Moore, who was married to musician Ryan Adams from 2009 to 2015, said that although she and Goldsmith are already thinking about their wedding, it won't be an extravagant ceremony. "We are both pretty quiet, private people," she said. "I never imagined myself with some beautiful dress in front of 300 people. It will be quiet and private — just for us." The most important thing, she said, is that they're together. "I feel incredibly understood and supported," Moore said. "I feel incredibly lucky to have somebody who is like, 'I got your back.' I found the right person and I feel like we can handle anything together."
Though, it begs the question, despite that privacy, will pictures from the wedding wind up on Instagram? It seems only natural considering that's the app where the relationship started.
Related: Milo Ventimiglia and Mandy Moore Weigh In on Jack's Death on This Is Us and the Season Two Premiere
Mandy Moore's Style Evolution, from '90s Pop Star to Modern, Glamorous Actress
The Billboard Music Awards are known for having a loud red carpet and Mandy Moore's look in 1999 was no exception. Her plaid skirt and pink turtleneck scream late '90s, the singer certainly made her mark.

Getty
At the launch of her record 'I Wanna be With you,' Mandy Moore showed she was the queen of the early 2000's wearing a denim skirt and embellished halter top paired with wooden, platform sandals.

Getty
Mandy Moore rocked denim on the red carpet for the premiere of 'Princess Diaries.' Her character may have been the villain, but her look is sweet and fun.

Getty
Mandy Moore wore gilitz and glam in a short, flirty silver dress as she celebrated with the masses at the MTV New Years Eve party in New York City.

Getty
Mandy Moore attended Elton John AIDS Foundation's 11th annual Oscar party in 2003 wearing a sweet and sparkly pink dress.

Getty
Mandy Moore attends the Costume Institute's Met Gala for 'Dangerous Liaisons: Fashion and Furniture in the 18th Century' wearing a deep crimson gown, looking glamorous and daring.

Getty
Mandy Moore supported UNICEF as DKNY launched 'Messages of Hope' wearing a sweet, tea length, satin, pink dress.

Getty
Mandy Moore was a boho chic vision in white, wearing a dress designed by Miss. Davenporte at Lucky Magazine's private trunk show for Miss. Davenporte in Los Angeles, California.

Getty
Mandy Moore was lovely in a flowing, black gown by Ralph Lauren, and a long beaded necklace, on the red carpet for the 63rd Annual Golden Globe Awards in 2006.

Getty
Mandy Moore graced the red carpet at the 'AngloMania' Costume Institute Gala at the Metropolitan Museum of Art, wearing a sweetheart black gown with a long train.

Getty
Mandy Moore tapped into her bohemian side again at the 49th Annual Grammy Awards in 2007 wearing a floor sweeping, printed dress of earth tones with a contrasting black studded belt.

Getty
A regular at New York Fashion Week, all eyes were on Mandy Moore as she sat front row at Ports 1961 wearing a two toned, satin skirt and top.

Getty
Mandy Moore channeled summer in Los Angeles, in a red, breezy Max Mara dress and printed sandals at a dinner honoring Mara's own Nicola Maramotti.

Getty
Mandy Moore was a real life princess in a pretty, fuchsia satin vintage dress by Carolyne Roehm and glittering Jimmy Choos at the premiere of 'Tangled.'

Getty
Mandy Moore opted for a more traditional red carpet style at the 16th Annual Critics' Choice Awards, wearing a floor-length strapless, plum-colored gown by Monique L'Huiller.

Getty
Mandy Moore attended the 68th Annual Golden Globe Awards in 2011 wearing, another gown by Monique L'Huiller, this time in a complementary, brilliant blue.

Getty
When 'Tangled' premiered in the United Kingdom, Mandy Moore dazzled on the red carpet. She wore a black, sweetheart strapless mini dress with a subtle mesh detailing by Paule Ka.

Getty
Mandy Moore attended the 83rd Annual Academy Awards in 2011 wearing, her favorite, Monique L'Huiller gown with Chopard jewelry. The actress performed "I See the Light" from her film 'Tangled' and looked every bit a princess.

Getty
In a departure from her typically glamorous dresses, Mandy Moore wore a timeless monochromatic jumpsuit and jacket by Max Mara at the QVC 5th Annual Red Carpet Style Event in 2014.

Getty
Mandy Moore looked relaxed on the red carpet at the 68th Annual Primetime Emmy Awards in 2016 wearing a marigold gown by Prabal Gurung with a hint of the 1970's and Parisian elegance.

Getty
In a completely contrasting look, Mandy Moore attended the 22nd Annual Critics Choice Awards in 2016 wearing a brilliant blue column gown, with a plunging neckline, by Solace London.

Getty
Mandy Moore topped the 'best dressed' lists at the 74th Annual Golden Globe Awards in 17wearing a super graceful, flowing black gown by Naeem Khan and minimal accessories.

Getty
Mandy Moore looked chic and elegant at New York Fashion Week in 2017, wearing a beautifully structured dress by Lela Rose.

Getty
Reprising her role as Disney's princess Rapunzel in 2017, Mandy Moore wore a peachy Roksanda dress with the designer's signature voluminous bell sleeves.

Getty
Milo Ventimiglia Confirms That Gilmore Girls' Jess Had "Good Hair" and "Dope Jackets":