Milo Ventimiglia and Mandy Moore Weigh In on Jack's Death on This Is Us and the Season Two Premiere
"That's not the full story—that's just a piece of the puzzle."
---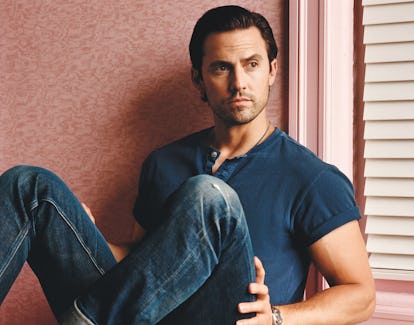 Photographs by Alasdair McLellan, Styled by Edward Enninful; Hair by Shay Ashual at Art Partner; makeup by Diane Kendal for Marc Jacobs Beauty at Julian Watson Agency; manicures by Casey Herman for Dior at the Wall Group. Set design by Stefan Beckman at Exposure NY. Production by Leone Loannou at Pony Projects; retouching by output; Photography Assistants: Lex Kembery, Matthew Healy, Simon Mackinlay, Jeremy Abbott, David Sweeney; Fashion assistants: Dena Giannini, Devon Head; Special thanks to Pier 59 Studios and Soho treasures.
As This Is Us ping-pongs from the present day to 1980, it's a known fact of the series that Milo Ventimiglia's character Jack Pearson eventually dies. After all, his death was confirmed by the show's fifth episode—though, as Ventimiglia told W earlier this year, he knew Jack "was no more" when he first read the pilot for the show. "The reveal was shuffled to the fifth episode once we got picked up, just so that we didn't have to give that story away so quickly," he added.
When and how, though, is something the show danced around for much of its first season, which culminated in a poignant, heated confrontation between Jack and Rebecca (Mandy Moore) interspersed with a flashback to their very first meeting.
In the show's second season premiere on Tuesday, This Is Us finally offered a more overt indicator of how, exactly, Jack Pearson died. (In the contemporary, Rebecca is remarried to his best friend, Miguel.) The episode culminates with a scene that ostensibly took place directly after that Season One fight. Rebecca pulls up to her driveway, her husband's belongings in the back seat—and then, the episode ends with a shot of what was once her home, burned to the ground and with firefighters still evaluating the scene.
While the scene still doesn't address Jack's death outright, it presents a circumstance one might reasonably assume contributed to his death. And, if a panel discussion with the cast Tuesday night is anything to go by, the scene is not a red herring: "Did he die in the fire? Did he get out of the fire?" This Is Us creator Dan Fogelman said he wanted viewers to wonder, adding that it is not "misdirecting" viewers.
Moore, who plays Rebecca and described filming the scene as "incredibly emotional," also weighed in: "We don't know the full story, we'll say that," Moore said after the Tuesday night screening in Los Angeles, according to the Hollywood Reporter. "That's not the full story—that's just a piece of the puzzle." ("A big piece," added Justin Hartley, who plays Jack and Rebecca's son Kevin in This Is Us.)
Over the past year, Ventimiglia has confronted queries about his character's demise; during Tuesday night's panel, he described the second season premiere climax as "like a pressure valve release for a little bit."
It "helps," he added. "But like Dan [Fogelman] has always said, 'With this answer, there's still a lot of questions'—and I think people are just going to have to pay attention over the course of the season." We applaud Ventimiglia's non-answer answer.
And even though the events leading up to Jack's death are coming into shape for the second season, that's not to say the character himself is going anywhere, at least in flashbacks. Ventimiglia hinted that the season will continue to plumb the depths of his character: "There's always a darker side to a lighter side," he explained. "Now, seeing that the cracks are not cracks, but deeper wounds and valleys, we get to understand a little bit more about why he chooses to be good and why he chooses to inspire."
Milo Ventimiglia really, truly loves Disneyland: