Marc Jacobs: American Beauty
With a joyful mix of sexed-up prairie skirts, aprons and boaters for spring, Marc Jacobs knocked it out of the park.
---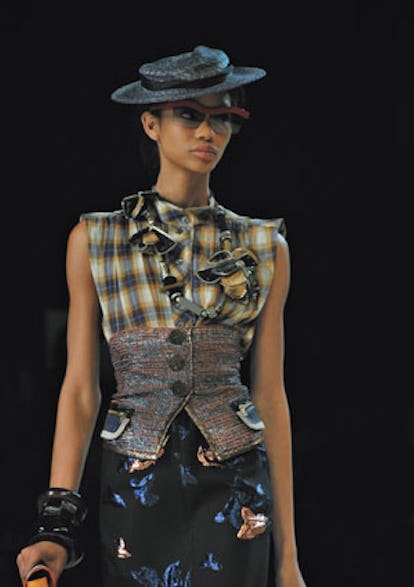 Perhaps no designer working today incites as much passion as Marc Jacobs. His off-the-runway life garners more press and blog blustering—some of it reporting, some conjecture, much often vindictive fantasy—than most other major designers combined. But at the heart of Jacobs's fascination is his remarkable ability to send thrills down the runway. His shows give us a rush, season after season living up to seemingly impossible expectations.
Looks from Marc Jacobs, spring 2009.
The spring collection Jacobs showed in New York in September made for another rollicking fashion event but, as we like to say in that métier, with a twist. Typically, Jacobs's most famous shows, from grunge (for Perry Ellis, though that distinction has become an asterisk) to Violet Incredible to last spring's sexcapade, stir up emotions of the polarizing sort—some people loving, some hating and almost no one who couldn't care less. This season virtually everyone seemed to line up on the love side, as guests left the 69th Regiment Armory lighthearted, smiling broadly and spewing superlatives.
The reason was a show that celebrated mundane America with a retro spin unusual for Jacobs—it spun back nearly 100 years. His models—waists cinched, skirts hobbled, bustled and bowed, and Stephen Jones's boaters perched just so—looked like an eccentrically turned-out lineup of latter-day Gibson girls gone grunge, glam pioneer and otherwise madcap beneath wondrous pilings of stuff. It was all shown to the strains of Gershwin's "Rhapsody in Blue," chosen, Jacobs says, for its once scandalous combination of classical music and jazz.
Of course, "not supposed to" is something Jacobs knows a thing or two about. As for his own out-there mixes, plaids, tweeds, Orientalia, macramé, leather, "landscape" jewelry, multitextural bags and, as the base for it all, countless variations of brocaded glitter and shine, complemented, clashed and coexisted in the most spectacular example of fabric wizardry one can recall this side of couture. There was a subtle homage to Rei Kawakubo (a skort like the one Jacobs wore for his bow) and a less subtle one to Yves Saint Laurent (the fabric intrigue, les smokings). There were also elements pilfered liberally from Jacobs's own now vast chronicles (glam, trompe l'oeil, and on and on). It dazzled the eye, imagination and spirit alike.
A look from Marc Jacobs, spring 2009
A week after the show, with ample time for reconsideration, it still felt like an important collection. "'Important'—that isn't a word I would use," Jacobs says, now back in Paris and working on his upcoming Louis Vuitton collection. "But, yes, I was very happy with it." (Nevertheless, he manages to find numerous imperfections that might have been rectified "if we'd had more time.") He believes the atypical unanimity of opinion about the show might have been rooted in its joyful mood—"people want to feel good"—and its obviousness, based on "banal, familiar American homey kind of things." He runs off a litany: prairie skirt (made sexy), T-shirt dress, apron, the boater, "all standard American fare…. That was my surprise about people's reactions; they see stuff like this all the time."
And all piled on in abundance. "It was all really charged," he says. "Nothing was left untouched, every neck, every arm, every shoe."
Such obviousness worked up, way up, into high fashion may have been what clicked so strongly with the crowd. "You didn't have to search or dig deep," he says, acknowledging that the goodwill feels, well, good. This from someone who has taken ample hits from the press for all sorts of reasons, and sometimes offers a my-critics-be-darned response.
"I don't want to get too dramatic," Jacobs adds. "But I was really pleased. There's a lot of passion in every bag meeting, every shoe meeting, in the clothes. All of the people who work on this love to do it. Part of the love is that there's a performance aspect. When you perform, you put yourself out there, so when I love it [after the fact], it's largely based on what people left thinking of it."
Main photo: Stephane Feugere, Smaller photos: George Chinsee