Marc Jacobs' Hairstylist Had an Unusual Task: "My Job Was to Get Rid of the Hair"
Go backstage with the legendary Guido Palau.
---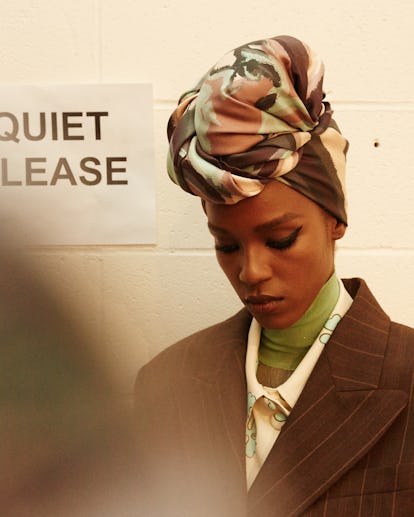 At a typical Marc Jacobs fashion show, hairstylist Guido Palau is responsible for transforming models' hair with the use of colorful extensions, wigs, and bleach. This year, however, his task was much more simple.
"My job was to get rid of the hair," the longtime Marc Jacobs collaborator and Redken creative director joked backstage. The reason? At the brand's Spring 2018 show, models like Gigi Hadid and Kaia Gerber each wore their hair covered in scarves designed by milliner Stephen Jones. "It's about a full look," explained Palau. To get hair to stay flat and tight underneath the scarves, Palau used a combination of Redken Hardwear Gel ($20, ulta.com) and water to wrap the hair as close as possible against the scalp so the headpieces could sit on the head comfortably.
This wasn't the first time Palau had used this styling trick. When he was first working in a salon, he would straighten women's hair by wrapping it around their head in one direction before going under the dryer, and then brushing it out and repeating the process in the other direction. "Some girls do wear their hair out like this," he said.
Although the hair was completely covered, Palau was still excited about the look. "It's all really about style, whether it's tons of hair or no hair it's all about if it looks great at the end," he said, adding that scarves are a versatile hair accessory. "You can tie them, twist them or pin them," he said. "They bring so much style to a pair of jeans. Or you can just tie it into your ponytail or work it through your braid."
The options are endless. "When I get a scarf I just sort of play with it," Palau added. "You can work your way to a full turban."
Goals.
Go backstage here:
An Intimate Behind the Scenes Look as Marc Jacobs's Models Got Ready for Spring 2018
Inside the Marc Jacobs show at the Park Avenue Armory on Wednesday evening during New York Fashion Week. Photo by Serichai Traipoom for W Magazine.

SERICHAI TRAIPOOM
Inside the Marc Jacobs show at the Park Avenue Armory on Wednesday evening during New York Fashion Week. Photo by Serichai Traipoom for W Magazine.

SERICHAI TRAIPOOM
Inside the Marc Jacobs show at the Park Avenue Armory on Wednesday evening during New York Fashion Week. Photo by Serichai Traipoom for W Magazine.

SERICHAI TRAIPOOM
Inside the Marc Jacobs show at the Park Avenue Armory on Wednesday evening during New York Fashion Week. Photo by Serichai Traipoom for W Magazine.

SERICHAI TRAIPOOM
Inside the Marc Jacobs show at the Park Avenue Armory on Wednesday evening during New York Fashion Week. Photo by Serichai Traipoom for W Magazine.

SERICHAI TRAIPOOM
Inside the Marc Jacobs show at the Park Avenue Armory on Wednesday evening during New York Fashion Week. Photo by Serichai Traipoom for W Magazine.

SERICHAI TRAIPOOM
Inside the Marc Jacobs show at the Park Avenue Armory on Wednesday evening during New York Fashion Week. Photo by Serichai Traipoom for W Magazine.

SERICHAI TRAIPOOM
Inside the Marc Jacobs show at the Park Avenue Armory on Wednesday evening during New York Fashion Week. Photo by Serichai Traipoom for W Magazine.

SERICHAI TRAIPOOM
Inside the Marc Jacobs show at the Park Avenue Armory on Wednesday evening during New York Fashion Week. Photo by Serichai Traipoom for W Magazine.

SERICHAI TRAIPOOM
Inside the Marc Jacobs show at the Park Avenue Armory on Wednesday evening during New York Fashion Week. Photo by Serichai Traipoom for W Magazine.

SERICHAI TRAIPOOM
Inside the Marc Jacobs show at the Park Avenue Armory on Wednesday evening during New York Fashion Week. Photo by Serichai Traipoom for W Magazine.

SERICHAI TRAIPOOM
Inside the Marc Jacobs show at the Park Avenue Armory on Wednesday evening during New York Fashion Week. Photo by Serichai Traipoom for W Magazine.

SERICHAI TRAIPOOM
Inside the Marc Jacobs show at the Park Avenue Armory on Wednesday evening during New York Fashion Week. Photo by Serichai Traipoom for W Magazine.

SERICHAI TRAIPOOM
Inside the Marc Jacobs show at the Park Avenue Armory on Wednesday evening during New York Fashion Week. Photo by Serichai Traipoom for W Magazine.

SERICHAI TRAIPOOM
Inside the Marc Jacobs show at the Park Avenue Armory on Wednesday evening during New York Fashion Week. Photo by Serichai Traipoom for W Magazine.

SERICHAI TRAIPOOM
Inside the Marc Jacobs show at the Park Avenue Armory on Wednesday evening during New York Fashion Week. Photo by Serichai Traipoom for W Magazine.

SERICHAI TRAIPOOM
Inside the Marc Jacobs show at the Park Avenue Armory on Wednesday evening during New York Fashion Week. Photo by Serichai Traipoom for W Magazine.

SERICHAI TRAIPOOM
Inside the Marc Jacobs show at the Park Avenue Armory on Wednesday evening during New York Fashion Week. Photo by Serichai Traipoom for W Magazine.

SERICHAI TRAIPOOM
Related: The Making of Marc Jacobs's Spring 2017 Set