Marcella Tranchesi Loves Over-the-Knee Boots, Hates Rudeness
The Brazilian it girl shares the secret to her casual-cool style.
---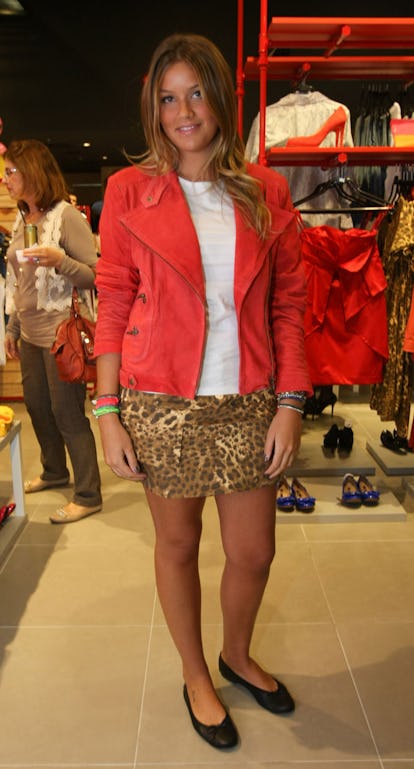 As the granddaughter of Lucia Piva de Albuquerque Tranchesi—the founder of Sao Paolo, Brazil, shopping mecca Daslu—it is no surprise that 22-year-old Marcella Tranchesi has found her footing in the fashion industry. "To work in fashion appeared to be the most natural thing to do," she says. "At home the subject was always the next trend, trip, or collection." Along with her sister Luciana and best friend Helena Bordon, Tranchesi launched the Brazilian fast fashion label 284 in 2008. "We were the pioneers of fast fashion in Brazil," she says. "It's a fun, young brand that I am very proud of." And that brand is growing, having recently debuted a magazine and added e-commerce to its repertoire.
Here, Tranchesi, shares a few of her favorite things.
Define your style in three words: Casual, fun, basic
Daily uniform: A simple t-shirt from J. Crew; dark jeans from 284, J Brand, or Rag and Bone; ballerina flats or boots; a jacket; a scarf; and either stacked rings, a bold necklace, or earrings. I like to find new designers for accessories and I'm always browsing online. I love many smaller Brazilian designers such as Coollect and LOOL as well as brands like Dannijo, Ek Thongprasert.
Greatest hits: Sylvie Schimmel leather jacket, J. Crew white t-shirt, Dolce & Gabanna leopard print cardigan, Charlotte Olympia "lips" sandals, and an Alexander McQueen strapless green dress.
Preferred footwear: Pretty Ballerinas for flats; Charlotte Olympia and Giuseppe Zanotti for high heels; and I love Jimmy Choo, Gianvito Rossi and Stuart Weitzman for over-the-knee boots.
Finishing touches: A bold necklace or big earrings, a colorful and fun clutch, and a scarf.
Best recent discovery: Pousada do Toque, a hotel in Sao Miguel dos Milagres is AMAZING. It looks and feels like paradise. Also, Ema restaurant in Sao Paulo—a must go.
Favorite stores: Rizolli for books, Jo Malone for candles and perfumes, Colette, Barneys, 284, Net-a-Porter, and Moda Operandi!
Style pet peeve: Too much makeup, especially during the day. And a lack of politeness.
Last purchase: Ingredients for baking a cinnamon apple cake.
Lusting after: A trip to a beach paradise.
Favorite restaurants: Sao Paolo: EMA and Shin New York: Sushi Seki and Freemans for their hot artichoke dip Barcelona: Cal Pep
Summer must-haves: Blond hair, tanned skin, a white dress, and colorful accessories.
What's always in your bag: Hand moisturizer (my favorite is L'Occitane), chapstick, Shu Uemura eyelash curler, YSL mascara, and my ID.
Photos: Marcella Tranchesi Loves Over-the-Knee Boots, Hates Rudeness
A few of Tranchesi's favorite accessories.
Guiseppe Zanotti snake heels.
A ring from Tranchesi's collection.
Charlotte Olympia "lips" sandals.