Why I Look Like This: Marcia Kilgore
Marcia Kilgore, founder of Soap & Glory and FitFlop.
---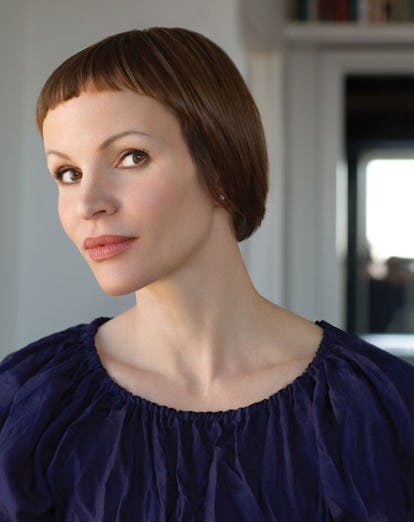 Marcia Kilgore, founder of Soap & Glory and FitFlop
The haircut: "I went to see Garren with a photo of the model in the Yves Saint Laurent ads, thinking, "I could pull that off, if maybe it wasn't quite as extreme." And there he is, the MASTER. Sheepishly, I look at him and whisper, "I have this, uh.. picture.." Four inches of what was my fringe falls into my lap – I have Tweetie Bird forehead remember. I look up, but he's in the zone. If I move in protest it will possibly go three millimeters too far. The whole experience hovers between greatness and terrifying and then, suddenly, it's done. There's nothing as addictive as a Garren haircut (and a good bit of retouching on your headshot).
The cheekbones: "At least 50% of these I owe to my Polish genes. The rest is Soap & Glory Hocus Focus, a luminiser that highlights to great effect.
The skin: "I use Soap & Glory all the time (Make Yourself Youthful Serum and Feel Good Factor SPF25 every day). I've only ever had a tan once, when I entered a bodybuilding contest, aged 18. (I won. Big trophy. Big six pack. But the only thing I'm embarrassed about now is the tan). I spent 15 years being a facialist so I don't really need facials, but when I'm in America I go to Beata at Bliss in NY, and when in London I visit Sarah Chapman because she's great, thorough and fun to chat with.
The make-up: "Soap & Glory Thick and Fast Mascara, Bobbi Brown Sepia Eyeliner gel; a bit of concealer, and whatever lab sample I'm testing. I find foundation really flattens out my face so I just use a little Soap & Glory Kick-Ass concealer on red spots and then Shu Uemura powder. A final dust of Soap&Glory Glow All Out gives me a healthy complexion."