Watch Marcus Samuelsson Run
The famous chef on training for the New York City Marathon, the playlist that keeps him motivated, and more.
---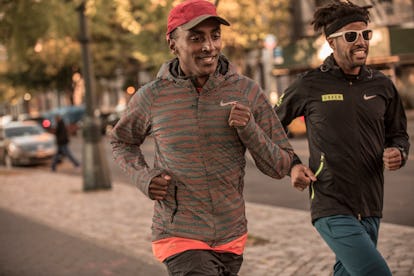 Acclaimed chef Marcus Samuelsson wears many hats. He is a restaurateur whose eateries includes the always packed Red Rooster Harlem, the recently opened Streetbird Rotisserie, American Table Café and Bar, Marcus' Bermuda and three outposts in Sweden. He has penned multiple books, among them the 2015 memoir Make It Messy. And he makes regular television appearances, as a judge on Top Chef, Iron Chef USA and Chopped.
This Sunday, the Ethiopian-born, Swedish-raised Samuelsson will take on another challenge: the 26.2 miles of the TCS New York City Marathon. Having run the race a few years ago, he amped up his training this time around by partnering with Nike + Running Club coach and Black Roses NYC Running Collective founder Knox Robinson. Here, Samuelsson chats about squeezing in 12 milers in Central Park, juggling training with travel and forgoing cheeseburgers.
What prompted you to sign up for the marathon? I love the spirit of the marathon: the crowds and the excitement surrounding such a large, citywide event. People really come together around the race, and it makes people feel a great sense of pride and accomplishment to be able to complete it. It's a very positive experience.
What is your athletic background? I played soccer throughout my childhood and adolescence, and for a while, I thought it would be my career—I really wanted to go pro. Instead, I found myself working hard in kitchens, and I think it's the path I was supposed to take. But I still play soccer whenever I can. I'm on a team with a bunch of my greatest friends and we play almost every weekend in club games.
What kind of running foundation did you have before training? I run almost every day. I wake up early to make sure I can get it in. It clears my head and some of my best ideas come to me while I'm running. I often run in Marcus Garvey Park or the northern part of Central Park. I frequently participate in smaller races like 5k's and 10k's. An entire marathon is a rarer occurrence, but I still feel like my experience running makes it a do-able goal to complete a marathon once in a while.
How did you and Knox first connect and end up training together for the race? I met Knox a while ago through the Nike + Run Club. The crew did a local run up in Harlem earlier this year, which ended at Red Rooster and so of course I joined in. I think they were surprised I would actually run! Throughout my marathon journey, we catch up regularly on where I'm at. I've been on the road so much recently, but he's given me a lot of tips and schedules for while I'm on the road, and with the Nike+ app you can track your runs against your training goals.
Give us a glimpse into your marathon training: what are you doing on any given day? On a particularly hard day, Knox and I will run 12 miles through Central Park. We like to try to keep up our pace as fast as possible—it's good to have someone to push you. Stairs are usually a part of the workout as well.
In what ways have you had to change your diet while training? I am a chef, but that also means I eat a lot of wholesome ingredients that I like to cook with. For example, we make great salads and seafood dishes at the restaurant that I think are great fuel. I have tried to cut down on sweets and dessert, that's been the one challenge. And, it's been hard, but I'm trying to avoid sandwiches and cheeseburgers as the simple carbohydrates tend to slow me down.
You have such great personal style: what are your favorite athletic looks? I love colorful Nikes, a statement, and anything brightly colored that looks like it could have come from the '80s or early '90s.
What has been the most challenging part of your training? Traveling! My job has taken me all over the country and overseas in the last few months, so I've really had to make time to train.
What has been the most surprising, positive discovery you've made? I've never been one to run with music on, I've always just used the time as a break in the day to clear my head. This time around, I've really gotten into running to playlists. I've found it pushes me further than I would normally push myself.
What is your playlist for race day going to include? I'll have a playlist with a huge range of genres. My favorite is hip hop from '80s and '90s, like A Tribe Called Quest and early Outkast and new hip hop like Kendrick Lamar and Action Bronson.
What do you plan to eat as your victory meal after finishing the marathon and where will you eat it? I'm not sure yet actually. I think it will likely be something with my wife and friends. Maybe some delicious Ethiopian food or more than likely, I'll be at [Red] Rooster with everyone afterward. There's always runners who come in and celebrate so it would be good to share the post-race dinner with them.