Margot Robbie and Tonya Harding Attended the I, Tonya Premiere in Los Angeles Together
Robbie plays Harding in the movie.
---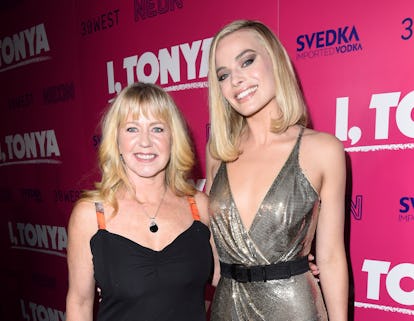 Vivien Killilea/Getty Images
There's no love lost between Margot Robbie and the controversial figure skater she portrays on the big screen.
Robbie and Tonya Harding — who inspired the upcoming dramedy I, Tonya — posed for photographs together at the film's Los Angeles premiere this week. Per a report in People, the duo were laughing while they walked the red carpet together. Harding later received a standing ovation from the crowd when the screening ended. Allison Janney and Sebastian Stan, who both co-starred in the film, were also quoted as being nervous to approach Harding to say hello.
This wasn't the first time Robbie and Harding met. The actress previously opened up to W about the fascinating experience of meeting Harding for the first time before I, Tonya began filming, which she felt was integral to fully understanding her essence and character. "I wanted there to be a clear distinction between the 'real' Tonya and the one I would be playing," Robbie explained. "I didn't want to sugarcoat her … once I put on the wig, which altered my hairline, and bleached my eyebrows, I started to see Tonya." She also believes, more than two decades later, that Harding is innocent in the attack against Kerrigan, which effectively ended both of their professional skating careers. "In the beginning, I wasn't really sure. There were things that didn't add up. Facts were muddled." Robbie continued. "But the more I became Tonya, the more I saw things from her point of view. I'm on her side 100 percent. I don't think she did anything but be different from what the world wanted. There are cool misfits, and then there is Tonya. She didn't fit in. And I love that."
I, Tonya comes into theaters on December 8, if sports dramedies are your thing.
Watch: Margot Robbie Talks I, Tonya