Mari and Naomi Osaka Could Be the Next Venus and Serena Williams
Meet the Osaka sisters, two promising tennis breakouts at Wimbledon 2018.
---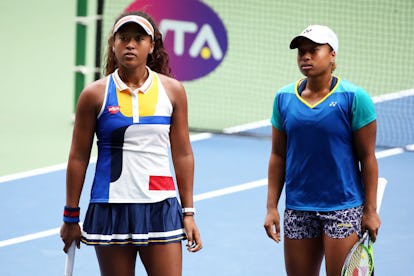 Koji Watanabe/Getty Images
The Osaka sisters—Naomi and Mari—are two tennis sisters to watch. Like Venus and Serena Williams before them, Naomi Osaka and Mari Osaka have been playing tennis since childhood, and Naomi has made it all the way to the tournaments at Wimbledon 2018.
Though Naomi has just been shockingly knocked out of the 16th round of Wimbledon, at just 20 years old, the tennis star has been a professional for nearly five years. At Wimbledon 2018, the athlete channeled Serena Williams, and as her coach told the Women's Tennis Association, "she likes the big stage." Her older sister, Mari, made her debut in 2014, the year after Naomi went pro. Now, the Osaka sisters follow in the footsteps of Venus and Serena Williams, as two young sisters who are making waves in the field of professional tennis, and crushing their competition both on the court and on social media.
The two sisters were born in Osaka, Japan and grew up in Fort Lauderdale, Florida, where they trained. For her 62,000 Instagram followers Naomi projects as a regular 20 year old, and she is—she just happens to spend her days competing in some of the world's most prestigious and most well known tennis tournaments, facing off against the very icons that inspired her.
Earlier this year, Naomi achieved a lifelong goal of competing against her idol—Serena Williams. At the Miami Open in March 2018, she faced off against Williams in the first round of the tournament, and as the two went head to head, Osaka won. It's not every day that a rising talent beats one of the best athletes in the game, but Osaka took home the win, and had few words for the occasion, tweeting "Omg" after she shook her opponents hand and won the match. "Just playing against her is kind of like a dream for me, so I'm very grateful that I was able to play her and it's even better that I was able to win," she told the World Tennis Association after being asked about her experience of beating the 8-time champion.
Related: Wimbledon Celebrities: See Kate Middleton, Chrissy Teigen, Drake, and More Stars Who Couldn't Control Their Facial Expressions While Watching the Tennis Tournament