From Zero to Hero
Zero + Maria Cornejo has gone from insider to favorite wardrobe staple.
---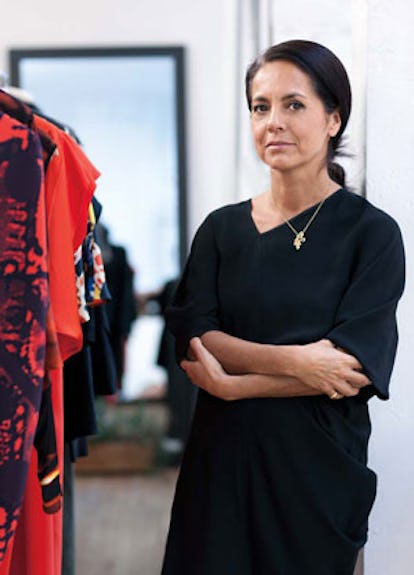 What is it about a fashion secret that can make two powerful women cross a room to introduce themselves, bonding instantly? If you wear Zero + Maria Cornejo to, say, the White House, a Cindy Sherman opening, a Tilda Swinton premiere, or the Cooper-Hewitt design awards, you'd better bring business cards. "Michelle Obama went up to a woman at the White House wearing Zero and said, 'I have that dress!'" Cornejo says with a laugh. "And someone e-mailed me the day after Cindy Sherman's show and told me that half the gallery was wearing Zero—Cindy included."
Cornejo is hardly a hot new up-and-comer who has suddenly become all the rage; in fact, her path to success has been just the opposite. Over the past 12 years, the Chilean-born, London-educated designer has been steadily engaging sophisticated women who appreciate cerebral clothes at reasonable prices. Her business, which started in a NoLIta boutique—where the clothes were sewn in the back and Cornejo had after-school picnics on the floor with her children—has expanded to two new locations in Manhattan and one in Los Angeles. The label gained momentum in 2005, when Marysia Woroniecka, a London publicist who represented Vivienne Westwood and the Antwerp Six (as well as Cornejo) early in their careers, came on as partner. "We're in it for the same reasons," says Woroniecka, a regal lioness in an asymmetrical dress. "Not to swan around being part of the fashion business, but to actually make cool clothes and get them to cool people."
Together they have grown the label organically, introducing a men's line inspired in part by Cornejo's husband, photographer Mark Borthwick; jewelry designed by her stylist (and former store employee) Victoria Simes; sunglasses with Phosphorescence; swimwear; and footwear collaborations with George Esquivel and Eileen Shields. This spring there's a micro-collection of Italian-made handbags.
Cornejo's Mini Loop Cross bag
Even if her clothes are found in the first lady's closet, Cornejo's core clientele remains the artists, writers, architects, and actors who are drawn to the off-kilter charm of her designs—what she calls "minimalism with a heart." The word-of-mouth factor has been key. "It's built on the fact that women trust other women," she says. "They let them in on their little secret if something fits well or works for them."
But is it sexy? "A lot of fashion now is about impressing people, like driving a muscle car," says illustrator Jean-Philippe Delhomme, who met Cornejo and Borthwick in 2009 while shopping at the Brooklyn Flea and asked to sketch them. "What Maria does is completely different. It's not about power; it's about poetry and art. To me, it makes a woman seem much more attractive than when she wears a muscle car."
A look from the Spring-Summer 2011 collection.
These are smart clothes for smart women, designed for those who want to be different without staking their look to a season. (When Cornejo reintroduced dresses from the archive for her 10th anniversary, they looked totally relevant.) And the fashion world, in its recession-born attempts to tap into "what women want," has woken up to the powers of Cornejo's female-friendly designs. Marc Jacobs, Yves Saint Laurent's Stefano Pilati, and even Club Monaco have each tried their hand at the geometric shapes she has pioneered.
"I don't think it's about this youth-perfection fashion anymore," says Cornejo, her salt-and-pepper ponytail falling over a slit-shouldered cardigan and a silk dress printed with an iPhone image of foliage in her Brooklyn neighborhood. "It's outdated and sort of unreachable. Our clothes aren't for a specific body. They're a little kinder to a woman. I know what women feel like: I don't feel fabulous every day. Sometimes I need a dress to make me happy, not make me feel like I'm not good enough."
Cornejo's clothes may look simple, but, she says of the design process, "It takes a lot of torturing to be that simple!" She has removed the shoulder seams, so "you don't have to have the perfect shoulder." The elimination of side seams means there's less bulk. And the lack of visible fastenings keeps garments from dating. "The moment you put embellishment on it, it becomes about that season."
During a recent dinner party at Cornejo's Brooklyn brownstone—she and Borthwick are known for their impromptu soirées, which bring together their ever expanding group of friends, clients, and collaborators—this sense of fastidious simplicity was on display. A long table was set up in the garden, and Cornejo donned a parachute silk halter dress an hour before guests were due to arrive. ("To be honest, Mark's done all the work," she said, nodding appreciatively toward Borthwick as he whirled around the custom-designed kitchen spontaneously assembling a five-course meal.) Woroniecka, dressed in a floor-length tiger-print velvet gown and towering architectural heels made by Shields, gave a warm hug to VPL designer Victoria Bartlett. CFDA award finalist Esquivel talked about the false-back sandals he'd made for Cornejo's men's collection, while Simes chatted with artist Tara Donovan, a longtime customer. Amanda Brooks and a carload of fashion editors arrived fashionably late.
The scene at one of Cornejo and Borthwick's Brooklyn dinner parties.
The guests were in heels, but the mood was barefoot in the kitchen–cum–bohemian sitting room, complete with sheepskin and spider plants—an apt metaphor for Cornejo's design aesthetic. J. Crew designer and president Jenna Lyons summed it up nicely when she recalled her first dinner at the couple's home: "Nothing fazes them. I showed up with really uptight flowers, and meanwhile they had brought in all these natural herbs straight from their garden. I thought, I need to be cooler."
Cornejo: Grant Delin; Cornejo party: Melissa Teo; runway: Fairchild Archive, all others: courtesy of Maria Cornejo.