Marina Nery Recommends Sunscreen, Loves Boxing
The Brazilian model shares her beauty tips
---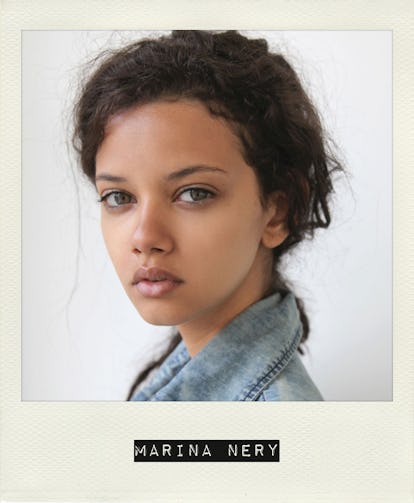 Brazilian model Marina Nery may be new to the pages of W (she made her debut with Field Day this past February and, more recently, starred in May's Electric Company), but she's an old soul when it comes to beauty. Here, the Bahia, Brazil native shares her homegrown essentials. ____
Your look: Fresh, clean.
Exercise regimen: I never liked working out until I met my boxing trainer in New York City. Now, I really miss my workouts when I'm traveling or don't have time to go to the gym!
Brazilian skincare secret: Iced chamomile tea bags are great for calming skin and reducing bags under your eyes.
Beauty essentials only available in Brazil: I use a line of hair products called Laces and Hair—they use all natural ingredients and smell amazing.
Must-have for the World Cup: Sunscreen!
Manicure or pedicure: I love both, but I'm addicted to manicures. Your hand is your welcoming card—it's hard to give a good first impression with messy hands.
Pilates or yoga: I do yoga. It improves my posture and has taught me the importance of balancing the body and mind.
Best advice from mom: Be nice to everyone and don't judge the actions of others.
Best advice from the pros: Your body is your temple.
Necessary splurge: A weekly manicure and massage.
Drugstore favorite: Carmex.
Fragrance of choice: Gucci Guilty or Kenzo Amour.
Beauty icons: Adriana Lima and Angelina Jolie.