Young French Designer Marine Serre Wins the LVMH Prize, With a Little Help From Rihanna
Serre will take home €300,000 and a year of mentorship from LVMH executives, as Rihanna announced this Friday.
---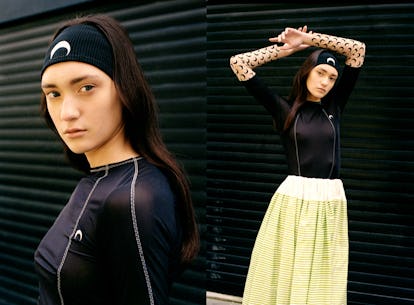 Photo by Jun Yasui, styled by Biel Parklee. Produced by Biel Parklee. Hair by Yoshiko Haruki, makeup by Alisonn Fetouaki at Artlist Paris. Model: Daria Konovalova at New Madison. Photography Assistant: Jyota Seki.
It wasn't even a year ago that Marine Serre moved to Paris to work at Balenciaga, but even at such a historic house, the young French designer quickly stood out her own. She soon ended up being shortlisted for the coveted LVMH Prize—an honor she just found out she ended up winning this Friday from none other than Rihanna, who made the announcement at the Fondation Louis Vuitton in Paris.
Serre, who's in her mid-twenties, still works at Balenciaga, though the €300,000, not to mention a year of mentorship from executives at the luxury conglomerate (which owns Marc Jacobs, Loewe, Givenchy, and of course Louis Vuitton) that make up the prize will no doubt speed up the pace of further developing her namesake brand—and continuing down a career path that's a far cry from what she originally set out to do, which was play sports.
Athletic-wear does shows up in Serre's designs—her fall collection was a sporty take on 19th-century Arabic dress—but competing in tennis competitions has also ended up preparing Serre for fashion, too: She's also current a finalist for the ANDAM Prize, and earlier this year also took part in the Hyères Festival, essentially the industry's version of Cannes. Those accolades definitely didn't hurt her standing among the seven other prize finalists, even though they included industry favorites like Antonin Tron's Atlein, a go-to for French It girls, and Molly Goddard, a darling of London Fashion Week.
Serre's résumé also no doubt appealed to the star-studded jury that made the final decision, which included Karl Lagerfeld, Marc Jacobs, Maria Grazia Chiuri, Nicolas Ghesquière, Jonathan Anderson, Humberto Leon, and Carol Lim. In addition to working for Demna Gvasalia at Balenciaga, Serre has also put in time at a who's who of legendary houses: Alexander McQueen, Maison Martin Margiela, and Christian Dior, where she worked with Raf Simons (and adopted his keen sense of color).
Still, despite clear displays of interest, Serre found herself thinking "okay, dream on," after she presented her first-ever collection just last year. Indeed, Serre didn't enter the LVMH Prize contest online of her own accord like the 1,000 other contestants: She only skeptically put herself in the running because LVMH itself asked her to participate. Presumably, though, those days are over: Is there any better self confidence boost than a blessing from Rihanna?
Related: Meet Marine Serre, the Latest Young Designer Enjoying a Breakthrough in Paris
See How Street Style Stars Do Paris Fashion Week: