Rihanna, Eternal Supporter of Young Fashion Designers, Speaks to Parsons School of Design Grads: "We Need To Invest In You"
"You're the ones who see the world through fresh eyes and a new perspective. You're the ones who care about the future of our planet."
---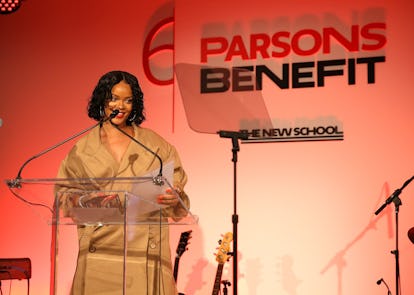 JP Yim
Rihanna and Eileen Fisher walk into a bar. Sounds like a setup for a punchline, or if Twitter were to have their way, a quirky buddy comedy, right?
On Monday night, however, it was just fact, if you were to swap "a bar" for Pier Sixty, a massive waterfront venue on Manhattan's West side (to be fair, the space was indeed outfitted with many, many bars).
The unlikely pair were both honorees at this year's Parsons Benefit, being recognized, along with Karen Katz of the Neiman Marcus Group, for their work in performance, design, and fostering social good.
The most buzzed about guest of honor—with all due respect to Fisher—arrived just as the dinner was starting, filtering into the space with a large entourage trailing behind her, wearing an oversized tan suit by Matthew Adams Dolan, a 2014 graduate of the MFA Fashion Design and Society program at Parsons, whom the singer has worn on several previous occasions.
With that, any many several craned iPhone lenses, the lengthy program began. Though she was the last speech scheduled, Rihanna's presence was felt, and audibly called out, throughout the evening. "You can't really share the stage with Rihanna, which I just learned outside taking photos on the red carpet," said Katz while accepting her award. Later, a tribute band played a funky melody of the singer's greatest hits. During the live auction, just after a Steven Klein commissioned portrait went for $57,000, the bad girl herself finally spoke.
Rihanna Is the Ultimate Fashion Icon
The rising star arrived at the Baby Phat Spring 2006 fashion show in a baby doll-style sundress with lots of eyeliner and nude-pink glossed lips.

Getty Images
Wearing baggy jeans and a crop halter top, Rihanna was cute and sporty at Z100's Jingle Ball.

Getty Images
Rihanna went for the glamorous, diva look at the Conde Nast 3rd Annual Fashion Rocks Concert in a metallic Zac Posen gown.

FilmMagic
Rihanna sparkled in a white, Marilyn Monroe-inspired dress after winning Best Female Artist of the Year at the 2006 Billboard Music Awards.

Getty Images
Rihanna donned a daring new asymmetrical bob and a neon pink, mermaid-style gown at the MTV Video Music Awards.

FilmMagic
Rihanna visited TRL at MTV's Studios in Times Square in a strapless bustier top, flared jeans and a knit beanie.

WireImage
Rihanna was edgy and fun at the Nickelodeon's 2008 Kids' Choice Awards thanks to a new pixie cut and pink polka dot bustier top.

Getty Images
The singer played with color at the 2008 BET awards in a neon yellow Giambattista Valli gown and a playful purple lip.

Getty Images
Rihanna's short, cropped hairstyle gave a little edge to her Jasmine di Millo ruffled dress at the RIAA and Feeding America's Inauguration Charity Ball.

Getty Images
Rihanna went for the men's wear look in a Dolce & Gabbana tux with '80s-inspired shoulders to the 'The Model as Muse: Embodying Fashion' Costume Institute Gala at The Metropolitan Museum of Art.

WireImage
Newly blonde, Rihanna arrived at the 52nd Annual GRAMMY Awards in a ruffled Victorian-inspired Elie Saab Haute Couture gown.

Getty Images
Rihanna attended the Echo Award 2010 in a geometric high-fashion Alexander Vautiher bat-cap jumpsuit with serious shoulder pads.

Getty Images
Rihanna switched up her hairstyle–yet again. This time opting for a cherry red, voluminous curls.

FilmMagic
Continuing her love affair with scarlet, Rihanna attended the 'Alexander McQueen: Savage Beauty' Costume Institute Gala at The Metropolitan Museum of Art rocking a long, red French braid, rimmed eye make-up and maroon lip that perfectly coordinated with her sheer, embellished gown.

WireImage
The singer looked effortlessly chic at the Stella McCartney presentation during London Fashion Week in a green silk slip dress, courtesy of the designer, with sun-kissed blonde shoulder-length hair.

Getty Images
Rihanna arrived to the 2012 MTV Video Music Awards in a backless white Adam Selman dress debuting, of course, a new cropped hairstyle.

Getty Images
The singer turned heads at the 55th Annual Grammy Awards in a gorgeous sheer gown by Azzedine Alaia.

Getty Images
In a sexy Jean Paul Gaultier couture two-piece and coordinating head wrap, Rihanna was completely seductive at the 2013 American Music Awards.

Getty Images
Rihanna attended the 'Charles James: Beyond Fashion' Costume Institute Gala at the Metropolitan Museum of Art in a Stella McCartney two-piece dress that showed off her perfectly toned stomach.

WireImage
Rihanna in custom Adam Selman at the CFDA awards.

Getty Images
Rihanna showed some skin in a Tom Ford gown at the 2014 amfAR LA Inspiration Gala. Her ponytail, long lashes and bright orange lip upped the overall glam factor of the look.

Getty Images for amfAR
Pretty in pink. The singer filmed an episode of 'Good Morning America' in a Pascal Millet jumpsuit, blazer and faux fur stole.

GC Images
Rihanna attends the 'China: Through The Looking Glass' Costume Institute Benefit Gala at the Metropolitan Museum of Art in a yellow couture gown from Chinese designer Guo Pei.

Getty Images
Rihanna looked gothic chic in a look of her own design during the FENTY PUMA by Rihanna Fall 2016 show at New York Fashion Week.

Getty Images for FENTY PUMA
Showing off her killer body yet again, the singer attended the 2016 MusiCares Person of the Year event in a sheer, embellished gown and pointy-toed converse-inspired sneakers, both by Marc Jacobs.

WireImage
Rihanna in Kiko Mizuhara for Opening Ceremony.

Getty Images
Rihanna in Giambattista Valli couture.

Getty Images
Rihanna in Vivienne Westwood Red Label.

Getty Images
The lot at hand was for two tickets to the Fall 2018 Fenty Puma runway show in New York City, including a one-night stay in a five-star hotel and a Fenty Puma product package, with a portion of the proceeds going to support the Ciara Lionel Foundation. Bidding stalled at $12,000. That's when Rihanna chimed in. "Who's at $12,000?" she quipped, turning to face the crowd from her dinner seat. "Thank you so much, but if anyone wants to beat that, I'll even style you for the show. And a free selfie with me and Jay Brown, my manager." Wouldn't you know, the lot doubled, closing at $24,000. (Sybil Yurman, wife of jeweler David Yurman, curiously was the ultimate winner).
But Rihanna was just getting warmed up. By the time she took to the stage to accept her award, she had a message for the students of Parsons. Consider February's Harvard speech just a warmup. "Tonight is about you young men and women on a global scale, as we know, who are such beacons of inspiration in every way; I don't think you get celebrated enough," she began. "You should be celebrated for every aspect of your growth, and your growing pains. You should be celebrated for your creativity, for your fearlessness, for your persistence and determination, for all of the work that you put into building your future, for being different, for not being enough credit, for not having to use eye cream."
Pause for laughter.
"It was especially important for me to come to Parsons, because you are all the next generation," she continued. "We need to invest in you. You're the ones who see the world through fresh eyes and a new perspective. You're the ones who care about the future of our planet. You're the ones who will change the current state of the world. And, unfortunately, you are the ones who are often ignored. Your voices aren't heard often enough, and you are the ones whose voice need to be listened to. I'm here to say that I'm listening, I'm watching, and you are up next."
It was great parting wisdom for those graduating students, but several had another graduation gift in mind: a selfie with Rihanna. The singer happily obliged. Consider that tuition well spent.
Related: Listen In: This Is What Making W's September Issue Sounded Like
Rihanna: Baddest Bitch of the Post-Apocalypse in W's September Cover
Cartier tiara, earrings, and necklace; Rihanna's own cuff earring and chain necklace (throughout). Hair by Yusef for Leonor Greyl Hair Care at Factory Downtown; makeup and tattoos by Pat McGrath Labs; manicures by Maria Salandra for Chanel at Fr8me.com. Set design by Stefan Beckman at Exposure NY.

Photographs by Steven Klein, Styled by Edward Enninful
Rihanna wears a Gareth Pugh coat and headpiece; Bordelle bra, harness, and briefs; Mugler Archive arm piece; Lynn Ban rings (right hand, throughout); Manolo Blahnik boots. On models, from left (throughout): Craig Green trousers; Chrishabana mouthpiece; Patrick Ian Hartley collar; Una Burke Leather arm brace. Hood by Air pants; Ben-Amun by Isaac Manevitz necklaces; model's own sunglasses and ring. Hood by Air shorts; Falconiere mask; (from top) Jennifer Fisher necklace, Chrome Hearts necklace; Rob Goodwin shoulder harness; Una Burke Leather arm brace. Rothco boots (on all models).

Photographs by Steven Klein, Styled by Edward Enninful
Maison Margiela Haute Couture created by John Galliano especially for Rihanna cape; Jennifer Fisher earrings; Rachel Freire neck piece; Fannie Schiavoni bustier; Prada belt, Key chains, agenda, and boots; (left hand) Fallon rings; her own harness.

Photographs by Steven Klein, Styled by Edward Enninful
Loewe dress, corset, and cuffs (left wrist); Jennifer Fisher earrings; Jennifer Fisher x Net-A-Porter choker; (right wrist, from top) Nina Runsdorf bracelet, Loewe cuffs; (left hand) Jovana Djuric rings; Christopher Kane mesh sack.

Photographs by Steven Klein, Styled by Edward Enninful
Prada jacket, corsets, belt, key chains, keys, charms, agenda, tights, backpack, bag, furs, and boots; Cartier necklace; Jennifer Fisher hoop earring (worn as belt charm, top right); Jovana Djuric pendant necklace (worn as belt charm, bottom, middle). Beauty note: Make a bold statement with givenchy Le rouge lipstick in heroic red.

Photographs by Steven Klein, Styled by Edward Enninful
Fenty Puma by Rihanna jacket, corset, and pants; Cartier necklace; Maison Margiela boots. On model, left: Hood by Air pants; General Eyewear goggles; Alexander Wang belt (around neck); Lost Art necklaces (on arm); Rachel Freire belt; models's own earrings.

Photographs by Steven Klein, Styled by Edward Enninful
Hood by Air Atelier dress; E.L.F Zhou London bodysuit; Jennifer Fisher body chain; (left hand) Chrishabana rings; David Samuel Menkes Custom Leatherwear vintage boots.

Photographs by Steven Klein, Styled by Edward Enninful
Dior peacoat and sunglasses; Marina Hoermanseder body piece; Prada backpack, bag (attached to backpack), furs, agenda, belt, key chains, keys, and charms; Vetements boots. On Model, left: Lauren Klassen necklace (worn as bracelet).

Photographs by Steven Klein, Styled by Edward Enninful
Rihanna wears Proenza Schouler dress; Jennifer Fisher earrings; Manuel Albarran face plate, bra, and leg pieces; Lynn Ban finger rings. On model: Hood by Air shorts; Falconiere mask; (from top) Jennifer Fishernecklace, Chrome Hearts necklace; Una Burke Leather arm brace; Rothko boots.

Producers: Anastasia Suchkov and Marcus Ward for North Six Productions; Digital Technician: Tadaaki Shibuya; Photography Assistants: Alex Lockett, Mark Luckasavage, Austin Kennedy, Tim Shin, Willy Ward, Adam Kaniowski; Fashion Assistants: Ryann Foulke, Dena Giannini; Hair Assistant: Naphia White; Set Design Assistants: Michael O'Connor, Yoni Zonszein, Nick Kozmin, Jamen Whitelock; Production Assistants: Manuel Somoza, Ryan Blythe, Stephen Hutchinson; special thanks to pier 59 studios

Photographs by Steven Klein, Styled by Edward Enninful
Cartier tiara, earrings, and necklace.

Rihanna's hair by Yusef for Leonor Greyl Hair Care at Factory Downtown; male models' hair by Amy Farid for Bumble and bumble at Kate Ryan Inc.; makeup and tattoos by Pat McGrath Labs; manicures by Maria Salandra for Chanel at Fr8me.com. Set design by Stefan Beckman at Exposure NY. Models: Deion Smith at Red model management; Chucky (aka Byron), Hirakish, and Sunny.

Photographs by Steven Klein, Styled by Edward Enninful