Mark Consuelos, Riverdale's Hottest Dad, Is Unsurprisingly Hot on Instagram, Too
There are a lot of good-looking dads on Instagram all year round, and Mark Consuelos is one of them.
---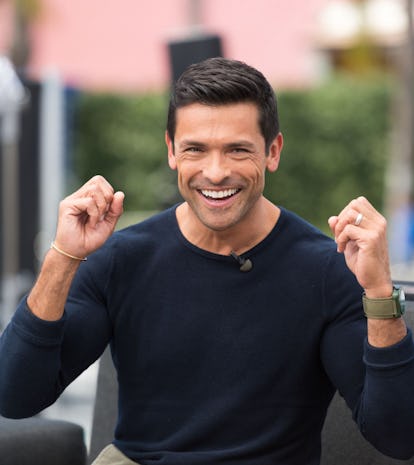 Noel Vasquez/Getty Images
Father's Day is not solely about celebrating a parent who raised you—every Father's Day, social media feeds fill up for hours with throwback photos of dads in their heyday, and plenty of thirsty comments pop up on those pictures (some shamefully, but most shamelessly pointing out that they didn't know how hot someone's dad used to be when they were younger).
There is a case to be made that this holiday is not the only occasion where it's appropriate to acknowledge how good someone's father looks or used to look (and one could even say daddies have been having a serious moment for over a year now). There are a lot of good-looking dads on Instagram year round, and Riverdale's Mark Consuelos is one of them. Consuelos, who married Kelly Ripa 22 years ago and has three children, plays a hot dad on television, sure, but he also blatantly inhabits the role of "hot dad" on Instagram, in case you hadn't noticed.
Consuelos plays Hiram Lodge, Veronica's villainous billionaire father with a dark past and even darker hair, on Riverdale. Of course he does the typical dad thing and shares cute throwbacks of his actual kids, but he has a television family to support as well. According to his Instagram, he's a bit of a dad to the whole cast, often inviting the gang to his home for cast parties like a real family.
Consuelos is even engaged in an Instagram trolling war with K.J. Apa, the 21-year-old actor who plays the stoic Archie Andrews but is known to be a huge goof on set, according to his costars. The two clown each other to pieces on their respective accounts (usually in Instagram Stories, but the occasional photo caption from one makes a solid dig at the other). In 2017, Apa started an Instagram Stories video competition with the rest of the cast—including Lili Reinhart, Casey Cott, and Camila Mendes—to see who was most deserving of the "daddy" title, but looking at Consuelos's Instagram, that trophy appears to have already been won by Hiram Lodge himself. Of course it's all fun and games, but in any case, even Apa might admit that he could stand to learn a thing or two from Consuelos about being considered the "daddy" of the cast.
Consuelos wouldn't be a certified Instagram Daddy without serving up an abundance of thirst traps, which he shares with his one million followers in the form of workout snapshots (Riverdale castmates and shirts not always included).
With a cast consisting of Skeet Ulrich, Luke Perry, and Martin Cummins, some might argue that there are plenty of hot dads hopping around the town of Riverdale, but there's only one who is able to playfully roast his television family while giving the people the thirst traps that they want to see, and that's Mark Consuelos.
Related: Riverdale's Camila Mendes On Navigating Fame, and Why She's Not Slowing Down Anytime Soon