Mary-Kate and Ashley Olsen Would Like to Remind You That They Are Still Two Separate People
The Olsen twins compare their relationship at work to a "marriage" rather than two carbon copies of an individual.
---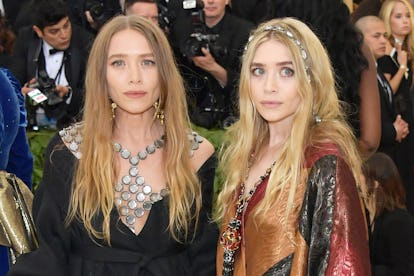 Neilson Barnard/Getty Images
Mary-Kate and Ashley Olsen are living proof that working with your twin can sometimes be just as difficult, but more often just as rewarding, as working with your spouse.
It's been decades since they played one character, Michelle Tanner, on Full House, and years since their starring roles as themselves in feature films like It Takes Two, Billboard Dad, and Passport to Paris, but the Olsen twins are making a conscious effort to establish themselves as two separate entities with their own individual identities, despite the fact that they work together every day. The notoriously private Mary-Kate and Ashley Olsen recently gave an interview to WSJ Magazine, in which they opened up about their new men's wear line from the Row, the brand they founded together in 2006.
Though they may look nearly identical to one another, the two are fraternal twins who don't even operate on an identical wavelength at work. In fact, the Olsen twins admitted to the magazine that at 32 years old, they might move away from one another soon, with Ashley contemplating making Los Angeles her home, and Mary-Kate unwilling to leave New York. So even though the Olsen twins look alike, they bristle at the misconception that they live parallel lives, and are pretty adamant about being independent from each other despite being born of the same womb at the same time.
They're not just carbon copies of each other, and Ashley told the magazine that their relationship as both siblings and business colleagues could be compared to "a marriage and a partnership," before adding, "We have had ups and downs." That marriage analogy could also be extended to the clothes they've designed—the concept for the men's wear line at the Row came from imagining looks "for the husband," since Mary-Kate's husband, Olivier Sarkozy, is always in need of a suit.
Although the twins' interview with WSJ offered some rare insight into their creative process with the Row and the way they work together as sisters, the two remain careful to keep some things between just themselves. "I don't know if it's because of the way we grew up—we just don't like talking about ourselves or talking about what we're doing…. It's not really our approach," Ashley said to WSJ. Privacy is the best policy when it comes to these two, and that's something they'll probably always agree on, no matter how they operate at work.
Related: Evan Peters Came to Hollywood Because He Wanted to Meet the Olsen Twins