Mary-Kate Olsen Goes Steeplechasing with the Scions at the Hampton Classic Horse Show
Mary-Kate Olsen and a host of celeb scions face off in a competition that puts Dancing With The Stars to shame.
---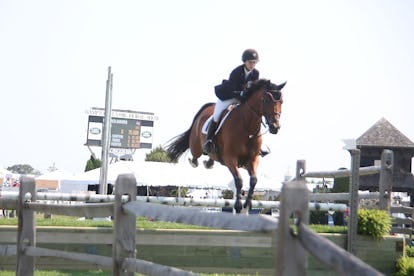 Getty Images
Forget Dancing with The Stars, if you really want to see the rich and famous (or, perhaps, more accurately the children of the rich and famous) face off in a skilled competition, then the only option worth mentioning in polite society is the Hampton Classic Horse Show in Bridgehampton. Call it "Steeplechasing with the Scions" …if you must.
The Hampton Classic traces its roots back to the early 1900s, and has not only become one of the premier show-jumping spectacles in America but also one of the more exclusive end-of-summer bashes in the Hamptons. The list of riders, however, is almost as notable as the list of attendees.
Mary-Kate Olsen might be the most high-profile example. The petite billionaire's horses have been competing in the show since at least 2013 and this year she will have four horses in the race. There's Prem' Dollar Boy, a Selle Français gelding that Olsen acquired in 2014, Feu d'Amour, a Belgian-born mare, Hertog Van't Merdehof, who is apparently new to competition, and then Virginia. Just a horse simply named Virginia. Olsen herself, however, will appear to leave the riding of the horses to her jockeys this year, but she has ridden in the past.
Other famous last names in competition include Springsteen, Bloomberg, Jobs, Lauer, and Broderick. That's Jessica Springsteen (daughter of Bruce), Georgina Bloomberg (daughter of the former Mayor), Eve Jobs (daughter of Steve), Romy Lauer (daughter of Matt), and Tabitha (daughter of Matthew and Sarah Jessica Parker).
According to Page Six, Springsteen and Bloomberg and both considered elite-level competitors. Both have biographies prominently featured on the show's website.
"Jessica Springsteen started out her jumper career at the junior level," boasts the site. "As she has gained more experience, her talent on the jumping circuit has reached new heights. She represented the United States in the FEI World Cup Final and the 2012 FEI Nations Cup."
Meanwhile, Bloomberg, who is quite relieved not to be a candidate for first daughter, is noted for becoming "a solid foundation on the show jumping circuit."
"Getting her start in the saddle at age 4, Georgina has gone on to compete in some of the world's top equestrian competitions, successfully making her way from the pony hunter division all the way to the pinnacle of the sport, the Grand Prix," continues the profile.
Meanwhile, Romy Lauer, 12, and Tabitha Broderick, 7, both compete on the junior level.
Watch W's most popular videos here: