Saoirse Ronan and Margot Robbie Are Unrecognizable In the First Mary Queen of Scots Trailer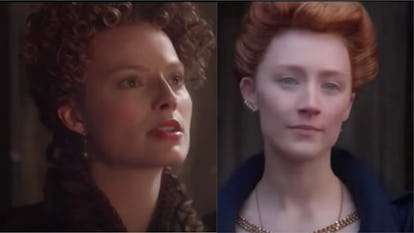 Mary Queen of Scots
Long before there was reality TV to keep us busy, there were monarchs, providing the rest of the world with all the drama and decadence needed to distract from their own lives. Saoirse Ronan and Margot Robbie are bringing it back to that time in Mary Queen of Scots, which just dropped its first trailer today.
In the video clip, Ronan and Robbie's transformations go beyond their physical looks, as they embody the monarchs. Actually, they might even be more unrecognizable in the trailer, and that's especially the case for Robbie. The Australian actress has become quite the chameleon, between I, Tonya and and now with her latest role as Queen Elizabeth I. Even when she's not wearing the white face makeup that was popular at the time, which makes her wig of red curls pop even more, Robbie still looks like a ghost of her real-life self. It's fitting that Ronan is given a more vibrant look, with her long red locks, since she wields her power over her cousin, the Queen of England.
Queen Elizabeth and Queen Mary's relationship takes quite the turn in the trailer. "England does not look so different from Scotland," Ronan says at the beginning, to which her companion replies, "They are sisters." Indeed, Queen Mary addresses Queen Elizabeth like family, when writing to prepare the English royal for her visit. "My dear Queen Elizabeth, I hope we might meet in person so that I may embrace you," she says, "But ruling side by side, we must do so in harmony—not through a treaty drafted by men lesser than ourselves."
"My dear cousin," Robbie replies, "Let our nations cherish each other as we would. Two kingdoms unite." Yet, the opposite happens as the two settle more into their roles as frenemies. Once Mary beats Elizabeth to having a child and, thereby, "bringing an heir to Scotland and to England," things go off the rails—largely in part due to the men around them, who are hoping for a full-on war between England and Scotland.
Should be a juicy movie, and not just because of that epic wig reveal in the trailer.