Master Cutter: Vidal Sassoon
Vidal Sassoon revolutionized hairdressing in the way that his frequent collaborator, Mary Quant, revolutionized hemlines. It's certain that the Swinging Sixties would have been decidedly less swinging had the it girls of the day not...
---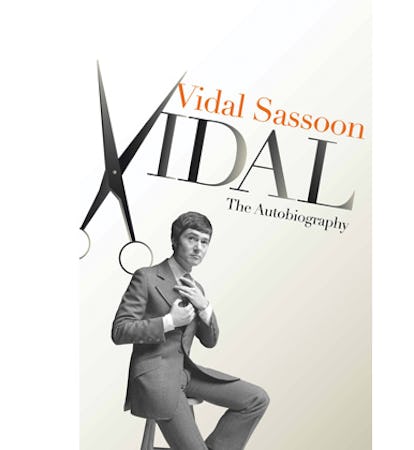 Vidal Sassoon revolutionized hairdressing in the way that his frequent collaborator, Mary Quant, revolutionized hemlines. It's certain that the Swinging Sixties would have been decidedly less swinging had the it girls of the day not been shaking around in his iconic geometric cuts. Sassoon's approach to hair ushered in a modern era where women, once slaves of the salon, would be freed of the stand up dryer and able to "wash and go" while breaking the rules of hair symmetry altogether.
Perhaps his most important legacy is the signature techniques taught around the world today at Vidal Sassoon Academies and the golden rule of cutting that he has passed down to generations of hairdressers–If your client doesn't look good, you don't look good. W recently spoke with the 83-year-old beauty icon about his life, loves, loss and the prolific work featured in his new book,Vidal: The Autobiography.
They both happened at the same time. It was absolute madness. I'd be on location in London walking around old haunts or talking with old friends and something would come up that I felt needed to be in the book. This gave the projects this wonderful sense of sameness. In other words, what we were doing in the book had the same passion and sentiment as what had in the film.
At 83, what prompted you to write a memoir now? At 83, most people are thinking of putting their toes in the sand. I had been approached several times to write a memoir. I kept saying that I was too young. The agency said that they didn't think so and that they would find me the best ghostwriter in town. I said if it needs to be written, I'd be the one to do it. And, so I did it. The last few years working on it have been magical. It has been a wonderful learning opportunity for an octogenarian like myself.
How does it feel to see your life condensed to approximately 350 pages of text? It was a very difficult job choosing what to include. The book could have easily been 500 pages, but my editor said 350 were enough. There is work that was cut out that they didn't feel would interest as many people. It's very much like a movie in the way that it goes to the cutting room floor or how it's edited. I'd argue sometimes about things I felt should be included and they'd leave in what I fought for. Otherwise, I mostly relied on their very good judgment.
After the chapters on your childhood and mother's influence, the book tends to focus more on your professional life than your private life. Being a memoir, is there more you'd have liked to say about your personal life? Not really. The truth is that three lovely ladies left me, because I was so into hair, doing hair shows and traveling. We barely saw each other. That was really my fault, nobody else's… I take the blame for that. The problem is when people lose their identities; they truly lose their identities. I think I lost a lot of women that way. I've been with my wife Ronnie for twenty-two years now. She doesn't have the sense that she lost herself by traveling with me or doing mainly what I do. She's got a great sense of whom she is and so it's lasted.
What was the best thing that happened to you as a hairdresser? I have never lost the passion for hair itself. It's the only substance that grows from humans that you can shape and mold. Apart from the original cutting, the best thing to happen was being able to create something that became a worldwide success. We worked ten years in London to change hairdressing as we saw it. It was so elitist when I was working in Mayfair. It was only socialites that would come in to get their hair washed and set for the week. I thought that we should give them beautiful cuts and beautiful shapes that wouldn't need dressing more than once a month. That gave every woman the ability to enjoy a gorgeous haircut.
Who were your muses? Grace Coddington became my top model. She was eighteen when I first met her. She was just a little waif when Mary Quant and I got on to her. She carried off the Five Point Cut to be believed. Here in Los Angeles in my work with Rudi Gernreich, it was Peggy Moffitt. She was an extraordinary model. She acted out every piece of clothing. She would look in the mirror and act it all out before she would go in front of the camera.
How did you go about creating your iconic cuts? No one starts with the advantage or that great gut feeling and sense that it's got to be done, and that I am going to be the one to do it. It's something that slowly happens. In 1967, I called my top staff to tell them that we would work all weekend to find a new concept and to let me know if anyone had any objections. No one did. We worked all weekend long and we came out of it with The Greek Goddess. Along with the pride of a beautiful cut comes the sense of knowing that we literally worked from Friday night to Monday morning on it. And, we got it. In essence, it's the quality of work. It wasn't a personality, mine or someone else's, who created this image. It's the work of us all that created the image.
What do you think of today's popular hairstyles? Do you think we need another radical change? There are a lot of beautiful cuts out there and women who look fantastic wearing them. However, there are some that I call the "the curtains". It's a curtain on each side of the face. I can understand it for a hairdresser that does three cuts in an hour instead of two… it's easier, but it does nothing for the face! I'd love to see some beautiful cutting coming back.
What type of haircut do you think you'd give someone today? My favorite is still a great geometric cut that shows off the bone structure. A woman's neck and bone structure can be very sexy. So for me, it would be all about bones. I'd cut angles here and there. And when she'd shake it around, it would fall back into a great haircut.
I don't think that most people know about your deep ties to Israel and the philanthropic work you have done. Can you share more about the Vidal Sassoon International Center for the Study of Anti-Semitism? I am Jewish and personally experienced Anti-Semitism firsthand growing up during the war in London. I was a member of the 43 Group, a group formed to fight fascism in the streets. After the United Nations voted to form the Israeli state, I was one of the volunteers to go over and help the state. I ended up serving in the Palmach [a fighting force that became a part of Israel's official army] and for a time I thought I'd stay. In 1982, I founded the Vidal Sassoon International Center for the Study of Anti-Semitism at the Hebrew University with Professor Yehuda Bauer. We've hosted wonderful seminars throughout the years and many of them have seen attendance from an audience of around sixty percent gentile…that is exactly what we wanted. You've got to talk to the people whose minds you can change, not the ones who already know. Unfortunately there have been some recent remarks by people that should know better.
Yes, and what did you think about the recent remarks made by John Galliano? I've witnessed this sort of thing in my life. I believe that it is indigenous. People learn it from their parents and grandparents. It comes from generation to generation. Unfortunately, it has raised its ugly head again. The wonderful thing is that in France the punishment can be quite severe. The only way to break the trend is to enforce severe consequences.
Looking back on your life, what one thing do you attribute the most to your success? I would say there are two things that attributed most to my success. The first is discipline, which was taught to me by the first man I was apprentice for when I was fourteen. His name was Adolf Cohen, or Professor Cohen to me. He said that we must have our trousers pressed along with shoes and nails cleaned daily. Now, we were in the middle of a war and sleeping down in shelters. I first wondered how the heck would I be able to do that. I quickly learned…you slept on your trousers to keep them pressed, kept some black boot polish with me and the nails would be more than clean after two shampoos. He was a disciplinarian and he really taught me discipline. I used it a lot with my staff. I often said that if we were going to develop into a craft that people admire, we must first show that we are worthy of it.
The other thing was vision. I don't think that anything would have happened without the vision. I was always thinking of different looks and my two top guys [Christopher Brooker and Roger Thompson] were too. We'd get together as a team and we'd sort something out that was different from the rest, because we had the vision.
What do you most regret or what would you do differently? When I was going through a very bad period with my divorce from Beverly. It was a very tough period. I started to make mistakes. I started to make decisions that really shouldn't have been made. A company called Richardson-Vicks was seducing us and they really kept on. They told me that we'd become international much more quickly with them than on our own. It was really like a seduction. We bought into it. Only a year and a quarter later, they were bought out by Procter & Gamble. And of course, all the promises that were made by Richardson-Vicks were not kept. Obviously they couldn't be, because it was different company with different ideas. That I would regret, but my nature won't let me ponder over what could have been… so I can't really allow myself to regret it. And, so my work has gone around the world and it has been very special.
What's your secret for longevity? I wrote something recently about longevity. Longevity is a fleeting moment that lasts forever. For some people, they do one thing that takes them out of the ordinary… and that can last forever.
Vidal: The Autobiography is published Macmillan UK with distribution in the United States by Trafalgar Square Publishing. To purchase the book, please visit Amazon.
Photos courtesy of Vidal Sassoon personal archives.