Matt Lauer Once Asked Anne Hathaway If There Were Any "Lessons Learned" After Paparazzi Published an Upskirt Photo of Her
"Seen a lot of you lately," he said.
---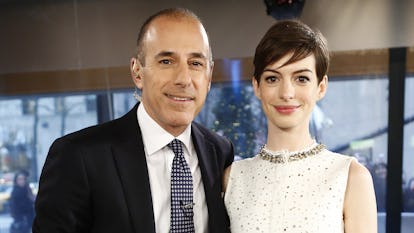 NBC NewsWire/Getty Images
Ever since news broke of Matt Lauer's alleged sexual misconduct and subsequent dismissal from the Today show on Wednesday morning, the internet has noticed that moments from the anchor's past seem to be creepily relevant in light of the situation.. Among the cringe-worthy segments that have already resurfaced are a Today show mock segment in which Lauer parodied victims of sexual assault in the workplace, and a clip from a Watch What Happens Live interview in which Katie Couric revealed that her former coworker "pinches me on the a** a lot."
Perhaps most telling of all, however, is another Today show clip that resurfaced on Wednesday in which Lauer makes inappropriate comments toward an interviewee. Anne Hathaway appeared on the show to promote Les Misérables in 2012, shortly after news outlets had published a paparazzi photo of her skirt flying up as she got out of a car. Rather than refusing to lend the picture any more visibility or attention, Lauer chose to open the interview by forcing Hathaway into a discussion about it. "Seen a lot of you lately," he quipped, prompting nervous laughter from the Oscar winner. He went on: "Let's just get it out of the way. You had a little wardrobe malfunction the other night. What's the lesson learned from something like that?" he asked, seemingly putting the blame for this invasion of privacy on Hathaway — and very wrongfully so.
Hathaway, however, handled the uncomfortable and offensive line of questioning like a professional. "It was obviously an unfortunate incident. I think it kind of made me sad on two accounts," she said. "One was that I was very sad that we live in an age when someone takes a picture of another person in a vulnerable moment, and rather than delete it, and do the decent thing, sells it. And I'm sorry that we live in a culture that commodifies the sexuality of unwilling participants. Which brings us back to Les Mis." Take note: That is how you gracefully shut down skeevy interviewers.
Several Twitter users have shared the clip online. "Somewhere Anne Hathaway is asking 'What lesson did you learn, Matt Lauer?'" one wrote.
Related: NBC's Sudden Firing of Matt Lauer for Sexual Misconduct Probably Wasn't So Sudden After All