Kanye West and LVMH-Approved: Meet Designer Matthew Williams
The designer of Alyx, shortlisted for the LVMH prize, has his eyes set on becoming the next Hedi Slimane.
---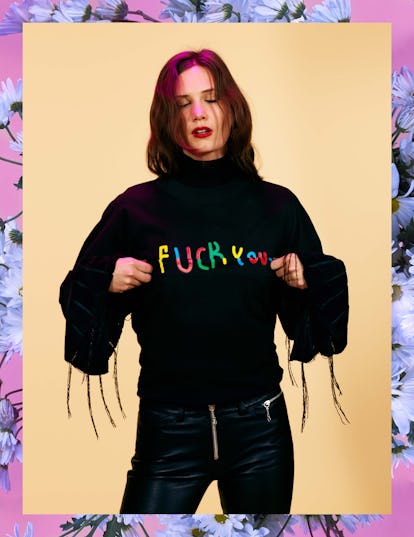 When Alyx founder and creative director Matthew Williams was a teenager, he convinced his grandmother to buy him a skate shirt that, unbeknownst to her, said "F—k you." At first glance, it was just an abstract logo — the profanity only appeared when the fabric was folded in half — but Williams was tickled to get away with it whenever he wore it to school. It was the perfect crime for a fashion-obsessed boy and the sort of mischief he's still getting away today, only now they're of his own design.
This punk subversion mixed with thoughtful craftsmanship perfectly sums up Alyx, a fashion label he launched in New York last February with a catalogue done by longtime friend and collaborator, Nick Knight. And it's precisely why the discriminating judges of the lucrative LVMH Prize for Young Fashion Designers has shortlisted Williams alongside such high-profile emerging talent like Brandon Maxwell (Lady Gaga's stylist) and Christelle Kocher (who was shortlisted last year as well).
"It's always been my goal to have my own brand, so I started it as soon as I could," he said from Paris for the prize's semifinalists presentation, which will take place between Wednesday and Thursday.
Although only in its third season, Williams, 30, has been embedded in the art and fashion scene for over a decade. He started working in clothing production right after high school in Los Angeles, where he learned pattern-making with denim and jersey, and later transitioned to designing costumes for musical artists. Eventually, he found his way to Lady Gagaand then to Kanye West two years ago as the art director ofDonda, West's creative agency. Williams has also worked with brands like Nike, Hood by Air, Supreme, Stussy, and founded the popular DJ and art collective Been Trill with Heron Preston and Virgil Abloh. Today, cool kids like Luka Sabbat and Sarah Snyder can be spotted on Instagram wearing his designs.
Williams really doesn't want to talk about his celebrity-filled past, though. "I'm from a generation where just because I did work that was successful when I was 21, I'm forever known for that work," he said.
He continued: "Like Hedi Slimane and Raf Simons — not that I'm anywhere close to those people, but I definitely look up to them and would like to be as great of a designer as them one day — they didn't start having their work shown until they were around my age. Now with the fashion system, everyone sees stuff right away and I think it takes time for a designer to develop their voice…I want to take it slow."
So, what might Williams' voice be? Well, for starters, there's that "F—k you." But Williams also has a soft and romantic side, hence the flowery pastel background in his fall lookbook images, which he photographed himself. The collection is aptly named "Natural Order," which refers to the absence of law or anarchy, but also the laws of the earth. "There are many different through-lines that you could find if you looked at the collection," said Williams. "You could find darkness, or brightness."
Like his contemporaries Demna Gvasalia of Vetements and Virgil Abloh of Off-White, Williams is a part of the movement transforming what was once considered subversive, underground style into mainstream luxury.
Alyx doesn't quite have the luxury brand backing (yet), but the collection can still be found in directional boutiques like Maryam Nassir Zadeh, Dover Street Market, Machine-A, The Broken Arm, and Colette.
While Williams prefers lookbooks and private appointments now, he hopes to one day do large-scale see now-buy now shows.
"I go back to that feeling of discovery," he said, speaking of attending fashion shows when he was younger. "I saw something that other people weren't able to see the next second on Instagram. It felt special. How do you bring that sense of discovery back to a fashion show?"
For now, Williams is focused on discovering what it means to have full creative control after eight years of implementing other people's visions. The words, "My first time," were even printed on his fall 2015 shirts.
"That collection was the first time doing my own ideas," he said. "It represents the loss of virginity and something really personal. It marked day one of something I hope to do for the rest of my life."
Photos: Kanye West and LVMH-Approved: Meet Designer Matthew Williams
Alyx designer Matthew Williams.